A little over a month ago, I ranked the commodities for which there are corresponding ETFs by momentum and roll yield. Below, I've updated the table with a few changes.

Momentum and roll yield are two of the most commonly discussed strategies relating to commodity future investing. These two factors are the two factors that determine commodity selection in the Summerhaven Dynamic Commodity Index, the underlying index for the United States Commodity Index Fund (NYSEARCA:USCI). The Summerhaven Dynamic Commodity Index holds the seven commodities with the highest roll yield, and the seven commodities not already selected with the highest 12 month price change. This is a bit closer to the screening approach than the ratings or "one number" approach that I prefer.

I've made a few changes worth noting.
I used spot commodity data instead of ETF / ETN data for comparing momentum. Commodity ETF / ETN price performance has the effect of the past roll yield in it. In some instances strong contango or backwardation was counted twice, once in the momentum ranking and once in the roll yield ranking.
Instead of using just the 12 month price change for comparing momentum, I used both the 12 month and 6 month price change.
Brent Crude was added.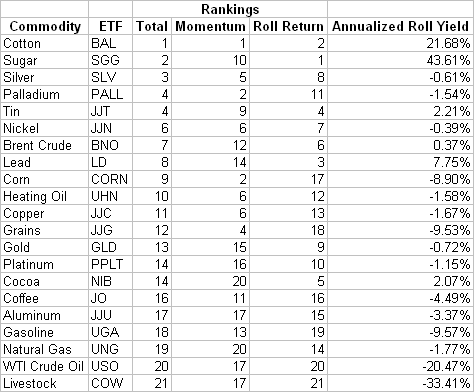 For more ETF research, check out our ETF ratings.

Disclosure: I have no positions in any stocks mentioned, and no plans to initiate any positions within the next 72 hours.