Uranium is one sector that as of Friday still has momentum in it's favor and should continue to move higher. Individual issues within the sector have suffered minor pullbacks, with Uranerz Energy (NYSEMKT:URZ) being the standout. Market Vectors' Uranium + Nuclear Energy ETF (NYSEARCA:NLR) and Global X's Uranium ETF (NYSEARCA:URA) are two uranium ETFs I look at, and I like URZ more because its daily volume is higher, therefore the spreads will be tighter.
The first two charts (click on all to enlarge) are their weekly charts to get a larger picture of where these ETFs have traded and to display their strength within the bigger picture. Given that stocks in this sector are quite volatile, I opted to go with the safety of the ETF, as the overall markets themselves could be in for a downturn and I didn't want exposure to individual stocks.
The 60 minute chart has the RSI remaining above the 30 level and if pierced could cause me to be less bullish on this sector for the short term.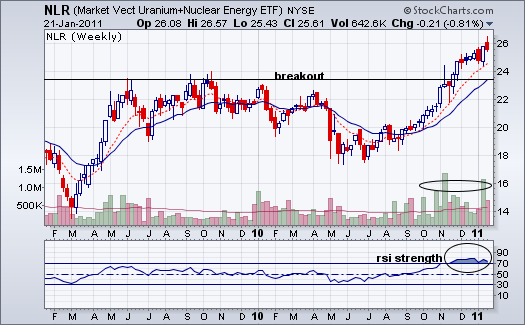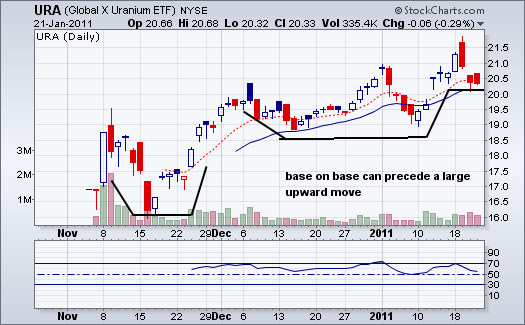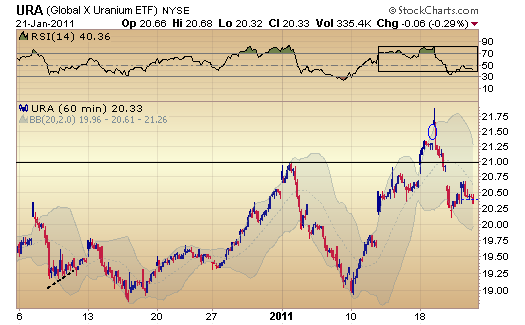 Disclosure: I bought shares of URA last week and held over the weekend.