MLPs, particularly the pipeline variety, have really taken off in popularity recently, as demonstrated in part by the issuance of MLP ETNs and an MLP ETF.
What should you own, an ETN, the ETF, an individual MLP or a basket of MLPs?
The short answer, in our opinion, is that if you have enough money to buy positions of sufficient size to make the commissions and the K-1 paperwork (see our article on MLP Investor taxation) and the increased portfolio complexity worthwhile, then we would tend to favor owning a basket of MLPs.
If convenience, and simplicity is the key, or you do not have enough assets to make multiple positions practical, then we would tend to favor an ETN or ETF.
Of the ETNs, we would only consider the JP Morgan one (NYSEARCA:AMJ) at this time, and we would not be inclined to own the Alps ETF (NYSEARCA:AMLP).
JP Morgan is a better counterparty risk than the other bank issuers (Credit Suisse and UBS) in our view, and the dollar trading volume makes AMJ liquid whereas the others are far less so, and some are simply not liquid at all.
AMJ includes the kitchen sink. It owns the 50 largest MLPs, which are mostly midstream infrastructure plays, but also includes some others which are involved in exploration and production, or retail energy distribution, for example. Some of the other ETNs have more focused portfolios, or offer leverage or inverse exposure, but with lower credit and unacceptable volumes at this time.
The maturity value of the ETN is indexed to the Alerian MLP index. The distributions are indexed to the distributions of the index as well, less the 85 basis point annual fee.
Our previous article presented the tax treatment of AMJ, as stated by the issuer JP Morgan. The key in that presentation is the tax reporting on 1099 forms, and capital gains tax on sale price less purchase price. That compares to K-1 reporting with individual MLPs, and cost basis adjustment due to partial tax deferral on current distributions. Form 1099 IRS reporting and simple capital gains calculations is a positive for AMJ that could also be seen by some as a negative in that the distributions are not partially tax deferred, which changes the timing of net cash flow. That could be unappealing to some investors.
AMLP is an ETF that lacks the counterparty credit risk of an ETN. It also charges an 85 basis point fee, so there is no difference on that dimension. However, the ETF is not taxed as a regulated investment company as are most other ETFs, and instead is taxed as a regular corporation. As such it has tracking issues, we'd rather avoid. Here is what the prospectus says:
Potential Substantial After-Tax Tracking Error From Index Performance. As discussed above, the Fund will be subject to taxation on its taxable income. The NAV of Fund Shares will also be reduced by the accrual of any deferred tax liabilities. The Index however is calculated without any deductions for taxes. As a result, the Fund's after tax performance could differ significantly from the Index even if the pretax performance of the Fund and the performance of the Index are closely correlated.
Sounds too complex and uncertain for us. You may wish to read the full discussion of how this ETF is taxed (here).
The performance difference between AMLP and AMJ (since the inception of AMLP last September 2010) is shown in this chart, which also shows the performance of SPY and BND as stock and bond benchmarks (click to enlarge images):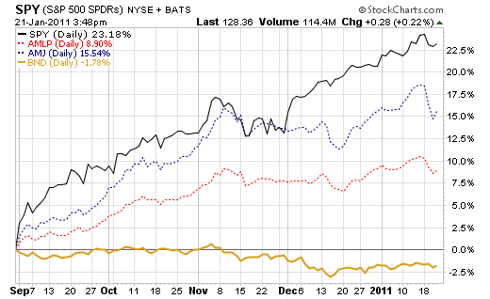 Click to enlarge
A basket of the ten largest midstream energy MLPs in the Alerian index held in the same proportions as they have to each other in the Alerian MLP Infrastructure index would look like the list in this table image: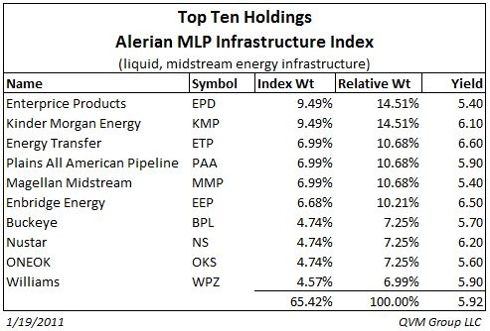 Click to enlarge
Those top ten MLP holdings are: EPD, KMP, ETP, PAA, MMP, EEP, BPL, NS, OKS, WPZ.
If you own a ten MLP basket, you would be less diversified than an index with more securities, but at a count of 10, you would have substantial diversification. The yield would most likely be higher than that of either AMJ or AMLP due to the absence of an 85% management fee. That would generate a substantial performance difference over time. Holding 10 positions to cover one asset category, however, is more complex and more work than owning a single index security. Many investors would be more content with the simplicity of an index vehicle.
The basket approach allows you to pick and chose, potentially to beat the index, but perhaps to underperform as well.
According to the National Association of Publicly Traded Partnerships (see article on MLP investor taxation), the distributions from individual MLPs are partially tax deferred up to certain limits, and the deferrals reduce cost basis, which increases taxable gains upon sale. A positive for individual MLPs is greater net cash flow during the holding period compared to AMJ, and it seems also as compared to AMLP.
Another alternative would be to strategically own an index ETN or ETF, and then tactically own selected individual MLPs.
We expect the convenience of AMJ outweighs the yield advantage of individual MLPs for a large number of investors, particularly those with short-term time horizons. We expect that investors who are willing to accept the volatility of individual MLPs, and who have long-term time horizons, would be inclined to avoid management fees and capture the full yield.
In our own work, we put pipeline MLPs in the same "real asset" category in which we also place equity REITS.
Most equity REITs tend to own assets that are not each critical to national security. Midstream energy MLPs own and operate infrastructure assets that are critical to national security, which we find attractive.
Earlier articles on MLPs can be accessed with these links:
Part 1: Identifying the Public Master Limited Partnerships (08/06/10)
Part 2: MLP Total Return and Statistics vs Stocks and Bonds 08/09/10)
Part 3: Return Correlation Between MLPs, Stocks and Bonds (08/10/10)
Part 4: The Most Liquid MLPs (08/10/10)
Part 5: MLPs Passing Fundamental Screen (08/13/10)
Part 6: MLP Structure and IRS Qualification (08/22/10)
Part 7: MLP Investor Taxation (01/20/11)
Securities Identified in This Article: AMJ, AMLP, EPD, KMP, ETP, PAA, MMP, EEP, BPL, NS, OKS, WPZ, SPY, BND
Holdings Disclosure: As of January 23, 2011 we hold positions in some but not all managed accounts for the following securities mentioned in this article: EPD, KMP, PAA, OKS (and certain others not named in this article), and AMJ, as well as SPY.
Disclaimer: Opinions expressed in this material and our disclosed holdings are as of January 23, 2011. Our opinions and holdings may change as subsequent conditions vary. We do not make any commitment to publish or provide any public notice of future changes to our opinions or changes in our holdings.
This published material is not personal investment advice to any specific person for any particular purpose. Do not take any investment action based solely on the contents of any our published material. We are not responsible for your use of our published materials in making any investment decision, and are not responsible for any losses you incur in taking any investment action. You are fully responsible for any use you make of the content of any published material prepared by us, and for any losses that occur as a result of any investment action taken in reliance upon any published materials prepared by us. Investing involves risk of loss of capital.
All of our published materials are for informational purposes only. More factors than considered in our published materials should be evaluated before taking any investment action. Perform your own investment research before making any investment decision. Consider seeking professional personal investment advice before implementing your portfolio ideas.
We utilize information sources that we believe to be reliable, but do not warrant the accuracy of those sources or our analysis. Past performance is no guarantee of future performance, and there is no guarantee that any forecast will come to pass.
We are a fee-only investment advisor, and are compensated only by our clients. We do not sell securities, and do not receive any form of revenue or incentive from any source other than directly from clients. We are not affiliated with any securities dealer, any fund, any fund sponsor or any company issuer of any security.
Disclaimer for all of our materials anywhere in the public domain.