I am a member of AAII (American Association of Individual Investors) and one of their more popular screens is the Shadow Stock Screen. I conduct a close replication of this screen on a monthly basis. This is a very simple screen that seeks out small/microcap value stocks. The screen criteria I use within stockscreen123 are:
No over-the-counter stocks
No financial stocks
Market cap > $20 Million and < $200 million
Previous EBITDA quarter and trailing twelve months are positive
Share price > $1
Price/book < .80
Price/sales < 1.2
Top 10 stocks are selected based on highest 52 week returns
Minimum average daily volume > 5k shares
This is the ninth month of performing the screen. Last month's results averaged 12.29% for the 10 stocks, led by Silverleaf Resorts' (NASDAQ:SVLF) return of over 38% in 4 weeks and Fuwei Films (NASDAQ:FFHL) 34% 4 week return (returns are hypothetical and exclude commissions and taxes). The previous month this strategy returned 8.77% led by FFHL's incredible 72.76% for the month. FFHL is headquartered in China and develops and manufactures plastic film. A strong earnings report in mid-November has helped spurred the strong returns.

The strategy tends to be high beta - it performs very well in bullish markets and may underperform in bear markets. You can see on the 5 year return chart below (click to enlarge) that the screen struggled most in 2008 along with the rest of the market (returns on the charts assume .5% slippage but do not account for commissions or taxes; however, free trades are always one option to avoid commissions). I said previously that this is not a strategy I am investing in but it can lead to some under- the-radar investment ideas with additional due diligence.

One option is to abandon this type of strategy or move to cash when an underlying index such as the Russell 2000 is trading below a long term moving average such as the 200 day moving average. Currently the Russell 2000 is above its 200 day moving average. Another consideration is to hedge the strategy by shorting a small cap ETF or purchasing an inverse small cap ETF. Given that the market rally is beginning to look a little tired as of last week, now may be a time to consider a hedge if also considering a high beta strategy such as this one.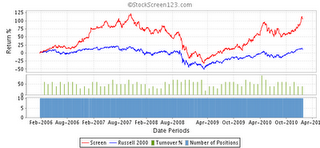 The current top 10 stocks are also below. FFHL tops this month's list for the second consecutive month. I update the screen once per month on my site and track the results for free on the right hand side of the site. Full results for all months can be viewed on the right side of Scott's Investments under "Micro Value Screen". The tool used for the screen is stockscreen123.

| | | | | | | |
| --- | --- | --- | --- | --- | --- | --- |
| Ticker | Name | Trend | SS123 Rank | MktCap | Pr2SalesTTM | Pr2BookQ |
| FFHL | Fuwei Films (Holdings) Co., L | Here | 99.7 | 61.28 | 0.98 | 0.77 |
| ESCA | Escalade, Inc. | Here | 96.77 | 68.41 | 0.58 | 0.79 |
| IMOS | ChipMOS Technologies (Bermuda | Here | 95.69 | 180.11 | 0.32 | 0.56 |
| COBR | Cobra Electronics Corporation | Here | 94.24 | 20.38 | 0.19 | 0.63 |
| GFN | General Finance Corporation | Here | 93.19 | 57.23 | 0.35 | 0.53 |
| SVLF | Silverleaf Resorts, Inc. | Here | 89.63 | 52.88 | 0.24 | 0.26 |
| JAX | J. Alexander's Corporation | Here | 85.32 | 32.44 | 0.22 | 0.68 |
| TGX | Theragenics Corporation | Here | 70.6 | 58.53 | 0.73 | 0.73 |
| DFR | Deerfield Capital Corp. | Here | 69.67 | 68.21 | 0.53 | 0.17 |
| RCKY | Rocky Brands, Inc. | Here | 68.8 | 80.99 | 0.33 | 0.8 |
Disclosure: No positions in stocks mentioned