COMPANY OVERVIEW
Bunge (NYSE:BG) is a global food company with 32,000 employees and 400 facilities in over 30 countries. It has 4 main divisions: agribusiness, sugar and bioenergy, food and ingredients, and fertilizer. As leading producer of oilseed and grains, Bunge handles soybeans, canola, sunflower seed, wheat, and corn. One of this sector's biggest clients is the animal feed industry, which purchases the vegetable oils and protein meals that Bunge produces from these crops. In addition to grains and seed, however, Bunge is the second largest global sugar distributor with 20 mmt of production capacity.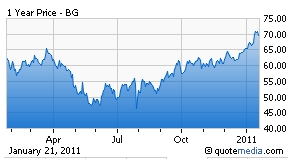 Bunge operates a series of sugarcane mills in Brazil and has vertically integrated by investing in the production of biofuels (ethanol). The company also uses some of the sugar for its food and ingredients division, which offers a host of edible oil and milling products. Its edible products include bulk oils, shortenings, margarines, mayonnaise, wheat flours, bakery mixes, and corn-based products. Bunge's last business segment is its fertilizer division in Brazil, where the company is involved throughout the supply chain—from mining to retail. It has captured 25% of the market for nitrogen, phosphate and potash (NPK) fertilizers, but Bunge recently divested part of the business. In conjunction with these four divisions, Bunge also has a series of affiliate investments with one or more business partners. These joint ventures include several biofuel, fertilizer, and milling companies.
FINANCIAL INFORMATION
| | | | |
| --- | --- | --- | --- |
| Market Cap | $10.27B | Shares | 144.89M |
| EV/EBITDA TTM | 13.70x | Industry Avg | 7.0x-16.0x |
| P/E | 5.62 | Industry Avg | 17.4x |
| P/B | 0.83 | Industry Avg | 12.3x |
| Gross Margin | 4.60% | Trend (Y) | +1.8% |
| Op. Margin | 5.92% | Trend (Y) | NA |
| Profit Margin | 4.75% | Trend (Y) | +3% |
| Sales Growth (Q) | 3.22% | Sales Growth (Y) | 1.0% |
| CapEx | $918M | Trend (Y) | +$158M |
| Cash & Equiv | $553M | Trend (QoQ) | -$451M |
| D/E | .28 | Interest Cov. | 17.96 |
| Depreciation | $443M | Trend (Y) | +4M |
| EPS (TTM) | $12.62 | EPS (Q4 2011e) | $1.64 |
| EPS (FY 2010e) | $5.46 | EPS next 5Y% | 16.80% |
| Price Target | $83.00 | Analyst Rating | 2B |
| Short Interest | 3.24% | SI Ratio | 4.14 |
| Insiders Own | 1.06% | Inst. Own | 71.10% |
| Inventories | $5.6B | Trend (Y) | +$700M |
| Dividend | $0.92 | Dividend yield (%) | 1.30% |
GROWTH OPPORTUNITIES
- Macroeconomic forces: Commodity prices in most sectors have increased sharply over the past year. Inflation is imminent and is fueled by growing demand from the developing world. The billions of people in Asia (and South America and Africa) will only want more food and energy as their buying power increases, and urbanization will exasperate this problem. People in cities, who no longer contribute to supply, will consume large amounts of food and energy. These trends bode well for Bunge as a vertically integrated company, because hikes in commodity prices will boost profit margins. In addition, the growing middle class in these developing nations is changing global tastes by demanding more meat. While Bunge does not raise livestock, the company is a major provider to the feed industry.
- Strategic Acquisitions: With much lower debt than its peers, Bunge has been able to seize growth opportunities and expand aggressively. On January 11, 2010, the company acquired the Argentine fertilizer business of Petrobas Energia, which has expanded Bunge's presence in the fertilizer market. In February 2010, Bunge also bought five sugarcane mills in Sao Paulo, Brazil. These five mills form a cluster within a highly productive region for sugarcane and provide synergies with its fertilizer business and logistics. Additionally, Bunge purchased two oilseed processing facilities in Turkey and—on November 4—several grain elevators in Morristown, Indiana. Even more recently, BG revealed its offer for Australia's Tully Sugar Ltd and a joint venture with SG Biofuels in North America. With this slew of acquisitions, the company has strengthened its business and attained even greater market share in several key commodities.
- Cheap valuation: Even though BG has appreciated 11% in the last month, it is still cheap relative to its competitors. For such a healthy company, it has an astonishingly modest P/B ratio of .83 and a P/E ratio of 5.62. These are extremely low in light of the industry averages and Bunge's key acquisitions. The past month's activity suggests the market is beginning to catch on, but with the aforementioned macroeconomic conditions, Bunge has ample room to grow. The company's low debt, vertically integrated structure and careful management make its valuation even more attractive.
- Key locations: Bunge has several key geographic catalysts. With most of its sugar and ethanol business based in Brazil, the company is poised to benefit from the growing domestic flex-fuel trend. Flex-fuel cars can take any mixture of gas and ethanol, and the market for these vehicles is growing rapidly in Brazil and, therefore, increasing demand for ethanol. Likewise, Bunge is developing its presence in Asia, specifically in Vietnam, which is one of the fastest growing economies. BG also has the only commercial dry bulk port in Vietnam, and with its sipping facility in Longview, Washington, the company controls the most efficient way to export grains to Asia. In the coming years, both of these will provide a strategic advantage over competitors.
- Added bonus from cane mills: Bunge has begun to explore supplying electricity to cities located near cane mills during the dry season. It is estimated that milling 4 mmt of sugarcane can produce enough electricity to supply a city of 300,000 people in Brazil; BG has production capacity of 20 mmt. This innovation could provide supplemental revenue and fund the acquisition of more mills.
CONCERNS
- Macroeconomic forces: While it appears that commodity prices will be rising/constant for the next 12 months, the CEO of BG cautioned that supply would begin to catch up with demand in 2012. While that is still far off, commodity prices and other economic variables, such as exchange rates, do sway Bunge's profits. The company mitigates risk through commodity trading and risk management, but any unforeseen troubles could spell disaster for the industry. In addition to prices, however, Bunge is at the mercy of several governments, as subsidies and special tax benefits have a huge effect on their earnings. Impending government belt-tightening may create a difficult environment.
- Acquisitions: Bunge's recent acquisition binge could backfire if recent purchases do not play out as planned. Instead of paying a larger dividend or buying back shares, Bunge has spent most of the money it gained from a fertilizer divestiture on acquisitions. Share price will fall if these do not pan out.
OPINION
Bunge Ltd. is an immediate buy. Both its short-term and long run finances have a solid bill of health. With strong macroeconomic tailwinds as well, this company is poised for success. Despite rapid appreciation over the past month, it has ample room to run, and I predict that share price will surpass $80.00 by April.
Disclosure: I am long BG.