In a previous article, I discussed Northshore Mining's month by month shipping in 2010. Northshore Mining is a subsidiary of Cliffs Natural Resources (NYSE:CLF), and the company mines iron ore from lands mostly owned by the Mesabi Trust (NYSE:MSB). Once Northshore mines the iron ore from trust lands (see the picture below taken from Mesabi's 2010 10-K), it is then shipped via rail to pelletizing facilities in Silver Bay, Minnesota.
The iron ore pellets are then shipped via bulk carrier vessels off to customers, or stored in storage facilities on site. Most months, the pelletized iron ore is shipped from Silverbay to customers in Canada like Essar Algoma, and ArcelorMittal (NYSE:MT) in Burns Harbor, Indiana. In order to get to these customers, ships must first pass through the Soo Locks in Sault Ste. Marie, Michigan.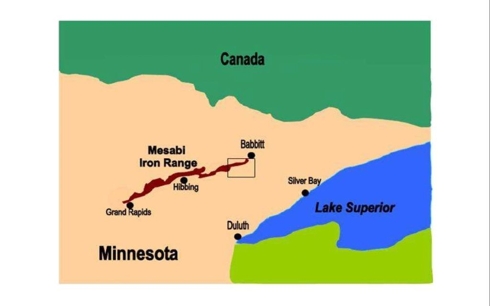 Click to enlarge
click to enlarge
Due to the harsh climate on the Great Lakes during the winter, the locks are generally closed from the middle of January through the middle of March each year. This year is no different, as according to boatnerd.com, the Soo Locks were closed on January 19th, and will not reopen until March 25th.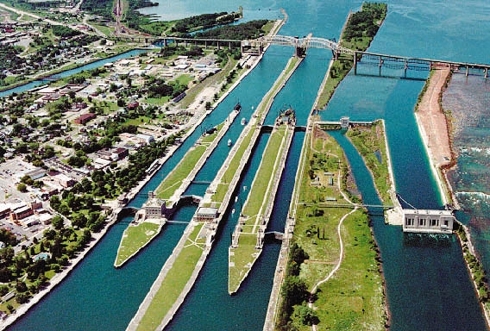 Click to enlarge
This means that the Shipping done from January 1st through January 19th will constitute the majority of the 2011 Q1 distribution for the Mesabi Trust, as the locks will only be open for 6 days in March. Given that January's shipping is complete, let's look at what the month's maximum iron ore tonnage figures look like. Below, I've included the January shipping for 2010 and 2011 so as to draw a comparison between the two.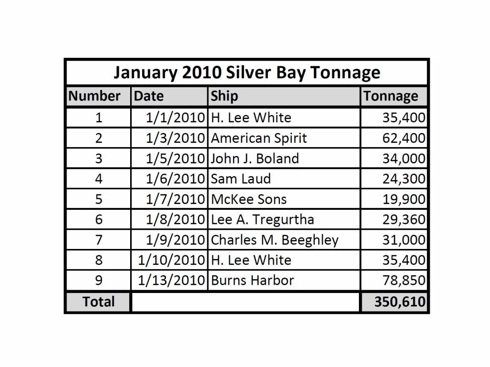 Click to enlarge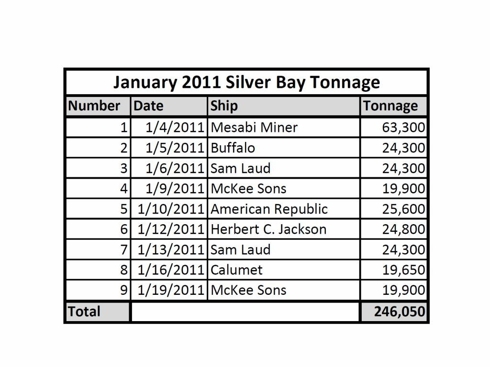 Click to enlarge
As you can see, January 2011 has seen a drop of over 100,000 tons from January 2010. In 2010, Northshore shipped an additional 145,000 tons in March for a quarterly total of 497,000 tons. Of the 497,000 tons, 463,000 were attributed to the trust, and the 2010 Q1 distribution wound up being .125 per unit. Given that shipping in 2011 has been lower than that of 2010, it isn't unreasonable to expect a distribution of around .10. A closer examination will need to be done once the March 2011 shipping numbers have been finalized, but let's look at what the distribution might look like with just the January numbers. Below, I've shown my work.
For this calculation, I've made the assumption that the iron ore has been sold at $75 per ton, which is consistent with what the cost per ton was last quarter. Two other assumptions that I made are that no positive or negative price adjustments will occur, and that no cash from the trust's cash reserves will be used to bolster the Q1 distribution.
The Mesabi Trust distribution is generally derived from two main factors. The first being the base overriding royalty rate, which is set at 2.5% for the first million tons shipped. The second factor is the bonus royalty rate, which will be 3% if Northshore's iron ore is sold at $75 per ton. Below is how the math works out, please remember that Mesabi generally receives credit for approximately 90% of the iron ore shipped from Silver Bay.
Base Overriding Royalty Rate for January Shipping:
221,445 x $75 per ton = $16,608,375
$16,608,375 x .025% = $415,209
Royalty Bonus for January Shipping:
221,445 x $75 per ton = $16,608,375
$16,608,375 x .03% = $498,251
Total Royalty Distribution through January :
$415,209 + $498,251 = $913,460
$913,460 / 13,120,000 units = .0696 per unit (through January)
So, if we use only the January shipping numbers we get a total distribution of around .07 per unit. At the end of March we'll have to redo this in order to get a better estimate, but for now it should give unit holders and onlookers a good sense of what the 2011 Q1 distribution might look like. If you have any questions or comments please feel free to post them below.
Disclosure: I have no positions in any stocks mentioned, and no plans to initiate any positions within the next 72 hours.