Several years ago I wrote a series of articles about World Wrestling Entertainment (NYSE:WWE) (see here, here and here) in which I opined on its unique ability to generate free cash flow and pay high dividends to its investors. I even went as far as to say that the company and its business model itself were recession proof.
While WWE continued its dividend payouts with regularity and maintained profitability during even the most difficult part of the financial crisis and ensuing recession, the earnings projections released by WWE this Friday, in anticipation of the February 10th official earnings announcement, should be a major concern to investors.
The announcement this past Friday of earnings projections in the range of $.08 - $.10 as opposed to the $.16 projected by analysts was the catalyst for a major sell-off of WWE stock. In the after-market hours alone the stock plunged over a dollar to a 52-week low around $12.40.
If you've been a long term holder of WWE stock, you've seen the stock get sold off before on poor earnings, only to recover a quarter or two later. However this time it's different. This time WWE took the initiative to let us investors know ahead of time because "it expects that this would be useful information for the financial community." (From WWE Media Release: January 21st "WWE Fourth Quarter 2010 EPS Projections".)
This announcement is a warning to investors that the key drivers of WWE growth are weaker than originally thought and that the FCF generation necessary to maintain such high dividend payments may not continue in the future.
WWE enjoys many strategic advantages that other firms would love to have. By capitalizing on its strong brand, dedicated viewing audience, high margin on merchandise and licensing, and live event business, WWE has been able to generate free cash flow consistently despite recession, internal strife, scandal and, of course, the departure of CEO Linda McMahon to run for office last year.
By continuing to pay its outrageous dividend, WWE has prevented itself from achieving its high growth potential and has lost the ability to use its FCF to fund investment in new countries such as Brazil, Mexico, and Eastern Europe. Instead of toying around with WWE Films and creating movies such as The Marine or See No Evil, which had production and marketing costs eat up millions in FCF, WWE could've capitalized on international growth in Latin America and Eastern Europe and buoyed its prospects for the future.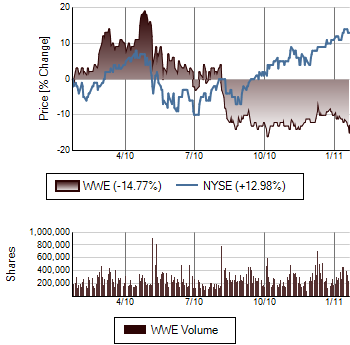 Source: WWE Corporate
Over the years WWE has always managed to bounce back from difficult situations. Murders by WWE superstars and steroid scandals, however difficult and trying for the company and its shareholders, were never enough to bring WWE down to the mat for good.
The combination of its uncharacteristic performance against the S&P 500 (-14.77% vs. 12.98%) in the absence of former CEO Linda McMahon, its unexpected earnings projections announcement this past Friday, and the continuous pressure on its FCF to satisfy dividend payouts will make 2011 the year that WWE redefines itself for better or for worse.
Will Mr. McMahon lower his family's' dividend payout so that other shareholders can continue receiving the 36 cents a share? Will Linda McMahon return to her previous position as CEO and fill the leadership void in WWE's management? These questions will be answered in 2011 and WWE will either be trading in single digits again like it did during the depths of the financial crisis or soaring back above $18 with its dividend policy untouched. If I were to venture a guess, it would be the former.
Disclosure: I am long WWE.