by Tony D'Altorio
UK medical device maker Smith & Nephew ADR (NYSE: SNN) is over 150 years old. A leader in orthopedics, endoscopy and wound care, it makes an attractive takeover target.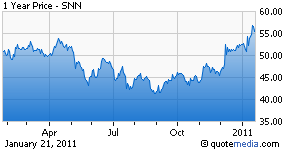 The medical device industry is a great place to exploit rising longevity and living standards worldwide. But the global economic downturn has put pressure on pricing.
For example, in the orthopedics field, patients have opted for older, lower-cost, artificial hips or opted out of surgery altogether. Meanwhile, upcoming tougher regulatory standards in the U.S. and Europe threaten to hike industry costs.
Fortunately, Smith & Nephew has a strong geographic spread of revenue. This offers scope for diversification into new markets, especially for its U.S. peers.
Venkat Rajan, medical devices manager at the research firm Frost & Sullivan, said, "Smith & Nephew is very strong, with a good brand reputation and a high presence outside the U.S. in sales and marketing."
And right now, there's one company with a good shot of getting all that…
Smith & Nephew's Possible Suitors
A good deal of consolidation has already happened in the industry, such as the Boston Scientific's (NYSE: BSX) takeover of Guidant. But more should follow what Mr. Rajan called, "the devastating impact of the recession."
Yet only a small list of U.S. companies have a realistic shot at buying Smith & Nephew. That includes Zimmer Holdings (NYSE: ZMH), Stryker (NYSE: SYK), Johnson & Johnson (NYSE: JNJ) and Biomet.
In 2006, Smith & Nephew almost struck a deal with Biomet. However, it was outbid by a group of private equity owners, who bid $11 billion for the company.
But today, Biomet has a heavy net-debt equivalent to 5.7 times its operating earnings. To help pay that down, Smith & Nephew would likely have to sell its wound care unit.
Deutsche Bank (NYSE:DB) analysts estimate the business is worth $2.6 to $3.4 billion.
But merging with Biomet may not produce synergies high enough to justify the deal. And even if it does make a move, cash-rich Johnson & Johnson will likely quickly outbid it… or any other company that tries.
J&J and Smith & Nephew
Smith & Nephew already turned down Johnson & Johnson's low-ball offer in December. According to rumor, the next bid will be in the $11 billion range.
Unlike Biomet, J&J competes in every segment that Smith & Nephew does. This creates ample opportunity to squeeze out significant synergies.
It would also allow the company to reduce selling expenses without directly cutting service levels to physicians. That is important, since selling costs tend to make up a large portion of sales, general expenses and administrative expenses at big pharmaceutical companies.
Additionally, buying Smith & Nephew – Europe's largest maker of replacement knees and hips – would bolster J&J's share of the artificial joint market. Its global share of reconstructive hips and knees would rise to 34% and it would have 20% of the orthopedic trauma market.
Of course, it will probably have antitrust regulatory hurdles to jump as well. Regulators may require J&J to sell off parts of Smith & Nephew it doesn't want to sell.
And the acquisition could make the company overexposed to metal-on-metal hip replacements, which is a declining category.
One further downside to buying Smith & Nephew is its wound care business. Johnson & Johnson sold its own to buyout group One Equity Partners three years ago, and doesn't want to reenter the market.
An Eventual JNJ Deal for Someone
Yet overall, Smith & Nephew – and many other overseas healthcare companies – look very good to Johnson & Johnson… for one very good reason.
The U.S. company generates a large amount of revenue overseas and keeps a lot of its cash offshore. As with other multinationals, that money is "trapped" in foreign lands.
And J&J would much rather keep it that way than face a substantial U.S. tax bill.
So it needs to find suitable overseas investments to put that money to work. The company sees Smith & Nephew as a good investment and certainly a better option than giving Uncle Sam a big chunk of its money.
That doesn't mean that Johnson & Johnson will buy up Smith & Nephew at all costs. But it does mean that it's going to find some overseas target, guaranteed.
Disclosure: Investment U expressly forbids its writers from having a financial interest in any security they recommend to our subscribers. All employees and agents of Investment U (and affiliated companies) must wait 24 hours after an initial trade recommendation is published on online - or 72 hours after a direct mail publication is sent - before acting on that recommendation.