We have been bullish on utility stocks for some time (since the start of 2009) and have been invested in the ETF XLU via physical positions and LEAPs calls. Well, we certainly have not been wrong but we also have little to show for our efforts as the utilities sector remains well below levels it was trading at when the Lehmans got into trouble.
However, the performance of XLU is rather deceiving with respect to the behavior of the Utilities sector. While it has remained essentially unchanged in some two years, mid- and small-cap utility issues (as per the S&P 400 & 600 Utility sectors) are either at or very near to record highs.
S&P 600 Utilities Index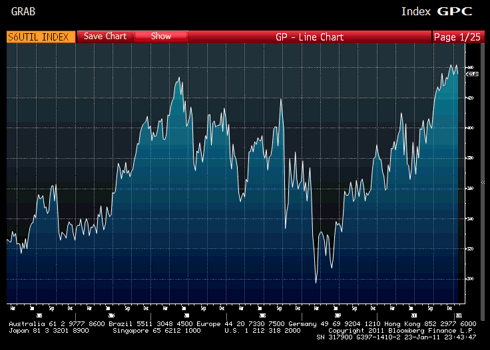 Click to enlarge
Click to enlarge

For how much longer can small- and mid-cap utility issues outperform large caps? I don't know, but I do know that the price differential between the mid and small caps vs. large caps has not been this dramatic in some 10 years (as per price/book ratios). I also know that with a price/book ratio of some 1.5x, it is the cheapest that the S&P 500 Utilities sector has been more or less since late 2002.
It seems that the utilities sector is the forgotten about sector ... no one seems to be talking about it. I certainly do not see any evidence of pension or mutual funds loading up on utilities which leads me to believe that ownership of large cap utility stocks is in the hands of a relative select few. Implied volatility of options on large-cap utility stocks is at very low levels which suggests that option writers don't appear too concerned about a dramatic move up or down. Taken together, low valuations, low exposure by mutual funds, low volatility in option prices, I believe that there is limited downside for those intent of holding utility stocks for the long term, which seems like a forgotten art now, with everybody concerned about what is going to happen to markets tomorrow or next week.
And there is one more thing, the relative out performance of small-cap vs. large-cap utilities suggests from a broader market perspective the place to be over the coming weeks/months may well be in large caps rather than small caps. (the Dow vs. the Russell).
It is glamorous talking about sectors that have already moved, but being glamorous in this game of investing is the quickest way to the below-average performance house. We like to get into sectors that are showing fantastic value where the long term prospects are not impaired and before the press of popular opinion starts to chirp. This is our source of out performance.

Disclosure: I am long XLU.

Additional disclosure: Long calls on XLU, Jan 13 exp, 35 & 40 strike