2010 was a very good year. I was able to increase my portfolio value by double digits (nearing triple digits) by concentrating on the smaller mining stocks. The spectacular performance in the fall of the precious metals and miners accounted for almost all of the gains.
Now, looking forward to 2011, I have posited a silver bottom happening right now. First, a look at the status of the silver sector using the Silver ETF SLV as a proxy for the silver price. The chart since Dec 1, 2010 is shown below: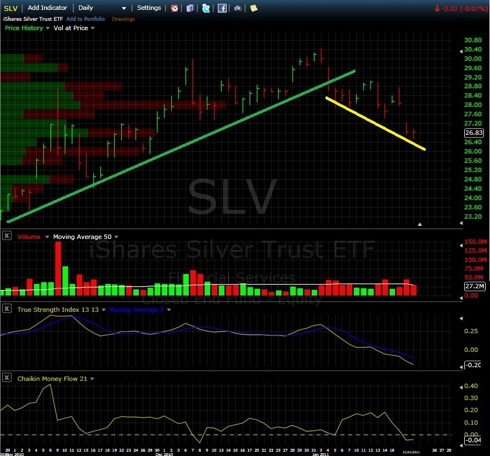 click to enlarge
Quite simply, the chart shows a rising trend (marked in green) since November, that has been broken since the beginning of 2011, and that the price is now trending downwards (marked in yellow). My take on the future of this trend is addressed in a previous article calling for a silver bottom. Next up would be to examine the status of a dog's breakfast of silver equities as represented by the Global X Silver Miners ETF, SIL. The chart is following: (click to enlarge)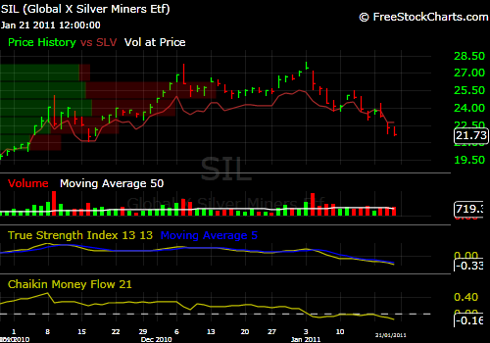 Generally, the SIL ETF follows the price moves of silver, up and now down. Is SIL leveraging the price movements of silver (the trace of SLV is shown in red for comparison)? Yes, to my eye, SIL is leveraging the price move upwards, as well as downwards.
If a bottom for silver is in already, or if silver is about to turn, let's issue a casting call for some likely silver actors in order to take advantage of the next act in the silver play. This particular silver casting call will only be about the artistic qualifications. As in all casting calls, it is merely about impressions (and will serve to only introduce the actors; readers/investors are well advised to perform their own background checks and due diligence), and we will not look at any of their quantitative qualifications or any cold hard facts.
First to appear, when one thinks of silver, is the "Grande Dame" of the silver play, Silver Wheaton (NYSE:SLW). A chart performance of Ms. SLW is displayed below: (click to enlarge)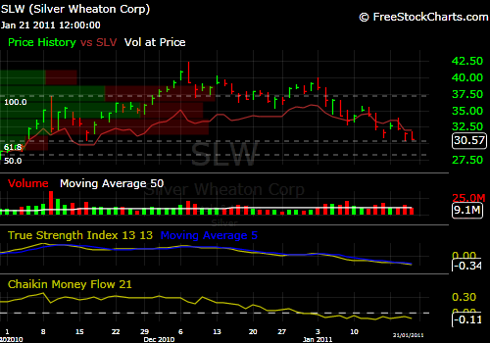 Ms. SLW has certainly been on her toes and has moved considerably higher than the base SLV prices, relatively. Now it looks like Ms. SLW has lost some steam and is beginning to lag SLV.
How about the straight man of silver, Mr. PAAS (Pan American Silver, (NASDAQ:PAAS). His chart follows: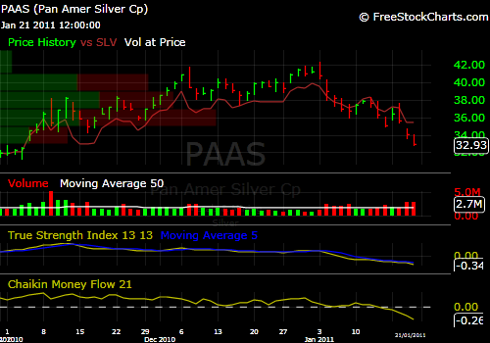 Mr. PAAS is a stoic performer and stays with the silver price more, following the moves without much excess.
Then there is Mr. HL (Hecla Mining (NYSE:HL)), who has just burst on the scene after a bout with rehab. The chart for HL follows: (click to enlarge)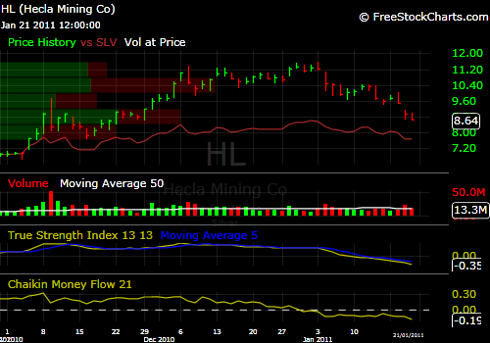 Wow, the rehab for HL has done wonders for his ability to leverage SLV. The gains since December are still holding.
Next up is the new one on the scene, wannabe producer Mr. AG (First Majestic Silver (NYSE:AG)). His chart follows: (click to enlarge)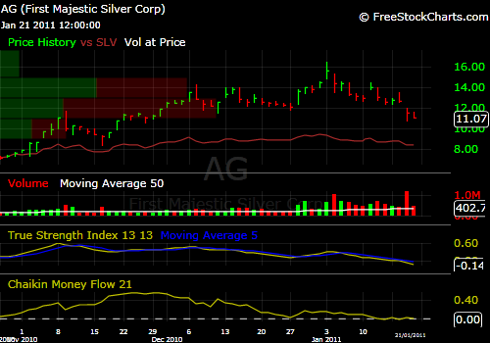 It seems the public has quite warmed up to the performance of AG.
Then there is understudy Ms. SVM. She is a new performer and her chart follows: (click to enlarge)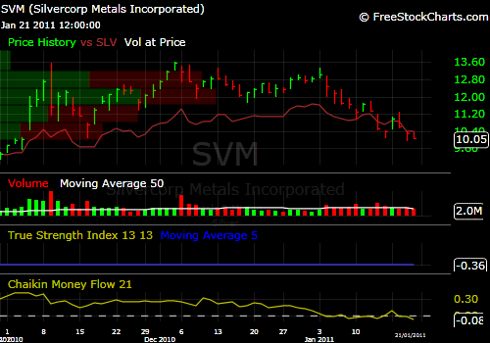 Ms. SVM certainly put on a brave performance in the beginning, but she is beginning to tire.
Then there is Ms. Congeniality, Couer D'Alene Mines (NYSE:CDE). She is the real heart of the play and her chart follows: (click to enlarge)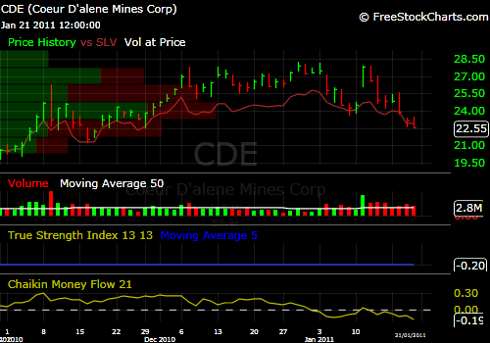 Ms. CDE is an experienced performer, and as shown, is just beginning to show her strength.
How about that lady actor SSRI (Silver Standard Resources (NASDAQ:SSRI)), who is trying to reduce. Her chart follows: (click to enlarge)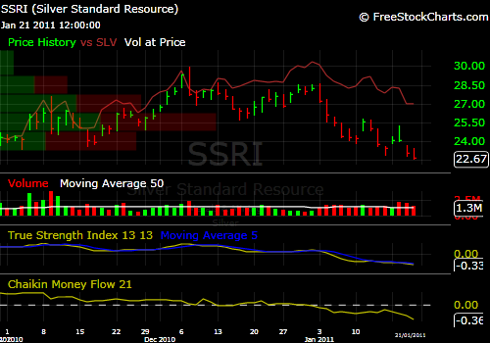 Yes, the reduction is working and it is affecting her chart as well.
Now for some juniors looking to move up in the silver play.
Mr. USA (US Silver Corp (OTC:USSIF) has been on the mend and is just coming back. His chart follows: (click to enlarge)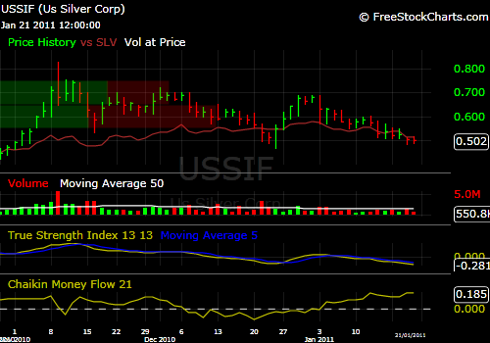 Mr. USA was strong previously, and is just coming back to form.
Here a performer from Canada, Mr. CZN (Canadian Zinc (OTCQB:CZICF)). His chart follows: (click to enlarge)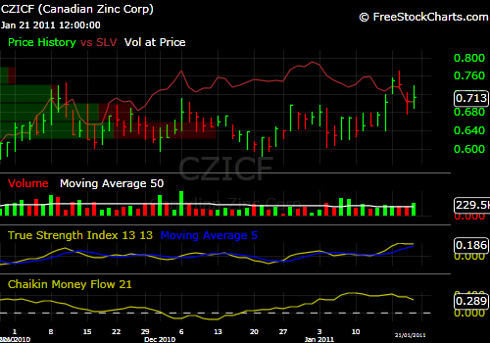 I suppose he missed the first curtain call, but Mr. CZN appears ready for the next act.
Finally, as all casting directors have favorites, here is Mr. SLX (Silvermex Resources (GGCRF.PK)). The chart for SLX follows: (click to enlarge)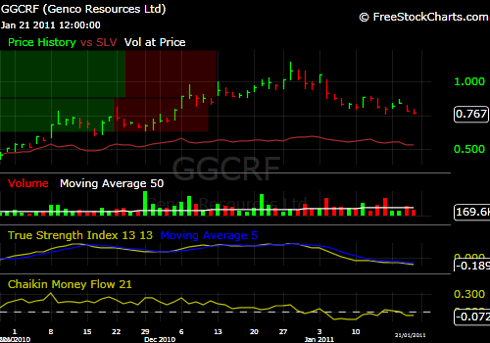 Gadzooks, I have been saving the best for the last. This SLX Junior looks ready to make the great silver play a great success.
Disclosure: I am long GGCRF.PK, and many other junior silver, gold and base metals miners