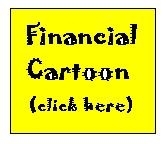 CEF Weekly Review: On average the 13 closed-end fund (CEF) types registered an increase of 0.2% for the week ending 1/21/11. The high-low spread was +5.2% versus an unusually large +7.1% the previous week on a respective average of -0.7%. On an aggregate, unweighted basis, the weekly average price change for the 500 plus CEFs in the Eqcome database was up 1.0%. (See the financial cartoon.)
The PowerShares CEF Income Composite (NYSEARCA:PCEF), an ETF that invests in taxable income CEFs, was down 0.2% for the week. The S&P 500 was down 0.8% for the week and 2.0% YTD. The S&P 500's average daily share volume for the week was up 16.9% to 4.975 billion.
(Click here for YTD CEF Performance. The table is based on a smaller CEF sample size as all the data fields are not available for the CEF universe.)
The Eqcome CEF Fear Index for the week eased. The average unweighted price increased 1.0% while related NAV was up 0.2%. For the week the VIX was up 19.5% to 18.47.
CEF Weekly Fund Type Performance: After weeks of pounding, both national and state CEF muni funds advanced for the week 3.2% and 2.3%, respectively. This was consistent with the muni bond ETF, iShares S&P National Municipal ETF (NYSEARCA:MUB), which advanced 2.2%.
In a holiday shortened week that saw a mid-week swoon, equity-oriented CEF funds—particularly WrldEqFnds—were buffeted by uncertainty over China's policies to rein in its inflationary growth and its impact on global economic growth. Additionally, the uncertain outcome of the summit meetings between President Obama and Chinese President Hu Jintao call into question prospective joint resolutions of harmonized global economic policies.
Weekly CEF Winners and Losers: Consistent with the strong performance of muni CEFs, one of the CEFs with the greatest positive spreads for the week was Invesco Insured Municipal Trust (NYSE:IMT). IMT price advanced 6.8% versus its NAV which increased 1.1%; this generated a positive PrcNAVSprd* of 5.7%.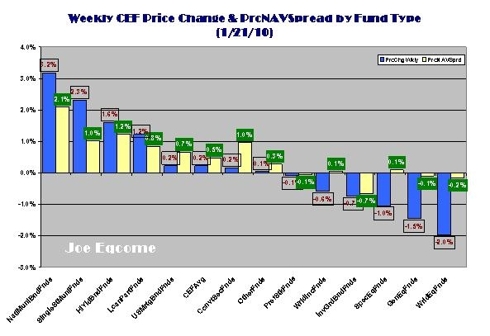 IMT invests in insured investment grade municipal bonds. Given the "insured" in its name, IMT may have offered investors some comfort in trying to "bottom fish" in this sector. Currently, IMT pays a 6.9% annualized monthly yield with the taxable equivalent yield of 10.6%. Its biggest portfolio holding is a 3% position in the State of Illinois, Series 2001, 5.38% 01 April 2015.
One of the CEFs that experienced the greatest negative PrcNAVSprd was Cornerstone Total Return (NYSEMKT:CRF). CRF price declined 5.3% while its NAV decreased 0.6% generating a negative PrcNAVSprd of 4.7%. CRF was the subject of a 1 for 3 rights offering that closed last month. The rights were priced at $7.23 per share versus an estimated subscription price of $9.26 per share. Since January, for each week there has been twice the normal volume "dropped" on the market possibly related to the rights offering.
CRF doesn't make any sense as an investment—although it may make sense as a trade. It is essentially a closet S&P 500 fund as 7 of the top 10 holdings are the same that you can buy if you purchase the SPDR S&P 500 ETF (NYSEARCA:SPY). The stock is selling at almost a 20% premium and its annualized managed distribution yield of 16.7% was characterized last year as 100% return-of-capital. Essentially, you're getting your own money back in distributions after paying fees and expenses of 2.8%. Only the CEO and one director exercised their rights. The other directors in fact don't own any stock but are happy to collect their directors' fees. (Directors should get their fees in share equivalents of CRF in lieu of cash.)
Economic & Earnings Outlook: (Click here for next week's economic calendar; click here for earnings' announcements and estimates.)
E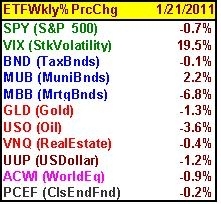 TFs: For a more detailed EFT performance by sectors, click here.
Insider Trading: Daniel Neidich, a director of Great American Investors Fund (NYSE:GAM), continued adding to his position in January. Mr. Neidich purchased an additional 6,000 shares adding to the 8,000 shares he purchased earlier in the month for an incremental capital outlay of $162,307 shares at an average cost of $27.05 per share. Mr. Neidich now holds 73,156 shares of GAM.
Philip G. Condon, officer and portfolio manager of DWS Municipal Income Trust (KTE), purchased 10,000 shares in January in four transactions at an average cost of $10.46 per share. Mr. Condon, who has been active as an insider buyer and seller, had sold out of his position in April of 2010 at $12.03 per share. Mr. Condon seems to have a fairly good record at timing this stock. This transaction is worthy of note.
The last insider transaction for The Adams Express Company (NYSE:ADX) was two years ago almost to the date. Frederic A. Escherich, a director, purchased 1,000 shares at $10.98 per share. Mr. Escherich is a member of the Board's retirement Benefits Committee who has participated in "loading up" the employees with benefits befitting a California state pension fund employee. (See Adams Express: Vote "No" on Incentive Compensation (3/9/10).)
(Click here for a hyperlink to the Joe Eqcome's CEF Weekly Insider Report.)
CEF Distribution Announcements This Week: The following is a link to a table of CEF distribution announcements this week as well as the previous week's with yet expired ex-dividend dates. The list is not intended to be inclusive. (Click here for Joe Eqcome's Weekly CEF Distribution Announcements)
Significant CEF Corporate Events: Neuberger Berman Real Estate Securities Income Fund (NYSEMKT:NRO) announced that the number of shares tendered exceeded the number of shares that NRO offered to purchase under its tender offer agreement. As a result, NRO will purchase the maximum percentage of outstanding common shares that it previously announced on a pro-rata basis in accordance with the number of shares duly tendered by each shareholder and the terms of the Offer to Purchase, including the "odd lot" adjustment. The number of shares tendered amounted to 12 million representing 19.4% of outstanding shares with 867,167 shares tendered via guaranteed delivery.
CEF Focus Stock(s) for the Week: Given the extent that emerging markets have suffered year-to-date, Mexico Fund (NYSE:MXF) might be a safe way to play a rebound in the WrldEqFnds. Most of the angst in the global economy is centered around China's attempt to slow its economy and its impact on the region and the global economy.
MXF would likely benefit from the strength that seems to be developing in the U.S. and in other Latin American economies. At its current stock price, MXF is trading at a 9% discount and at an annualized 8.8% distribution yield for 2011 based on a 10% NAV managed distribution program. The CEF employs no leverage. The stock is thinly traded as its average daily volume is 28,000.
Caveats: The "CEF Focus Stock(s) for the Week" section includes CEF stocks of interest to me—and possibly other retail investors—and are subject to further analyses. Their inclusion in this section should not be viewed as recommendations based on the analysis provided here alone. Such stocks are basically a "heads-up" of something that might be of interest—or, not.
---
[*] All things being equal, price and NAV should move in tandem. A price movement greater than the NAV generates a positive PrcNAVSprd and may be interpreted as negative on a near-term basis and indicate that the stock is overvalued relative to its NAV which in theory is the stock's intrinsic value. The opposite would be true for a negative PrcNAVSprd.
Disclosure: I am long ADX, GAM, MXF.
Additional disclosure: Eqcome CEF Portfolio™: Joe maintains three separate CEF portfolios that have different investment objectives: CEFBig10™, CEFMuni10™ and CEFDisc10™ (see website). The first is a balanced equity-income portfolio (CEFBig10™), the second a tax-exempt income portfolio (CEFMuni10™) and the third a portfolio whose objective is capital gains with a secondary objective of current income (CEFDisc10™). These portfolios will soon be available to retail investors at a nominal fee to maximize equity-income for retirees and retail investors. The recent increase in interest rates and the pressure on muni funds has placed downward force on the stock prices since the late-2010 (See: Performance Chart[3])