There are numerous factors that will push silver higher in 2011 and beyond, the most important, of course, being the supply-demand fundamentals. In an article I wrote a few months back, I outlined the mounting silver deficit as world consumption outstrips world mine production by a wide margin, a trend that has been intact for well over a decade now. This doesn't mean we will run out of silver anytime soon, as world bullion inventories are estimated to be between 800m-1b ounces. Rather, the price will have to adjust higher (market-clearing price) to reflect the strong underlying fundamentals. I contend that silver is severely undervalued with many bullish catalysts ready to send this metal higher in the near future.
1) We are back to early 2009, when the futures market showed backwardation, an extremely bullish signal. Soon following this backwardation, silver rose rather substantially (over 30% in a rather short period of time). The current backwardation is most likely a factor of the constraints in the physical market for silver as it indicates people are willing to pay more for silver now relative to twelve months in the future.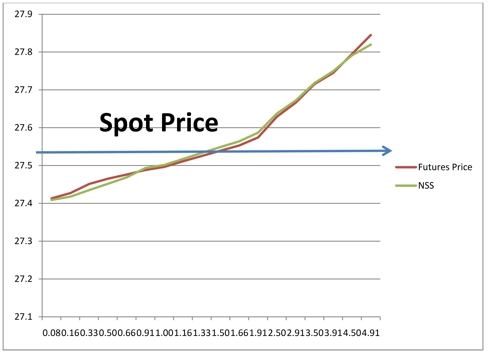 click to enlarge
To better understand the above curve, a theoretical explanation may help. The following diagram is the convenience yield, which implies that those with inventories will not be willing to lend the commodity to an arbitrageur for a lease rate to compensate for the loss of this yield. If the current supply of a commodity is large relative to its demand, the yield will be low as producers desiring to use the commodity can always access it through the market. If spot supplies are tight relative to demand, the convenience yield is large. The latter is what is currently taking place as the convenience yield is in excess of 12%.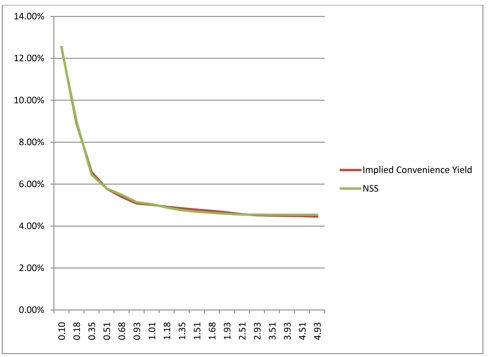 2) Structural changes in the Commitment of Traders report are showing the largest commercial traders are covering their massive net short position.

3) Increasing investment demand – The U.S mint has more or less said that they are having trouble keeping up with demand, hitting a record in the first 15 days of January.
4) Delayed ETF flows, recently commented on by John Embry of Sprott Asset Management, who highlighted the fact they have yet to receive all the silver they ordered for the trust, over 2 ½ months after inception.
5) Continued currency debasement by the world's largest economies. Personally, I like to keep track of the money supply, which isn't an easy task given that all the monetary aggregates published by the Fed either include items that aren't money or exclude items that are. I put together the "TMS" (True Money Supply), which is essentially all money that is immediately available for use in exchange (click here for a breakdown of these items). Below is a chart showing the surge in this aggregate: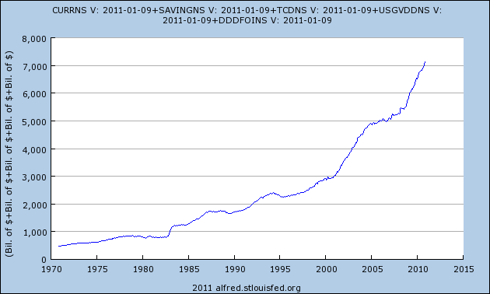 The massive increase in the TMS will continue to increase based solely on currently enacted policies, i.e QE2, and will take a while to fully work its way into the TMS. Additionally, unlike the late 70's/early 80's, large increases in the money supply are occurring on a worldwide scale with no signs of slowing down, given the rhetoric coming out of the world's three largest economies by GDP.
Given the recent correction in silver and silver miners in particular, many mining equities look attractive to start buying, notably Silver Wheaton (NYSE:SLW), First Majestic (NYSE:AG), Alexco (NYSEMKT:AXU), Bear Creek (OTCPK:BCEKF), Great Panther (OTC:GPRLF) and Aurcana.
Disclosure: I am long SLW, AXU, OTCPK:BCEKF, OTC:GPRLF, AG.