By Brad Zigler
Hard assets sometimes aren't. By that I mean some of the best assets to hold—if one's inclined to hold commodity interests—are often the softest.
So-called soft commodities are generally thought of as agricultural futures that aren't grains or oilseeds. The domestically traded softs include coffee, sugar, cocoa, cotton, orange juice and lumber.
Softs have been on a tear recently, fueled by bad fundamentals and now, bad politics. Take cocoa, for example. Readers of this column may remember the wake-up call cocoa received last month (see "Cocoa Getting Hot"). Then, nearby futures were roused from a dawdle around the $2,800 level.
Friday, the front-month ICE contract settled at $3,184 (a cocoa contract controls 10 metric tons; each ton is equivalent to 1,000 kilos, or 2,200 pounds). This morning, prices are expected to jump as the result of an export ban imposed by the president-elect of Ivory Coast, the world's single largest purveyor of cocoa.
The one-month restriction announced by Alassane Ouattara, the internationally recognized victor in Ivory Coast's recent presidential election, is meant to force the ouster of Laurent Gbagbo, who has refused to leave office. Gbagbo utilizes the country's export earnings to pay civil service officials and military loyalists that support him.
The announced ban, issued on Sunday, has traders on tenterhooks. Growing conditions have already pinched bean supplies, but the prospect of a wholesale cutoff of Ivorian production has prompted talk of a further 10 percent boost in prices. Ivory Coast accounts for 40 percent of world cocoa exports.
Nearby cocoa futures peaked at $3,510 in December 2009, then slumped to $2,595 last September. Last week, prices completed a 62 percent retracement of the decline, giving traders the green light to shoot for the next hurdle at $3,314. A 10 percent price increase, if realized, could exceed the 2009 high.
Cocoa prices are proxied by the iPath Dow Jones-UBS Cocoa Sub-Index Total Return ETN (NYSEARCA:NIB), which closed at $45.82 (last month's Desktop column had set a "near-term price objective of $45 for the notes").
NIB prices are supported at $45, but need to close above $46.80 to catch up to futures. Reflecting the tightness in supply, the ICE old crop market is inverted. The price for nearby March delivery is presently $27 higher than May's and $38 more than July's.
The next check-in point for NIB is the $49 level—particularly, $49.36—before taking out the note's old high at $52.61.
iPath Cocoa ETN (NIB)
(Click to enlarge)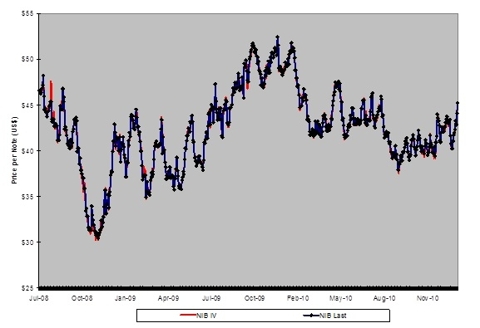 Click to enlarge
That's if the note's old high is taken out.
The situation in Ivory Coast is fluid. President-elect Ouattara is running his shadow government from a hotel, protected by a contingent of United Nations peacekeepers. The incumbent Gbagbo has ordered the peacekeepers out of the country despite a UN Security Council vote last week to send an additional 2,000 troops. ECOWAS, the 15-nation West African economic and security bloc, has threatened to remove Gbagbo by force if a transition cannot be negotiated, but hasn't set a deadline for intervention.
One thing's sure: The next 30 days will be more than a little interesting for cocoa traders and investors.
Disclosure: No position