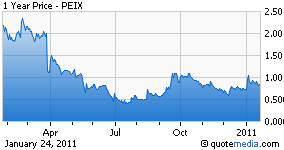 Pacific Ethanol (NASDAQ:PEIX) launched its IPO in 2005, making it the first pure play ethanol company to go public. During its glory days, its stock price traded as high as $45.00, but it was very difficult for such companies to make money during the early years in the renewable energy area. As a result, the company had to file Chapter 11 protection last March.
After re-organization, the stock resumed trading last July. After re-structuring, the company's main business now is in sales and marketing of ethanol and related products not in manufacturing.
The company repurchased a 20% stake in its four ethanol plants last October. The four plants have 200 MGY (Million Gallon per Year) total capacity. Among the four plants, two have been in full operations (100 MGY capacity). The third plant, Stockton, resumed operation in December 2010, and the company indicates that the fourth plant, Madera, could reopen as early as the first quarter of 2011. Even though all four plants are in full swing, the company can only count 20% out of the 200 MGY production as its revenue.
On the other hand, the company's sales and marketing business are growing rapidly due to high demand on ethanol and related products. Its marketing arm, Kinergy, projected to market 260 million gallons of ethanol in 2010 compared with only 173 million in 2009. Its Pacific Ag Products division is going to market 829,000 tons of corn feed products in 2010 compared with only 367,000 tons in 2009.
As a result, the company became profitable in Q3 2009 ($0.90 million) against big loses in previous quarters. If one-time items were not counted (the company recorded $18.10 million investment loss in Q3).
Ethanol fuel is an environmentally friend low carbon renewable fuel. The US clean air act has made it clear that ethanol fuel must take a more important role in the US gasoline industry. In 2009, E10's (gasoline blend with 10% of ethanol fuel) market share reached 70% and above that level in many US states. The US currently consumes 140 billion gallon gasoline per year (BGY) and 2010 demand for ethanol is 13 billion (9.30%). Based on Renewable Fuel Standard (RFS), the US needs 15 BGY conventional bio-fuel by 2015 and 36 BGY total by 2022.
The Environmental Protection Agency (EPA) recently granted a waiver allowing the use of E15 blend — 15% ethanol and 85% gasoline — to be used in 2007 and new light-duty motor vehicles and the waiver has been extended to 2001-2006 cars last Friday. This will further drive the demand fof ethanol fuel. Big oil companies such as Archer Daniels Midland (NYSE:ADM), Valero Energy (NYSE:VLO), Chesapeake Energy (NYSE:CHK) are also enhancing their presence in ethanol fuel. The recent news has been favorable for PEIX's business.
Here is some more good news for PEIX shareholders:
PEIX did not wipe out old shareholder's value completely when it exited from bankruptcy last July. Instead, the stock simply resumed the trading at its pre-bankruptcy value: $0.40. Many big companies wiped out the old shareholder's value completely when they exited from bankruptcy such as General Motors (NYSE:GM), Visteon (NYSE:VC), Delta (NYSE:DAL), etc. PEIX's share price has gained more than 100% since last July.
PEIX recently withdrew its previous 99 million share offering, lowering it to 27 million and reducing potential share dilution.
We previously estimated 2011 EPS of $0.08 for the company. Now, we have increased it to $0.12 due to higher demand for ethanol fuel, higher ethanol fuel prices, the possible re-opening of its Madera plant, etc. Using our new estimate, we will not be surprised to see the stock traded $1.50 or higher sometime within the next 12 months.
Disclosure: Author long PEIX and DAL