Sirius XM (NASDAQ:SIRI) preannounced 3Q10 subscriber metrics on October 13th, 2010, but has yet to make a similar preannouncement for 4Q10 results. Is this a signal that all was not well in the quarter, following several quarters of above consensus performance?
The last time we wrote about Sirius was discussing whether they would avert a bankruptcy. The shares have almost tripled, at the high, since then.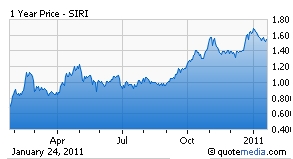 For 4Q10, consensus is calling for a range of 335K to 345K subscriber net additions, which we presume they can meet or exceed, but the silence on that metric is puzzling. However, we acknowledge there is nothing publicly known that gives us pause about the fundamentals of the story.
Consensus is calling for 4Q10 revenues, Adj. EBITDA, churn, SAC per gross add, and ARPU of $740 million, $140 million, 1.92%, $65, and $11.87, respectively. We assume these are all metrics the company can hit. Adj. EBITDA for the year is expected to surpass the $600M guidance.
For 2011, the street is bullish. Revenues are projected to grow 11% to $3.1 billion, Adj. EBITDA grows 22% to $735 million, and GAAP EPS reaches $0.03, on net subscriber additions of 1.3 million, SAC per gross add of $60, and ARPU of $11.90.
Sirius XM's model is simple. As long as the economy continues to improve and Americans continue to buy cars as a result, the model works. That and the fact, thus far, that the internet has proven to be a non threat, churn should hold at current levels. In addition, the management team has done an effective job of taking costs out of the model so margins and free cash flow should improve, with the latter aiding with debt repayments, which should be a non issue for a few years.
Disclosure: I have no positions in any stocks mentioned, and no plans to initiate any positions within the next 72 hours.