I spend the majority of my spare time sifting through information on companies that provide good growth. These companies range in size from the likes of Apple (NASDAQ:AAPL) to Samson Oil and Gas (NYSEMKT:SSN). Although Apple seems to have great growth prospects going forward, its the smaller more agile companies that will be home run stocks. Don't get me wrong Apple fans, I am a bull on this stock, but the majority of their growth has already came and passed. Those of you that have owned it since December of 1997, congratulations you are probably rich.
Smaller more agile companies not only can provide growth, but if their technology is adopted to be used in a wider range of services, this growth can become exponential. When examining a company one must see where this technology can be used by a much larger population of people.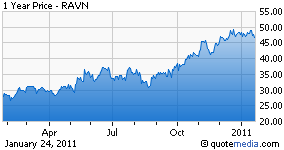 I have been following Raven Industries Inc (NASDAQ:RAVN) since 5-17-08. Since my call on UpDown, this stock is up 35.89%. This is not a fantastic gain, but this stock has tripled since March of 2009. There have been recent Seeking Alpha articles bullish on Raven like here and here.
Raven is located in Sioux Falls, SD and offers four unique businesses:
Applied Technology-Precision products for Agriculture
Engineered Films-Ultra thin and reinforced plastic sheeting
Electronic Systems-Contract electronic manufacturing services
Aerostar-Aerospace sewn and sealed products
These businesses are why Raven has been selected to Forbes' top 100 small companies for five years straight. The Applied Technology division uses GPS systems to guide farm machinery. These systems are on a wide range of combines, tractors and other high end farm machinery. The GPS system effectively helps a farmer to decrease costs. These costs are decreased by reducing human error and operator time. It also effectively decreases energy costs, and wear and tear on the farm equipment. Farm equipment such as combines can cost upwards to $500000, so it is important to minimize wear and tear. These systems pay for themselves over the long run.
They also provide automated steering systems, seed and fertilizer application controls, and field computer data platforms. Their speed-compensated sprayer control system is an industry first and has become a standard with in the business.
Recently, Raven added new a new technology. Trade marked the Slingshot, it allows the farm owner and employees to access important information with their cell phone. At any time it is possible to access the efficiency of their business. Raven's line of agricultural products have the ability to provide access to efficiencies. More importantly these products decrease costs which become bottom line dollars.
The engineered films division provides flexible films and sheeting to energy, industrial, environmental, construction and agricultural markets. This can be used as enclosures, temporary walls, weather proofing and greenhouse coverings. Although they offer a wide array of products, there are several I will highlight that are currently in growth industries. Agricultural covers and liners, are used to protect commodities from moisture.
These products are increasing in usage as corn, wheat and soybean prices have increased. As farms generate more income, they are upgrading and replacing these items. They have products for the oil and gas industry. They are used for frac and reserve pit liners. These products are instrumental in protecting the environment and reducing a companies exposure to spills and seepage. They also provide sheeting to commercial and residential builders. Although this business has been weak, it is starting to improve.
The electronic systems division serves three types of customer. Aerospace, industrial controls and communication industries make up the customer base. This business' goal is to provide total contract electronic manufacturing services. They provide account management to provide team building skills. Raven can help make decisions within a business to get the most out of their employees.
They also provide material management. Raven can help get contracts and volume purchasing agreements. They can keep track of inventory and help to reduce costs in ordering and receiving materials. Manufacturing of electronic components is provided. These systems can help to provide quality assurance. Raven also engineers electronic components.
The Aerostar division supplies hot and helium balloons for NASA, US Air Force and scientific research. They make military parachutes for personnel and cargo. With the demand for surveillance increasing, Raven provides the materials for home land security.
The recession brought an end to five consecutive years of record revenue. Earnings per share decreased last year, but by cutting costs earnings declined 7% as opposed to the 15% decrease in revenues. 13% of the workforce was decreased to help adapt to last years difficult environment. This helped increase operating margins by 1.6%. Raven has no debt with $43.7 million in cash and investments. They have increased their dividend for 23 straight years and had a dividend for 37 consecutive years.
I am bullish with respect to their Applied Technology unit. Although tractor and combine sales are projected to be flat to down 10% this year, new innovations should increase sales significantly. Increased income from higher margins in the agricultural sector should dramatically increase sales in their new seeding application technology decreases seed costs. The before mentioned precision steering system is now controlled via cell phone, making the application much easier and accessible. There is a bullish view of the new Slingshot software system. Slingshot could help to modernize how information is collected, transmitted and stored. New partnerships with John Deere (NYSE:DE) and Monsanto (NYSE:MON) will help drive revenue expansion. This very well could be the best division of the company this year.
The engineered films division has a difficult task this year, but they have held up remarkably well in the downturn. Sales were down 29%, but operating income was down only 6%. The increase in the price of oil has caused a large increase in shale drilling. It is expected that pit liners and other systems should rebound this year. Construction remains weak but Raven should see an increase in sales by midyear as the housing and commercial construction markets begin to rebound. Raven has converted this division to higher margin materials, and although it did not help in 2010, there is promise going forward. It is likely this division will continue to lag for the full year.
The electronic systems division had a great year in 2010. ESD sales were up 2%, but operating income increased 52%. Printed circuit boards should continue to do well as 70% of this business is military and aerospace. Their secured communication devices should continue sell well as businesses continue to protect their information.
Aerostar had an excellent year surging to a 34% income growth year over year. As the US military continues operations abroad, sales should continue to increase. The current contract with the US special forces to provide parachutes is in the most profitable portion of the contract. Raven is confident this three year contract will be replaced with an additional four to five year deal.
Although Raven is a mix of different brands and services that do not intermingle well. They have systems that are just starting to become industry standards. When looking at their products, several technologies could grow exponentially. I am watching their agricultural division closely. Their applied technology division leads the company in sales and earnings. Their specialized products would be a nice addition to John Deere (DE), CNH Global (NYSE:CNH), or Kubota Corp (KUB). As the farming industry becomes computerized, mass expansion could be seen from this unit. Buhler is the first company to install Raven systems standard on their tractors. Look for other companies to follow suit.
Disclosure: I have no positions in any stocks mentioned, but may initiate a long position in RAVN over the next 72 hours.