Goodyear Tire & Rubber's (NYSE:GT) and Cooper Tire & Rubber's (NYSE:CTB) trailing twelve-month cost of goods sold, as a percentage of sales, are 81.5% and 88.9% of sales, respectively, and since commodity materials (e.g., natural rubber, crude oil via synthetic rubber, steel) typically comprise 50% to 55% of tire manufacturers' COGS, I recently speculated that stocks of Goodyear and Cooper could be inexpensive, albeit blunt, hedges for long exposure to commodities. Neither GT nor CTB engage in hedging their input material costs, so the thesis was that GT and CTB should meaningfully benefit whenever raw materials broadly decline (and vice versa).
I examined the relationship between daily percent changes in (i) a market cap-weighted index of GT and CTB and (ii) a custom commodity index weighted by the average contents of consumer and commercial tires. The good people at the Rubber Manufacturers Association provide tire composition for those with sanity-defying interest in the details. Using my Bloomberg terminal's commodity data from July 1, 2009 to January 14, 2011, I found no statistically significant relationship. Actually, the two indices were almost perfectly unrelated based on the regression study's r2 and F statistics, validating that GT and CTB are not the clever commodity hedges I thought they should be. So much for that brilliant idea.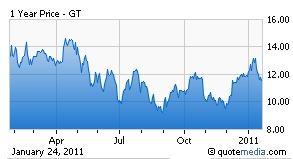 However, I did find GT to be an interesting, range-bound value stock that traders with one- to three-month time horizons may find compelling. The company is old school, so it has many legacy trappings: potential asbestos liabilities, underfunded pension obligations, an unionized work force and an infrastructure that requires an annual $1B of what appears to be mostly non-discretionary capital expenditures. The company competes globally against no fewer than 15 major tire manufacturers, not all of which are saddled with labor force inflexibility and various liability headaches. GT's negative free cash flows in 2010, and almost certainly negative FCF in 2011, preclude the company from paying dividends, so long-term, income investors don't exactly comprise the existing shareholder base. Those are the main headwinds I see capping the stock's upside.
The tailwinds supporting a price floor include:
A steadily improving global economic picture that translates into more miles driven by both commercial and consumer drivers;

The tire industry's ability to raise prices, as evidenced by the 28 disparate increases announced around the world in Q4 2010;

Goodyear's brand and regional market shares – it's the third largest tire manufacturer;

A forward-looking balance sheet that is in reasonably good shape (e.g., current ratio ~1.8, EBITDA interest coverage >5x);

A non-cyclical need for tires that is simply not going away within the lifetime of anyone reading this article.
Bank of America Merrill Lynch, Citigroup, Deutsche Bank, Goldman Sachs, J.P. Morgan, KeyBanc Capital Markets and Morgan Stanley recently published reports on Goodyear, and the average of their 2010E and 2011E recurring EPS is $0.38 and $1.38, respectively. Noteworthy is the disagreement among this population of analysts regarding 2010 earnings. The standard deviation is $0.12, or almost a third of the consensus amount, whereas the standard deviation for 2011 is $0.27, or 20% of the consensus amount. If the sell side's best and brightest are having difficulty pinning down Goodyear's 2010 earnings a month before the numbers are reported, then above-average volatility for an already volatile stock could be nigh. The trailing twelve-month beta relative to the S&P 500 is 1.8.
The stock closed on Friday at $11.58, or at 8.4x 2011E consensus earnings. KeyBanc's report mentions that GT's P/E multiple has a 25-year average high of 15x and low of 9x, though it's unclear whether the analyst is referring to forward- or backward-looking multiples. Assuming the company's 2011 projections are representative of a normal state exclusive of a (hopefully) once-in-a-lifetime economic calamity, then the stock's current valuation is at or near the low end of this range. Trading opportunities worth contemplation include:
Credit Strangle

.

If you believe the stock will remain range-bound, then give yourself sufficient wiggle room.

For example, selling the April $10 put and the April $14 call will net about $0.63 per strangle.

This position offers a 14% cushion to the downside and a 21% cushion to the upside before strike prices are breached, and time (decay) works in the position's favor when all else remains constant.

Purchasing an April $15 call in case the stock experiences a really large move to the upside would be prudent, and the additional leg would reduce aggregate proceeds to about $0.50.

Debit Straddle

.

If your conviction is strong regarding a large move in either direction from the current price, then buying a put and a call struck closest to the spot price is a possibility.

The April $12 straddle would cost ~$2.

Protected Long

.

Buy the stock, and pair it with an at-the-money put to benefit from the current environment's compressed implied volatilities.

Unprotected Long

.

Just buy the stock and pray the S&P 500 doesn't pull back enough in the near-term to shake you out of the position before profiting from an upswing.
The strangle offers compelling risk-adjusted returns when Reg. T margin requirements are assumed, but as always, do your own homework before pulling the trigger on anything.
Disclosure: I have no positions in any stocks mentioned, and no plans to initiate any positions within the next 72 hours. This article contains the author's personal views and should not be construed as investment advice or a solicitation of any kind.