By David Russell
Industrial stocks have rocking higher for months, and now the bears are stepping in.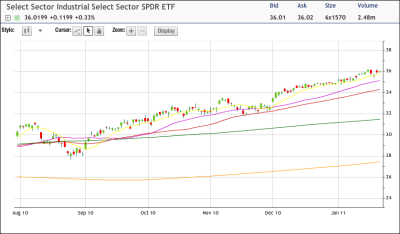 optionMONSTER's Depth Charge tracking system detected the purchase of 30,000 February 35 puts on the Industrial SPDR exchange-traded fund (NYSEARCA:XLI), most of which priced for $0.39 to $0.41. Volume was almost twice open interest in the strike.
XLI rose 0.33 percent to $36.02 in morning trading. The fund, whose largest holdings include General Electric (NYSE:GE) and United Technologies (NYSE:UTX), has appreciated more than 3 percent this year, beating the S&P 500's 2 percent gain.
It's now returned to about the same level where it peaked in August and September of 2008, immediately before the sub-prime meltdown sent global equity markets into a tailspin. Many stocks have encountered resistance at similar levels on their respective price charts.
Today's activity reflects a belief that XLI is done going up for now and will push lower over the next four weeks. It must lose more than 4 percent of its value for the trades to turn a profit.
Overall options volume in the name is 5 times greater than average so far today, with puts accounting for 96 percent of the activity.
Disclosure: No position