The fertilizer market is diverse. Each blend has differing amounts and types of nutrients. These combinations are determined by where and what type of crop is being grown. Nitrogen, phosphate and potassium are the main ingredients in most blends. These three ingredients are produced differently, but the one that is most difficult to increase production is potassium.
Potash is a mined salt that contains potassium in water soluble form. 93% of potash is used in fertilizers. It is also used in soap, chemicals, and explosives to name a few. In fertilizers it improves water retention, yield, nutrient value, taste, and disease resistance in the plant. Potash demand has increases significantly over the past decade. The US Department of Agriculture believes this demand has been caused by two things. The first is world population growth. The second is a marked increase in the middle class of emerging markets.
With more mouths to feed, more acres have needed to be planted. If acres were already fully planted, more fertilizer is used to increase yield which in turn brings more plants out of the same planted area. Since the middle class is growing in countries like China, India and Mexico, consumers spend more dollars on food. When economics improve, more money is spent on meat. When a consumer's diet changes from vegetables and grains to meat, more fertilizer is used. It is estimated that livestock will consume ten times the fertilizer used to produce its feed, then it would for a person to eat the wheat, corn and soybeans directly.
Over the last decade fertilizer usage and pricing has increased every year until 2008. This was not due to a change in the world's growing middle class, but an unraveling of financial leverage, causing a world wide recession. Although the world has not fully recovered as seen in Europe and the United States, fundamentals of potash have been improving. This improvement has decreased inventories, and new price increases are being seen.
150 countries use potash fertilizer on their crops, but only 12 produce it. Canada is the leading producer, followed by Russia and Belarus. The United States is seventh. The most significant reserve of potash in the world is controlled by Potash Corp (NYSE:POT). The most significant reserve in the United States is the Permian Basin. This area includes some of Intrepid Potash's (NYSE:IPI) mining locations. This is significant as it has some of the world's purest potash at 80%. Most of the potash used is done so by six countries.
China 5.5 million tons
United States 4.1 million tons
India 3.9 million tons
Brazil 3.5 million tons
Malaysia 1.1 million tons
Indonesia 1.1 million tons
Rest of the world 7.9 million tons
There are several ways to get exposure to this nutrient. Although there are many companies that mine it, some companies give very little exposure compared to nitrogen and phosphate. There are also significant differences in types of potash. Some are used on lower margin crops like wheat, corn and soybeans. Other types are used on higher margin crops like citrus fruits. Potash fertilizer had been a boring business two decades ago when production outstripped demand. Not that long ago potash was selling for $200 a ton. New estimates have sales reaching $1500 a ton in 2020. Last year potash demand grew by 11.9%. The next three years are estimated to increase 18.3%, 14.3%, and 16.5%.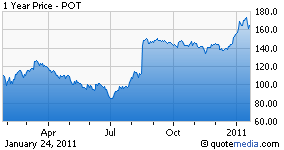 Potash Corp
The largest producer of potash in the world. In 2007 they controlled 22% of world capacity. They also are the third largest phosphate and forth largest nitrogen producer in the world. The fertilizer trade was so difficult in the early 1980s this company struggled with over $800 million in debt. Last August they were subject to a hostile takeover bid by BHP Billiton (NYSE:BHP). After Potash Corp pleaded with the Canadian government for help, the bid was blocked on the basis the deal would not benefit Canada. The major issue for the Canadian government was the possible significant decrease in tax revenues. They are the largest member of Canpotex. It is comprised of three owners:
Potash Corp 54%
Mosaic (NYSE:MOS) 37%
Agrium (NYSE:AGU) 9%
Canpotex is one part of the potash duopoly. The other is Belarussian Potash Co. Together they supply 70% of the world's exports of potash. Potash Corp. announced a $50 per ton potash price increase in September of 2010. In October they raised prices another $75 per ton. Spot prices in Brazil range from $430 to $450 per ton. By 2015 Potash Corp. will be increasing potash capacity by approximately 33%, to 18 million tons of KCL. It is important to note that Potash Corp has significant positions of other, smaller potash producing companies. These include:
ICL-World's 4th largest producer (14%)
APC-World's 10th largest producer (28%)
Chemical & Mining Co. of Chile (NYSE:SQM)-World's 11th largest producer (32%)
Sinofert-(22%) China No Data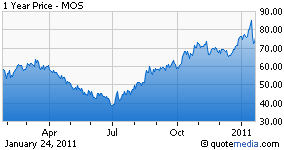 The Mosaic Company
Recently Cargill agreed to split-off shares of Mosaic which will only improve Mosaic's long term prospects. The second largest producer of potash and the largest phosphate producer in the world. Their annual production capacity of potash is 10.4 million tons. They are the second largest member of Canpotex. The potash from their three Canadian mines is exported through Canpotex. The two mines in the United State produce potash for domestic use. The mines in Saskatchewan have approximately two decades worth of ore. A dozen current brownfield projects offer increased production at a competitive cost. In 2017, they will have an additional 5.1 million tons of capacity. They currently have tolling agreement for 1.3 million tons of potash to a third party. When these tons revert back to Mosaic, they will have those tons at no additional cost to the balance sheet. Margins for potash have been increasing. In 2006, gross margins were 30.4%. In 2010, margins increased to 47.6%. Due to their involvement in Canpotex, their price increases internationally are the same as Potash Corp.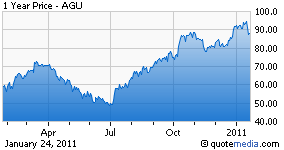 Agrium
This company does not receive a substantial profit in potash when compared to the other nutrients they sell. Although, they are a significant potash producer with respect to tons sold. Agrium's business has three parts. Their retail division is the largest direct to grower agricultural retail operation in the Americas. They produced $6.2 billion in 2009. Their wholesale division produces over 8 million tons of fertilizer. The third is Agrium Advanced Technologies. It specializes in technologies beneficial to agriculture like fertilizer and products advantageous to turf, horticulture, lawn and garden. The retail business may be a hindrance to the growth of their retail business. A spin off could unlock value.
Current potash production is just over 2 million tons. Current brownfield project will increase potash production over 40% by 2014. Agrium has seen a marked increase in the price of potash. In the beginning of 2010 a low was set with respect to the price of potash. The Saskatchewan price was a little below $400 per ton, while the price in the Midwestern United States was just above $400 per ton. In August, that price began to move up. At the end of 2010 the price reported in Saskatchewan was $526 per ton. The Midwestern United States reported a price of $559 per ton. Even more significant, the price of potash in the US averaged $223 per ton from 2003 to 2007.
In summary, the best way to play potash sales is with the companies in Canpotex. Potash Corp is most levered to potash and I think the best equity going forward. Mosaic still has great value and Mosaic would be the least affected if and when natural gas pricing increases. Agrium is levered to nitrogen and gives retail exposure. Analyst growth expectations for 2011 and 2012 are as follows:
Potash Corp: 83.7% and 49.1%
Mosaic: 110.8% and 28.1%
Agrium:103.4% and 49.2%
I believe these growth estimates are low and that we will see a fast increase in the price potash as we did with the last bull run in potash pricing. Since 70% of world production is garnered by two firms, when pricing is increased it can happen fast. In 2009, Vancouver had a price of $872.50 per ton of potash. Looking at pricing now, it seems countries like China and Brazil should be ready to pay substantially more.
Disclosure: I have no positions in any stocks mentioned, but may initiate a long position in SQM over the next 72 hours.
Additional disclosure: Other companies that have potash production that I own or will own in the short term are IPI, SQM, CMP