I last commented on Barrett Business Services, Inc. (NASDAQ:BBSI) on January 7, 2010, in my article "Are There Any Real Bargains Left?" At that time I made a case that this human resource management/temporary staffing company had likely seen the bottom of its business cycle. Based upon its strong balance sheet, excellent and experienced management, and an improving economy I projected that the stock price should rise.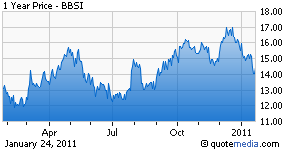 Since then BBSI has reported several quarters of markedly improving results. The stock price rose from about 13 up to 17 last December before a decline this year, back to 14. The company experienced a major event this last week with the passing of CEO William (Bill) Sherertz. Sheretz had led the company since 1971, starting from modest beginnings to its current size with over $200 MM in annual revenues. Sherertz was known for his candid comments on the quarterly earnings calls that provided clear insight into the business as well as the state of the small business economy. Sherertz had suffered from some health issues over the last two years.
The BBSI board announced that Michael Elich (45) will be the new interim CEO, with Jamesl Miller (47) remaining as CFO. Anthony Meeker (70) is the newly appointed board chairman. The company also held a conference call on Friday (1/21) to answer investor questions on the transition. On the call the new management team indicated that the company had never been in better shape and that Bill Sherertz would want to see the "ship move forward". However it was also clear that the dust has not fully settled at BBSI. In addition to the interim status of the new CEO, comments were made that further conversations needed to occur with investors. Significant holders include former wife Nancy Sherertz (8%) and the heirs to Bill Sherertz's nearly 25% holdings. There were a number of questions on the call about whether examination of strategic alternatives/sale of the company would be considered at this time.
Disclosure: I am long BBSI.
Additional disclosure: I hold shares in BBSI in individual accounts and accounts managed for Freedom Mountain Investments.