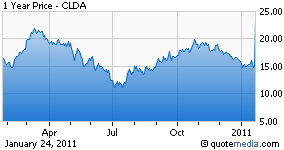 Late Friday afternoon, Clinical Data (NASDAQ:CLDA) received news from the FDA that Viibryd (vilazodone HCl tablets) had been approved for patients with major depressive disorder. This is overwhelmingly positive news for the bulls of CLDA, but also for the whole biotech industry. It's important to see a typically conservative regulator willing to approved a drug the first time through. This drug enters a market where 50% of patients are dissatisfied with current treatment options, which accounted for $10 billion in sales. Viibryd has serious potential to generate significant revenue, especially something a large pharma with a dedicated sales team might be interested in order to protect future revenues beyond 2011.
The significance of this news and the recent failure at Forest Labs (NYSE:FRX) have materially effected their value to soon to be new highs. We still continue to hear that a deal to acquire them is in the works, approval upped the interest to four other parties. Investors should consider that the notable biotech investor and Chairman of the Board at CLDA, Randal J. Kirk, owns around 11 million shares (or 36% of O/S). His style is to make very concentrated positions in good companies and take control. Consider that in 1993, he founded King Pharmaceuticals, which Pfizer (NYSE:PFE) recently acquired in 2010. In 2007, Kirk sold New River Pharmaceuticals to Shire (SHPGY) for $2.7 billion. His cut was $1.2 billion. During the conference call, President and CEO Drew Fromkin, confirmed that the company was in serious discussions with interested parties possibly for a change of control transaction. They have had significant interest in their product and they need to explore the best potential deal. We believe that Randal Kirk will be able to sign a deal here soon.
We believe that Clinical Data's NDA for Viladozone was supported by robust data from nearly 3,000 patients who received the drug safely with a low occurrence of side effects. This is a landmark approval, since it is the first approved antidepressant in 10 years and the first major one of 2011. Vilazodone showed no effect on sexual function, an all to common side effect of many current antidepressants. A lack of weight gain and potential fast onset will be additional advantages that differentiate from currently prescribed drugs. During the conference call, CEO Drew Fromkin stressed that they are working toward launching the drug itself, likely by the American Psychiatric Association meeting in May. They are planning for a targeted sales force of around 150 representatives to target a significant portion of the market.
Lastly, let's take a minute to talk about the share structure and short interest. The 20% short interest (~3 million shares) on a float of 14.5m, most of which is locked up with institutions. Consider that the outstanding(O/S) on CLDA is roughly 30m shares and Randal J. Kirk, investor and Chairman of the Board, owns around 11m shares(~ 36% of O/S). Between Fidelity Investments owning roughly 4.48m(~15% of O/S ) and the other top 10 holders (link) are mostly long funds and hold roughly 4.5 million (~ 15% of O/S). We continue to believe that the large institutional interest will support the board in finding a buyer for the company.
The analysts even came out bullish on Friday after the close. Analysts at BMO Capital felt that the approval significantly effect their partnership or acquisition potential by saying, "The Viibryd approval materially increases the likelihood of a major alliance with another pharmaceutical company to market the promising therapy, and/or the potential of an outright purchase of Clinical Data." Rodman & Ramshaw put out a $46 price target, Piper Jaffray reiterated a $31 target and several other upgrades. We hope that subscribers did well on this one, we expect many more to come in 2011.

Disclosure: Long stock and options on CLDA