While many investors often seek safety in the fixed-income market in times of economic uncertainty, corporate bond yields have dropped to their lowest levels in decades, causing those investors to seek the steady income of dividend-paying stock. Along with the stability of income as stock prices fall, dividend-paying stocks can be used to hedge against inflationary pressures and as a way to gain cash without moving in and out of positions. Rather than buying bonds, we recommend a strategy of buying safe, well-managed, attractively-priced dividend stocks to "stay in the game" if the market does experience a run-up, while at the same time protecting your portfolio from a long-term bear market.
However, before sophisticated investors apply a strategy, they want to know whether that strategy has worked in the past. Utilizing our backtest system, we ran a strategy of investing only in companies with a market capitalization of greater than $1 billion and a dividend yield above 3%. The strategy has worked fairly well, with the annualized returns over the last 12 years beating the overall universe. While the dividend-paying strategy worked well, a strategy based on AFG's valuation metric performed better.
The best results were achieved by utilizing both variables. When we limited our universe to companies that had a dividend yield greater than 3% and had an attractive AFG valuation score, the returns were even better than the standalone variables.
[Click to enlarge]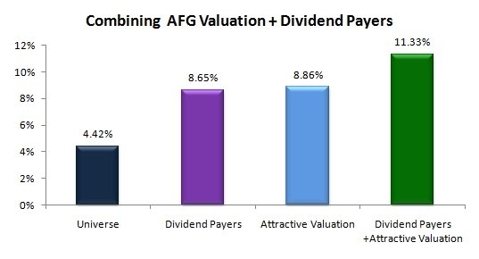 Annualized returns – 9/1998 to 7/2010
Source: AFGView.com
Here is a list of seven stocks that look attractive according to AFG valuation criteria, and that pay a dividend above what could be attained by purchasing a 10-year U.S. Treasury note (current yield 3.39%). The companies that we have provided in our list of attractive dividend-payers include the following criteria:
Each must have above $1 billion market cap.
Each must pay a dividend yield of 3% or larger.
Each must rank above the 70th percentile of companies within its sector in valuation attractiveness.
AFG
Ticker
Name
Sector
Yield %
Investment Opportunity

7 High Yield Buy Ideas

(NYSE:PM)

PHILIP MORRIS INTERNATIONAL IN

Consumer Non Durable

4.55%

Attractive

(NYSE:RSH)

RADIOSHACK CORPORATION

Consumer Services

5.84%

Attractive

(NYSE:SVU)

SUPERVALU INC.

Consumer Services

4.71%

Attractive

(NYSE:BMY)

BRISTOL-MYERS SQUIBB COMPANY

Health

5.12%

Attractive

(NYSE:LLY)

ELI LILLY AND COMPANY

Health

5.63%

Attractive

(NYSE:VZ)

VERIZON COMMUNICATIONS

Technology

5.68%

Attractive

(NYSE:PPL)

PPL CORPORATION

Utilities

5.46%

Attractive