Play of the Week #1: E Trade Financial Corp. (NASDAQ:ETFC)
Analysis:
E Trade, known more for its baby commercials than its product lines, has had a tough road back to profitability after struggling into the financial crisis and during it. Yet, the company for back-to-back quarters have been in the black. They are looking to improve, quarter-to-quarter, on EPS and revenue. They are projected to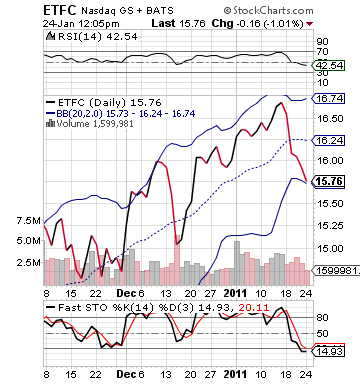 report an EPS of 0.04 vs. 0.03 one quarter ago and -0.40. one year ago. The dramatic year-over-year improvement is the beginning of ETFC's catalyst. The stock has been hurt as earnings on TD Ameritrade (NASDAQ:AMTD) and Charles Schwab (SCWH) have been just so-so, and the rest of the financials have not been excellent across the board.
Yet, the stock has dropped over 6% in the past week, and the stock today hit its lower bollinger band and should maintain technical support at that level. Now, throw into the mix that the company is reporting earnings on Wednesday evening, and this stock makes a great mid-term trade. The stock should move up into earnings as the stock is going to improve YOY by moving into the black. That is always a great catalyst. Further, the last four quarters of excellent beats and meets of EPS estimates should bring in short-term investors expecting a beat.
Another line of support for ETFC is that the company should be getting help up until Wednesday by other earnings. The company gets ZION in AH today that is looking to make dramatic improvements on its losses and come closer to profitability. Tomorrow, KeyCorp (NYSE:KEY) will be making a turn to profits, and not to mention a number of smaller financial banks, advisory groups and credit companies are in the mix. What really will help ETFC though is that its competitors in reality had great results that were cut down by company-specific problems. Schwab reported earnings that were hurt by a lot of one-time losses and actually beat revenue estimates. Investors saw an 11% portfolio-increase on the site, which is great for these companies. Trading levels are getting higher and more investors and traders are coming back to the table.
What really helps ETFC is that it has priced in SCHW and AMTD's problems into the stock. From here, upside is the only way for this to go. Downside risk is minimal, whereas upside is very high.
Entry:
We are looking to get involved at 15.70 – 15.85.
Exit:
We are looking for a gain of 3-5% before earnings.
Play of the Week #2: Ryland Homes (NYSE:RYL)
Analysis:
One looks at housing stocks, and says how can these companies make profits. Many of them have found a way. They have cut costs, cut development, cut prices, and done everything possible to make money and come out in the black. In Q4 earnings so far, the surprises have been shocking. It all began with KB Homes (NYSE:KBH).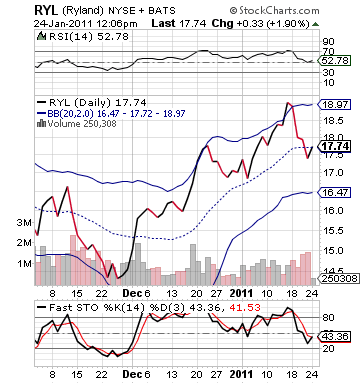 The company made a dramatic surprise when it was in the black in its Q4 that ends in November of 2010. They beat earnings by over 200%, and no one saw it coming. In a terrible housing market, it appeared a fluke. Then, Lennar (NYSE:LEN) did the same thing with a 400% beat. Now, RYL is up to bat. Like KBH and LEN, the company is not expected to do well. Consensus estimates are at -0.34 vs. 0.88 EPS one year ago.
Yet, the stock looks like a great buy. After moving all the way up to 19 just a week ago, the stock has been hit ever since. Weak news on housing starts hurt the stock as the housing market still shows no sign of improvement. In the long run, RYL and other housing stocks are still not great investments, but moving into earnings, with the way other housing stocks have surprised, RYL looks like a great value. The stock's recent pullback has put it back into a buying range, and it should be bought up into earnings.
It has the surprises of other companies on its side and the stock should have received a much larger boost from the great news from existing home sales that was surprisingly good. This week, new home sales will be released for December, and that number looks beatable at 280K with how well existing home sales did. This would only help to improve RYL into earnings. Traders are going to buy this up heavily moving into earnings, hoping RYL can make a huge splash like KBH and LEN and continue the trend. While we don't want to take that earnings risk, we will take the gains into the announcement date.
Entry:
We are looking to get involved at 17.55 – 17.75.
Exit:
We are looking for a gain of 3-5% before earnings.
Disclosure: I have no positions in any stocks mentioned, and no plans to initiate any positions within the next 72 hours.