Using the most recent bi-weekly short interest figures, below we highlight the most heavily shorted stocks in the S&P 1500. Each of the stocks below has more than a fifth of its equity float sold short.
As shown, Blue Nile (NASDAQ:NILE) ranks #1 with 35.72% of its float sold short. Alliance Data Systems (NYSE:ADS) comes in a close second at 35.41%, followed by Nutrisystem (NASDAQ:NTRI) in third. Sears Holdings (NASDAQ:SHLD), First Solar (NASDAQ:FSLR), and Netflix (NASDAQ:NFLX) are three other widely followed names on the list.
We also include each stock's performance since the end of 2009. Netflix (NFLX) is up the most out of any stock on the list with a gain of 234%, followed by Ciena (NASDAQ:CIEN) with a gain of 128%.
Needless to say, the shorts have gotten crushed on these two names. Corinthian Colleges (NASDAQ:COCO) is down the most out of any stock listed since the end of '09 with a decline of 61.5%.
click to enlarge image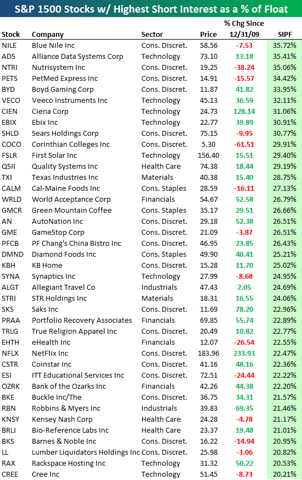 Click to enlarge