WHX Swoon Update
The WHX royalty trust fell $5.00 (or 23%) yesterday to close at $16.68 after a research boutique issued a sell report on the name. This was quickly followed by not one, but two, sellside Wall Street firms cutting their ratings from neutrals to underperforms. There was no fundamental news to prompt the downgrades.

This is the same piling on behavior that they exhibited back in May 2010 when they last ganged up to tank the shares on no news with "coincidental" same day downgrades.

There is no secret here that this is a wasting asset that will fully deplete by 2017 or 2018, and no one who can read should consider this fact "news". In the meantime, the calculation of the distributions is fairly straightforward unless you are trying to "make them miss", which must have been the case given some of the sky high estimates that firms who were negative on the name posted for a couple of quarters. Those numbers would have been incredibly tough to make.

I sold my position at $23.10 last October after having made a capital gain of 34%, and having received two fat distribution checks.

Since then we have been biding our time, waiting on the three analysts who follow the name to rise up and beat it down. In that time, the world has turned and oil and natural gas prices have risen modestly. The story of WHX has not changed.

Again, I don't currently own the name. But ...

WHX will report its 4Q distribution probably in the second week of February and my model for 2010 and 2011 follows.

As far as the quarter just past goes,

the street has them at revenue of $18.8 mm and a distribution of $0.73.

and I've got them down at R = $15 mm and a distribution of $0.54. Admittedly my numbers are conservative, but unless production rises sequentially in the 4Q period, it's hard to get to the street's number.

As you can see, I have them generating a NTM distribution of $2.95 (based upon the assumptions listed in the model), and a current yield of 17.7%. This alone is not enough to get me to bite again and in fact, since I see the name "missing" again, I'd rather wait out the quarter and the the sellside's reaction to it before buying back in. If they can push the name into some low level like they are pushing with their discount cash flow models (let's go with $13 to be simple), that increases the yield to 23%.

Looking into 2011, I put them at $3.20 based on the assumptions at the bottom of the model and my note that a $5 swing in oil prices for the average price for 2011 would yield an approximate 20 cent swing in the 2011 distribution.

I'm not committed to going back into the name, and if I do, it will be in thirds or quarters of my total expected position for a several month hold. Again, I'm unlikely to go back in prior to the distribution announcement in early February.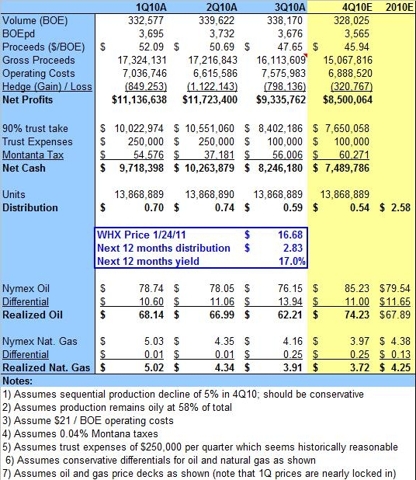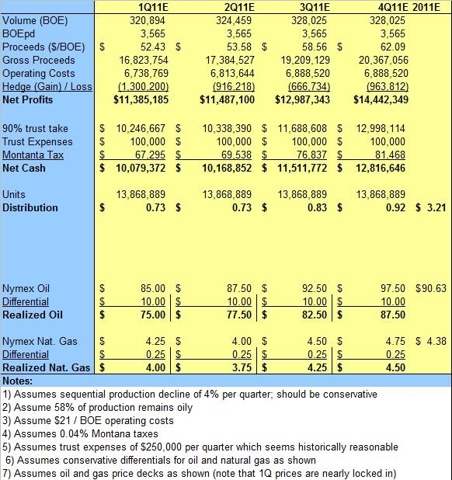 Disclosure: I have no positions in any stocks mentioned, but may initiate a long position in WHX over the next 72 hours.