Excerpt from Raymond James strategist Jeffrey Saut's latest essay (published Monday, January 24th):
...I revisit the Fear, Hope and Greed cycle this morning not because I think we are approaching the Euphoric zone, but because I continue to believe we are near the Optimism level, and therefore due for anywhere between a 3% - 10% correction. Still, any pullback is probably for buying as scribed in last Tuesday's strategy report:
"Since 1940 there has never been more than one 10% (or more) correction in an ongoing bull market. And yes Virginia, according to Dow Theory this is a bull market. A fair question, however, would be 'Is this a tactical, or a secular, bull market?' Personally I think it is tactical within the context of the broad trading range we have been experiencing since the turn of the century, but that's a discussion for another time."
Indeed, since entering 2011, I have been cautious; and except for the 14-point, first day of the year "yippee" (to 1273), the SPX hasn't really done all that much. Moreover, I have been commenting that the number of warning flags is rising with the Volatility Index (VIX/18.47) touching "complacency levels" last seen in April 2010 right before a correction. Ditto, Investors Intelligence data shows advisory sentiment approaching the bullish extremes of October 2007.
Meanwhile, stock market leadership has been narrowing, internal momentum waning, and every macro sector except Utilities is overbought. Additionally, correlations between various asset classes are decreasing, implying investors are becoming increasingly selective. I further opined that if a 90% Downside Day was registered, a cautionary stance would become even more important. Well, last Wednesday turned out to be a 90% Downside Day with 90% of the total volume, and 90% of total points, coming on the downside. The result caused the SPX to experience its first loss of more than 1% since November 23, 2010.
Yet, Wednesday's Wilt was worse than the official figures suggest because strength in a few high priced stocks masked just how weak the market's internals actually were. Last Wednesday also showed a change in the recent daily trading pattern in that morning weakness was not greeted with buyers. In fact, looking at last Wednesday's minute-by-minute trading chart saw a decided pickup in selling when the previous day's intraday low was violated. Plainly, all of this leaves me believing caution is still warranted.
For those not wanting to adhere to my near-term cautious strategy, I offer a risk adjusted investment idea from Raymond James' research universe. As readers of these missives know, I have been an energy "bull" for a long time. Of course, that includes coal, which has garnered increased attention recently given the flooding in Australia that has shuttered 75% of their coal mines. In addition to the coal names I have previously mentioned, this morning I would have you consider Rhino Resources (RNO/$23.65/Outperform).
Rhino is a diversified met and steam coal producer with proven and probable reserves of 273 million tons of steam coal and 13 million tons of met coal. Rhino also owns a 51% interest in Rhino Eastern, which controls 22 million tons of met coal. One of the benefits of such a substantial reserve base is the ability to boost production through internal expansion projects. While Rhino currently pays no dividend distribution, our energy analysts expect a distribution to begin soon at roughly a 7% annualized distribution rate. That would compare favorably with the MLP universe of stocks' 6.6% rate, implying a higher share price.
The call for this week: Sometimes me sits and thinks and sometimes me just sits. Currently, me just sits, believing the evidence for a pullback is mounting. In addition to the aforementioned warning flags, since September 1, 2010, every time the Russell 2000 (RUT/773.18) has closed below its 20-day moving average (DMA), buyers have showed up the very next day. Not so last week. In fact, last week was the first down week for the SPX in eight weeks as the divergences in the stock market continue to grow (the DJIA was the only major index to register a new high on Friday; most of the other averages peaked on Tuesday). As legendary Dow Theorist Robert Rhea observed, mounting divergences suggest stocks are being distributed (read: sold) by smart money. In conclusion, it is worth considering that my notes indicate there is a tendency for the equity markets to "top" coincident with the State of the Union address (Tuesday night). Consistent with these thoughts, I am currently "just sitting;" or as Warren Buffett is fond of saying, "In this game the market has to keep pitching, but you don't have to swing. You can stand there with the bat on your shoulder for six months until you get a fat pitch."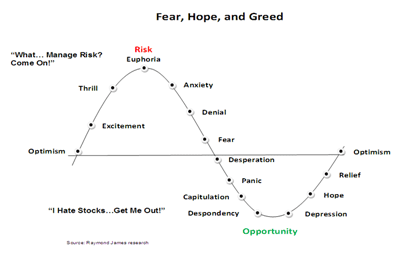 Click here to enlarge