MOVING THE MARKET
The iPad overtook the laptop in sales during the 4th quarter of 2010. Apple (NASDAQ:AAPL) reported it sold 7.3 million iPads vs. 4.1 million laptops. Apple also revealed that it sold approximately 15 million iPhones for the quarter. While sales of Apple mobile products were clearly brisk in the highly competitive smartphone category, units relying on the Android (Google (NASDAQ:GOOG)) operating system gained market share vs, the iPhone. In addition, the perennially competitive Research In Motion (RIMM) also showed promising sales numbers for its new products. Taken as a whole, the rapid expansion of mobile computing continues to gain momentum.
OUR OUTLOOK
Clearly, smartphone and tablet manufacturers are well positioned for growth. However, by taking a look at their component suppliers (key supply chains), investors may find additional avenues to capitalize on this trend.
By investing in the component suppliers, traders can access direct exposure to the explosive growth potential expected in the smartphone and tablet market. Sales predictions for smartphones and tables in 2011 are expected to increase by 22 and 262 percent, respectively, according to an International Data Corporation study.
OUR RESEARCH REVEALS
The top three components within any smartphone or tablet are Flash Memory, ARM-based Microprocessor(s), and Cellular Basebank Processor(s). With 370 million units of smartphones and tablets projected to be sold in 2011 (according to Deloitte), companies that manufacture these components are well positioned to benefit from increased sales.
Using Revere Hierarchy, we are able to identify the sector and companies for each of the top three components:
Flash Memory
Flash memory forms the storage component of all major smartphones and tablets, and is where all the music, video and other data contents are stored. With the rapid increase in both the quality and quantity of data content, flash memory demand would be expected to increase. The returns within this sector recently match the anticipated optimism, outperforming the S&P 500 by about 25% and 34% on a 3-month and 1- year period, respectively.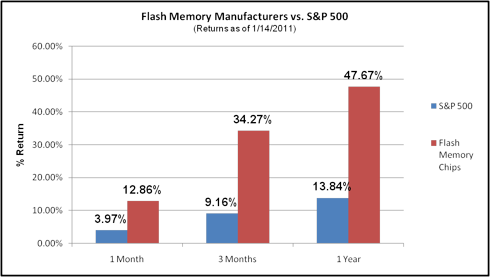 Top Flash Memory Performers:
SanDisk (SNDK) - up 74.64% on a 1 year basis
On Semiconductor Corp (ONNN) - up 44.59% on a 1 year basis
ARM-based Microprocessors
The mobile PC market is essentially smartphone(s) and tablet(s). Microprocessors are needed to power applications and perform millisecond computations. While Intel's (NASDAQ:INTC) x86 microprocessor continues to dominate the PC market, ARM-based design dominates the mobile PC market. Arm-based microprocessors are extremely energy efficient and coupled with full optimization of battery life, which has been a major bottleneck facing all mobile devices, these processors truly enable mobile computing.
Our ARM-based Microprocessor Sector has outperformed the S&P 500 on a 1 month, 3 month, and 1 year basis.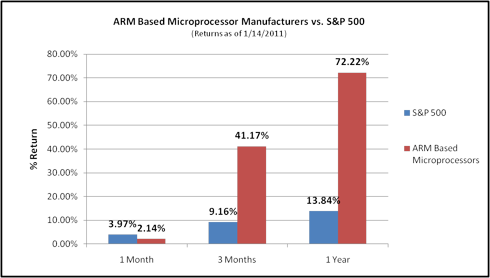 Top ARM-based Microprocessors Performers:
Arm Holdings (NASDAQ:ARMH) - up 181% on a 1 year basis
NVidida (NASDAQ:NVDA) - up 48.97% on a 1 year basis
Cellular Baseband Processors
Cellular Baseband Processors form the communication core of a mobile device, and are relied upon for wireless communication with cellular towers around the globe by sending and receiving massive amounts of data at very high speeds.
Returns for this sector have outperformed the S&P 500 by 16% and45% on a 3-month and 1 year basis, respectively.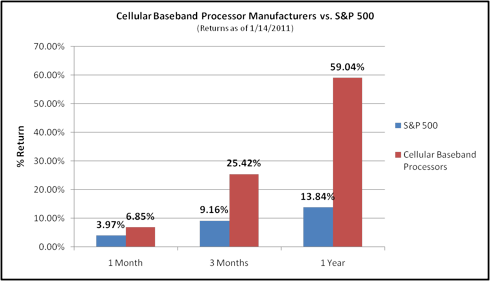 Top Cellular Baseband Processors Performers:
Spreadtrum Communications (NASDAQ:SPRD) - up 199.95% on a 1 year basis
Infineon Technologies (OTCQX:IFNNY) - up 92.23% on a 1 year basis
CONCLUSION
We expect companies that manufacture key smartphone and tablet components to continue to outperform device manufacturers, as well as the S&P 500, by a significant margin in both 2011 and 2012.
Flash Memory, ARM-based Microprocessors, and Cellular Baseband Processors are top component sectors for these devices, and are ideally positioned to benefit from their growth.
Stocks We Like:
Qualcomm (NASDAQ:QCOM):
According to a recent NY Times story, Apple changed its cellular baseband processor supplier from Infineon to Qualcomm. Quallcomm is going to benefit from the sale of an anticipated 100 million Apple smartphones and tablets in 2011. Also, since the new Verizon (NYSE:VZ) CDMA iPhone and iPad runs on Qualcomm's CDMA network backend, the company will benefit from additional licensing revenues and new chipsets sales.
Its acquisition of Atheros also enables it to directly compete with Broadcom (BRCM) on the integrated WiFi communication chip (WiFi + Bluetooth controller + Transceiver on a single chip).
Arm Holdings (ARMH)
Every new smartphone and tablet is build on ARM-licensed architecture. ARMH is a leader on this platform.
Going forward, Microsoft (NASDAQ:MSFT) has stated that its new Windows 8 will be compatible with ARM-based microprocessors, the first time Microsoft is allowing Windows to be installed on non-Intel x86 based architecture.
Aakarsh Ramchandani contributed research analysis and graphs for this piece.
Disclosure: I have no positions in any stocks mentioned, and no plans to initiate any positions within the next 72 hours.