Despite severe weather that hampered business across the U.S. and much of Europe, McDonald's Corp. (NYSE:MCD) posted strong fourth quarter and full-year results Monday morning (see earnings report here and earnings call transcript here). While December same-store sales were slightly below analyst expectations, the company still managed to post its 92nd consecutive month of global comparable sales growth.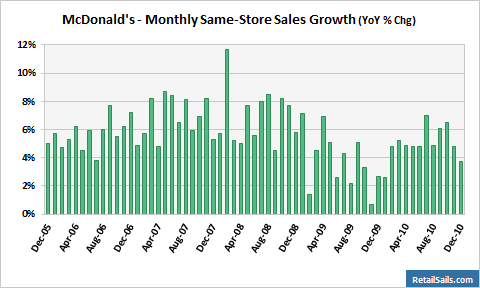 click for expanded images
For the full year 2010, total system-wide sales increased 6.9% to $77.4 billion and same-store sales rose 5.0%. Total revenue was up 5.8% to $24.1 billion, while net income rose 8.7% to $4.95 billion and diluted EPS increased 11.4% to $4.58.
During 2010, we continued our efforts toward becoming our customers' favorite place and way to eat and drink – and customers rewarded us by visiting our restaurants more often," said McDonald's Chief Executive Officer Jim Skinner. "As a result, we generated strong sales and delivered profitable market share growth, along with higher global revenues, operating income and earnings per share. McDonald's continued success demonstrates that our Plan to Win works in any environment and has positioned us to continue our performance in 2011.
Over the last few years, the company has been pushing higher-margin products such as coffee and blended beverages, and operating margins have improved from 17.0% in 2007 to 31.0% in 2010 while net income has more than doubled in that period. In the face of tough prior-year comparisons and increased competition for dollar-menu and breakfast items, McDonald's 3-year performance is nothing short of incredible:


McDonald's appears to be off to a good start in 2011, as January same-store sales are expected to come in at +4-5%. Mr. Skinner said they plan to invest about $2.5 billion of capital in 2011 – roughly half dedicated to opening approximately 1,100 new restaurants and the other half allocated to investing in existing locations.
With nearly 33,000 restaurants in operation worldwide, many analysts have made the mistake before of believing McDonald's can't sustain the impressive growth we have seen over the past few years. However, the non-US business represents nearly 70% of total company revenue and most of the growth is coming from the APMEA (Asia/Pacific, Middle East and Africa) region. Consider that the company has only 1,287 restaurants in China, compared to 14,027 in the U.S., and you can see why there is still a lot of room for future growth.
Disclosure: I have no positions in any stocks mentioned, and no plans to initiate any positions within the next 72 hours.