Ruthenium was the best performing hard commodity for 2010 that trades with some liquidity. It returned 107% by measure of the average price for the year. That was more than enough to best current market darling palladium (99%), and natural gas (85%).
The best performer has been a surprise. Although lead was a relatively mediocre performer in 2010 - if a return of 25% can be considered sub-par - it came on top of a very strong 2009. As a result, lead is the best performing metal since 2008, having gained 155%. That is far better than runners up palladium (50%); iridium (43%); and gold (40%).
Of the 21 commodity indicators we monitor, only one had a negative return last year. The average return across all indicators in 2010 was 40%, and since 2008, negative 1%.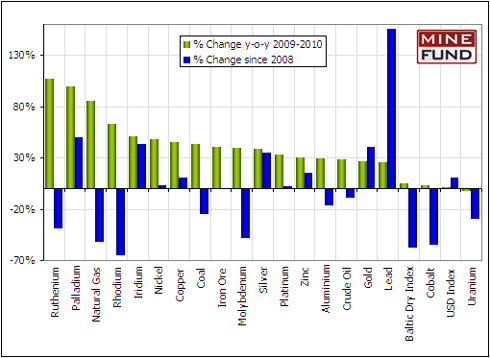 click for expanded image
Uranium suffered yet another year on the skids though it lost only 2% from 2009. However, it is 29% shy of its 2008 level, when most commodities were peaking sympathetically. Worse still, it is half the price it averaged for 2007 - nearly $100 per pound - when uranium was being puffed up at every turn as the next sure thing.
One of the platinum group of metals, ruthenium, is mostly used for alloying, especially in the production of electrical conductivity components and for thick-film resistors. Most new ruthenium is a by-product of platinum mining in South Africa, with smaller amounts produced in Russia. Ruthenium is also sourced from some nickel and copper ores.
Along with rhodium and palladium, ruthenium has been through several price bubbles, including the 2001-2002 speculation that saw ruthenium halve in price. It went through another bubble shortly afterward, peaking in 2008 at an average price for the year of $321 per ounce, but it was cut down by more than two-thirds in 2009. Only lead, rhodium, and natural gas were worse performers in 2009.
The worst performing metal since the 2008 mega-cycle peak is rhodium, down 64% from the $6,531/oz it averaged that year. Other poor performers share the promotion and hype virus that burned so many natural resources investors. These commodities all continue to wallow at much lower prices than what their boosters claimed they would and should achieve:
The Baltic Dry Index (commodity proxy)
Cobalt
Natural gas
Molybdenum
They offer a sober warning to investors chasing last year's big stories, as well as those piling into rare earths at any price.
It is very seldom that a commodity will string together consecutive years of outperformance. US Global Investors has a useful graphical representation of this tendency for commodities to "return to the mean". Indeed, lead was one of the least liked metals by many measures, yet it found its place. Just don't bet on it maintaining its position because of the last two years.
Ratios
Commodity ratio performance in 2010 was dominated by the platinum group metals, spearheaded by palladium:silver. The ratio jumped 50% in 2010, far more than any other ratio for the year. Palladium also improved in value relative to gold by 37%, and 33% better off against platinum.
Gold suffered a 19% reversal against oil in 2010, falling from being able to buy 16 barrels of crude to 13 barrels year-over-year. However, gold has been on the winning side over the medium term.
Also notable has been the weakness of equities relative to precious metals. The average S&P 500:Gold ratio has fallen one third since 2008, followed closely by the Dow Jones Industrial Average:Gold. 2010 marked the first year in decades that the S&P500 could be bought for less than 1 ounce of gold.
Unfortunately, that also showed up in weak gold equities compared with gold prices. The Gold Equity Leverage Index slumped to its lowest average annual level ever; showing gearing of just 0.95 x each dollar move on the gold price.
Those able to take advantage of trading the silver ratios had a stellar year, though the PGM ratios were less uniform thanks to the comparatively quiet performance of platinum.
Disclosure: I have no positions in any stocks mentioned, and no plans to initiate any positions within the next 72 hours.