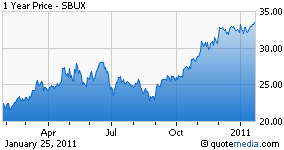 Starbucks (SBUX) is expected to report Q4 earnings after the market close on Wednesday, January 26 with a conference call scheduled for 5:00 pm ET.
Guidance
Analysts are looking for a profit of 39c on revenue of $2.93B. The consensus range is 37c-43c for EPS, and revenue of $2.87B-$2.98B, according to First Call. In the year-ago quarter, Starbucks posted Q4 EPS of 33c on revenue of $2.72B. In November, the company raised its FY11 EPS outlook to $1.41-$1.47 from $1.36-$1.41, vs. consensus $1.49. The company said it would also target FY11 revenue growth in the mid-to-high single-digit range with low-to-mid single-digit SSS growth. Also during the month, Starbucks ended a distribution agreement with Kraft (KFT) and said Kraft mismanaged their premium grocery coffee partnership, resulting in diminished market share. The company changed its logo, signed an MOU with Tata Coffee for a strategic alliance in India and said it will roll out a new 31-ounce drink sized called Trenta. Additionally, Starbucks said it would allow customers to use their BlackBerry (RIMM), iPhone or iPod Touches (AAPL) to pay for their drinks. The company plans to open 500 stores this fiscal year, 400 of which will be located outside the U.S.
Analyst Views
Citing global growth prospects, UBS raised Starbucks' price target to $37 from $33. Analyst David Palmer said the estimates are based on an acceleration of international unit growth, a reacceleration of U.S. unit growth, and the in-sourcing of the company's bagged coffee business.