In this multi-part special report, we highlight four of the leading players in the fast growing mobile phone market – Apple (OTC:APPL), Research in Motion (RIMM), Nokia (NYSE:NOK), and Motorola (NYSE:MMI). We describe how the mobile market is expected to grow and how the stocks of selected mobile phone players may be impacted as market share positions change over time. Links to the individual parts to this report can be found below.
Key Takeaways of Mobile Report
Mobile Market

We expect about 1.6 billion mobile phones sold in 2011 which equates to 4 mobile phones sold for every PC
Rapid shift towards smartphones leading to change in market share positions amongst players like Apple, RIM, Nokia and Motorola

Apple

Our estimate of the value of Apple's iPhone business alone exceeds the combined market caps of mobile competitors RIM, Nokia and Motorola
If the iPhone can grow to be 1 of 5 mobile phones sold annually there could be an upside of 35% to our $420 price estimate for Apple's stock

Research in Motion

RIMM's market share within smartphones sold in the U.S. has been declining
However, RIMM's international position looks promising, and is expected to be a key driver of potential upside as well as a healthy contributor to our $69 price estimate for RIM, which is 10% above the current market price

Nokia

Emerging markets mobile sales account for 50%+ of Nokia's value
Nokia's stock remains under pressure despite Nokia selling more mobile phones (and more smartphones) than any other manufacturer
Declining margins and market share are key areas of concern for Nokia as the company faces stiff competition in both high-end smartphones and low-end feature phones
Despite these headwinds for Nokia, our $12.46 Nokia price estimate is 16% above the market price, as we believe Nokia's market share decline will slow

Motorola Mobility

Motorola's market share has been on a downward trend since 2006
Motorola has focused on launching Android-based smartphones and has had some success with the Droid in 2010
The new Android-based Atrix smartphone appears to be a promising next generation phone that has the potential to lead to market share gains for Motorola
Rest of the Mobile Report
Leading Players
It might sound incorrect in the wake of all the recent news around the iPhone's success, but the facts are that the mobile phone market remains dominated by incumbents like Nokia (NOK), Samsung (OTC:SSNLF) and LG that produce high-end smartphones as well as the low-end feature phones that constitute the majority of mobile phones sold [see table below].
That said, Apple (OTC:APPL) has shaken up the mobile phone market with rapid growth of its iPhone . Apple's small market share means that size of the opportunity in front of the fast growing iPhone remains tremendous.
The iPhone has put pressure on the market share growth of smartphone competitor Research in Motion. The rapid shift of consumer demand from feature phones to smarpthones has led to mobile phone companies focusing on smartphone development and in some cases forging alliances with Google to leverage Google's Android mobile operating system.
According to Gartner, a market research firm, Nokia topped global market share for mobile phones in Q3 2010 and Apple ranked ahead of players like Research Motion (RIMM) and Motorola (MMI).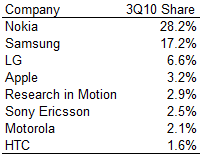 (Click to enlarge)
A Fast Growing Market
Historically, unit sales of mobile phones have increased from about 990 million units in 2006 to 1.2 billion units in 2009.
Mobile Intelligence, a market research firm, estimated that the number of mobile phones in use was equivalent to about 50% of the world population in early 2008, a year in which about 1.2 billion mobile phones were sold. Wireless Intelligence, another market research firm, indicated that more than 5 billion mobile phones were in use in 2010. Based on a global population of about 6.8 billion in 2010 , this figure implies more than 70% worldwide mobile penetration, although penetration amongst unique individuals is lower since the number of mobile phones in use includes individuals with multiple phones.
During 2010, we estimate that about 1.5 billion mobile phones were sold. These figures suggest that a 20 percentage point increment in penetration corresponds to a 0.3-0.4 billion increment in mobile phone unit sales.
(Chart created by using Trefis' app)
For 2011, we expect that about 1.6 billion mobile phones will be sold and this is 4x the 400 million PCs that we estimate will be sold.
If mobile penetration were to reach 90% of the world population of about 7 billion, this suggests that there would be another 0.3-0.4 billion increase in unit sales suggesting 1.8-1.9 billion mobile phones sold annually at that point. We estimate slightly higher unit sales of 2.1 billion annually by the end of the Trefis forecast period based on rising upgrade frequency as mobile phone prices decline further and demand for secondary phones.
However, if mobile phone unit sales were to reach 2.5 billion by the end of the Trefis forecast period instead of the 2.1 billion that we currently estimate, the upside to our price estimates for Apple, RIM, Nokia and Motorola would be 10%, 13%, 13% and 7% respectively.
Disclosure: No position