<< Return to Part 1: The Mobile Phone Market
Apple (OTC:APPL)

We estimate that Apple's iPhone business constitutes around 53% of the $420 Trefis price estimate for Apple's stock, which is about 27% above the current market price. Based on our estimates, if Apple's iPhone business were a standalone company, it would have a market capitalization of about $220 billion.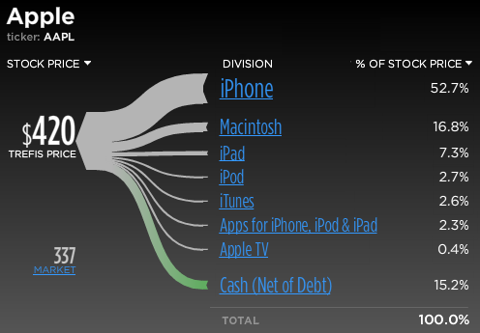 (Chart created using Trefis Pro app)
Below we look at potential upside and downside scenario for Apple that focuses on its most important driver to its share price – iPhone market share.
(Chart created by using Trefis' app)
+35% upside if iPhone Reaches 20% Market Share
The iPhone was launched in June 2007. iPhone's Market Share in Mobile Phones increased from 0.3% in 2007 to 2.0% in 2009.
The iPhone's unique touch screen interface; and the intuitive and user friendly features are some of the factors behind its success in the past. The new iOS 4 has had a few improved features such as multitasking. Another reason for its success is the halo effect of Apple's other products, which includes iPods and Mac computers.
We expect iPhone to continue to gain market share to around 12% by the end of Trefis forecast period. Apple has also taken a few initiatives to expand its international operations. Apple introduced the iPhone 4 in China during the fall of 2010, just three months after the iPhone 4's U.S. release in June 2010. By contrast, Chinese consumers had to wait nearly two years for the iPhone 4's predecessor, the iPhone 3G. This move to introduce iPhone 4 early will give Apple a chance to be able to get the phone into the hands of Chinese early adopters far sooner than in past iPhone sales cycles. Furthermore, the availability of the iPhone on Verizon's (NYSE:VZ) network starting in early 2011 is expected to drive strong U.S. demand for iPhones.
If 1 out of 5 mobile phones sold is an iPhone, or in other words, iPhone's market share increases to 20%, by the end of Trefis forecast period, there could be an upside of 35% to our estimate for Apple stock.
-30% downside if iPhone Market Share Reaches Only 10%
Although we expect a moderate increase in iPhone market share, in terms of units we expect that Apple will be able to sell more than 250 million iPhones by the end of Trefis forecast period, up from 47 million iPhones sold in 2010. This expectation of a five fold increase in iPhone unit sales poses a risk to our estimate for iPhone market share in the long term. There could be a downside of nearly 30% to our estimate for Apple's stock if iPhone market share were to only double, reaching around 6% by the end of Trefis forecast period, implying about 125 million iPhones sold.
Disclosure: No position