My investing interest is oriented toward dividends which bring high yields, making it difficult to write this article on Citigroup (NYSE:C). But this huge financial company has recovered from death's door two years ago and if the recovery continues, there are potentially large profits for investors willing to accept risk.
Citigroup is a global financial services company with consumer banking, credit cards, corporate and investment banking, securities brokerage and wealth management services that are divided into two primary segments: Citicorp "Good Citi" and Citi Holdings "Bad Citi." Citicorp (Good Citi) operates as a global bank for businesses and consumers. Citi Holdings (Bad Citi) has three businesses: Brokerage and Asset Management (Morgan Stanley Smith Barney), Local Consumer Lending and Special Asset Pool. It's referred to as Bad Citi because this group of assets is being sold off to make Good Citi financially stronger. Consolidated Citigroup has roughly 200 million customers and operates in 140 countries.
Citigroup just reported Q4 and 2010 results, not well received by the markets. EPS for Q4 was 4 cents, below 7 cents which was forecasted by analysts. The $5 stock dropped 40 cents (8%) in two days. EPS for 2010 was 35 cents, a vast improvement over the 2009 loss of 80 cents, however below the 40 cents analysts were looking for. The vast array of numbers are overwhelming but the most telling were for income by group in the last two quarters. Since Citigroup is emerging from a very depressed state, prior data is less relevant for predicting where it's going.
CITIGROUP segment income (in billions of dollars):

Click to enlarge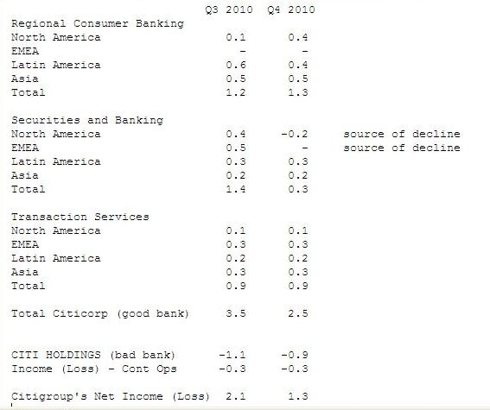 Citicorp (good bank) suffered a $1 billion decline in quarter over quarter profits. On the margin, this was attributable to the Securities and Banking group in North America and Europe. However Asia and Latin America accounted for 81% of Citicorp's Q4 2010 net income and Citicorp is expecting much future growth to come from this area. In addition net credit losses of $6.9 billion were down $805 million sequentially (11%) marking the sixth consecutive quarter of decline (a hopeful sign that financial fortunes are improving).
Key goals in the 2009 annual report include:
• Sustaining the momentum of Citicorp operating businesses from their strong 2009 performances
• Continuing the reductions of assets in Citi Holdings
• Developing further leading global position, especially in emerging markets
Citigroup pretty much met these goals in 2010. Last year Citicorp (Good Citi) had sales of $66 billion of the $87 billion at Citigroup. Business in emerging markets provides a major portion of current and future growth. In 2010 Citicorp earned 59% of its revenues and 76% of its net income from international operations. International Regional Consumer Banking had revenues of $17.7 billion, up 9% from prior year, and net income more than doubled to $4.2 billion. Citi Holdings is being wound down in an economically rational manner. Citi Holdings sales in 2010 declined 42% (largely related to the sale of assets) and the net loss decreased 52%, from $8.9 billion in 2009, to $4.2 billion last year. Those assets have declined by more than half from the peak in 2008, $359 billion (including a $128 billion reduction in 2010), and now stand at less than 20% of Citigroup's total balance sheet.
Citigroup (i.e Citicorp) is on the right path, running with its strong businesses and disposing of those that do not meet company objectives. When Citigroup sells assets in Citi Holding, their final values could bring more than shown on the books because they were valued when financials were selling at distress levels.
At the bottom of the financial market meltdown, the stock plunged to $1. Risk averse reached record high levels. Junk bond funds were yielding more than 25% while Treasury borrowings offered record low yields. Since then, the stock rebounded (as did most major banks) to $4.89 today (January 21). There are many detractors for Citi, explaining why it's selling for less than $5 (classical definition of a speculative stock). Its road ahead will be bumpy with setbacks such as Q4. Citi hopes to pay a dividend next year. Analysts estimate 2011 EPS of 46 cents with a range of 60 cents-32 cents. If recovery progresses (aided by a global economic recovery), further improvement next year might bring an annual dividend of 20 cents yielding 4% based on today's price. This stock is not for doubters and its price indicates there are many. But brave investors who thrive on risk will be attracted by the prospect of large capital appreciation in this decade. Chaos and confusion can bring opportunity (and profits) for those willing to accept related risks.
Click to enlarge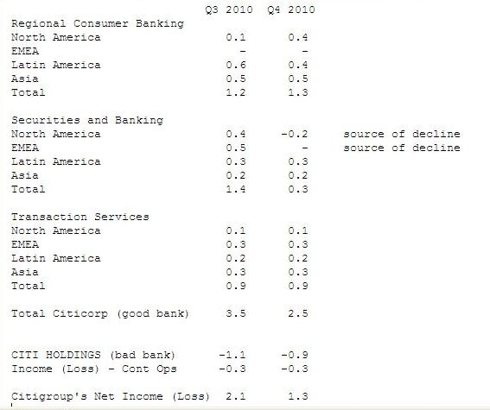 Disclosure: I have no positions in any stocks mentioned, and no plans to initiate any positions within the next 72 hours.