By Sheena Lee

Unfazed by the management reshuffle at Google (NASDAQ:GOOG), analysts are boosting their 12-month price targets on the back of strong fourth quarter earnings. Some sounded a note of caution, however, over increasing competition from Facebook. Under the reshuffle, co-founder Larry Page becomes CEO while Eric Schmidt moves to chairman.
The median price based on the 27 most recent targets tracked by Alacra Pulse is $740, up from $670 in our Dec 2 Prognosis. The mean target is $736.89, more than 20% higher than Monday's closing price of $611.08. Of 27 analysts who have changed or reiterated their price targets, 25 have a positive rating, two are neutral and none are negative.
Current 12-month price targets of selected sell-side and independent analysts.
Click to enlarge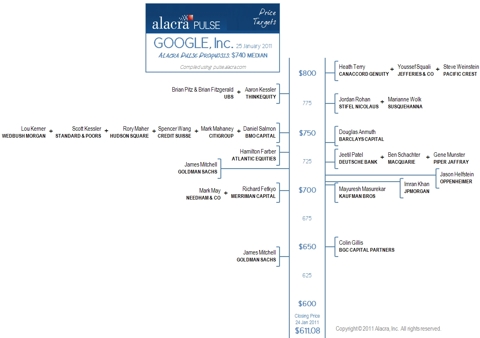 Click to enlarge
Canaccord's Heath Terry, Youssef Squali of Jefferies & Co and Pacific Crest's Steve Weinstein share the highest target at $800. Ken Sena at Evercore Partners ($640) and Colin Gillis of BGC Capital Partners are the only two among the 27 with a target below $700.
"While this move could not have happened at a better time, considering the backdrop of the blockbuster quarter, it does introduce a level of uncertainty around execution under the new leadership, particularly considering the growing competitive landscape," Squali said.
Piper Jaffray's Gene Munster reiterated an Overweight rating on Google and increased his price target to $725 from $652. Munster said the quarterly results showed that the company's search business is still healthy and that the new CEO switch is "at worst a net neutral, at best a net positive." Page is more visionary than Schmidt, and his new role could inspire Google's creativity in the face of competition from Facebook, Apple (NASDAQ:AAPL) and Microsoft (NASDAQ:MSFT), he noted.
Some say there were tensions rising between Schmidt and the two co-founders. Global Equities Research analyst Trip Chowdhry suggested that Google's unsuccessful $6 billion bid to buy Groupon may have been a reason why a management shake up took place. Schmidt was "interested in paying $6 billion for Groupon, while founders (Page and Brin) felt Groupon to be total junk," Chowdry wrote in a note to clients.
Other analysts said it makes sense for Schmidt to focus his energies elsewhere. Meggan Friedman of William Blair wrote, "... as Google increasingly comes under the scrutiny of governmental bodies, given its size and market dominance, we believe there is long-term benefit in having Schmidt dedicate his efforts to strategic issues including government relations."
Goldman Sachs analyst James Mitchell increased his earnings estimates for Google through 2012. The search giant is seeing accelerating global growth, said Mitchell, who has a Buy rating and a new $720 price target on the stock.
Barclays analyst Douglas Anmuth said shares of the search giant are now seen reaching $740, up from $675. "Strong 4Q10 results with FX and hedging-neutral revenue growth accelerating 28%", said Anmuth, who maintained an Overweight rating on the firm.
UBS analysts Brian J. Pitz and Brian P. Fitzgerald wrote that Google is well positioned for growth in 2011 as the investment bank reiterated a Buy on its stock and raised its price target to $780 from $735. "For 2011, Google will focus investment into: 1) Display, 2) YouTube (revenue doubled in 2010), 3) Android, and 4) Enterprise, as well as the areas of Local and Commerce." As for the CEO switch, "We do not expect material changes to the strategy, and believe the company will be in capable hands under Page."
Needham & Co. analyst Mark May maintained a Buy rating on Google with a price target of $700. "We continue to be impressed with revenue trends and new-growth opportunities like display and mobile, and as such, we are increasing our ests but note that we expect topline growth to be tempered in the near-term by a continued ramp in growth investments."
Marianne Wolk of Susquehanna said results in the display and mobile business in particular were encouraging, with YouTube revenue possibly doubling, year over year. Total display ads probably were $3 billion for all of $2010, and she expects they could total 10% of revenue this year. Wolk repeated a Positive rating and upped her price target to $775 from $665.
Evercore's Sena maintains an Equal-Weight rating "given our longer term concerns over algorithmic search in the context of social search advances, Facebook's present growth trajectory, and Facebook's deepening integration with third party sites, which we view as setting up to create a strong rival to traditional search."
BGC's Gillis notes that while the December quarter results are strong, the company is moving back into the seasonally more difficult part of its cycle combined with an increase in its expense base due to the across the board 10% lift in salaries and increased costs associated with hiring new employees.
Sources: Alacra Pulse, TheStreet, StreetInsider, Barrons, Wired, PaidContent.