Today I took Will Rogers' advice ("Buy land ... they're not making it anymore") and bought Plum Creek Timber (NYSE:PCL) for my Barchart Van Meerten New High portfolio. Plum Creek Timber is the second largest private timberland owner in the United States, with approximately 7.8 million acres of timberlands located in 19 states. Their timberlands are well diversified, not only by species mix but also by age distribution. Growth rates vary depending on species, location, age and forestry practices. They manage their timberlands in two business segments: the Northern Resources Segment and the Southern Resources Segment.

As America's and Chinese thirst for wood for building materials and furniture returns the harvesting of wood should make this company a long term cash cow. As the population grows who wouldn't want to own almost 8 million acres of raw land?

I know this looks like an asset buy but it actually came to my attention when screening on Barchart for stocks hitting the most frequent new highs. This company hit 16 new highs and appreciated 12.71% in the last month earning it a 100% Barchart technical buy signal. It trades around 41.84 with a 50 day moving average of 37.65. The stocks momentum is increasing with a Relative Strength Index that is 78.90% and rising.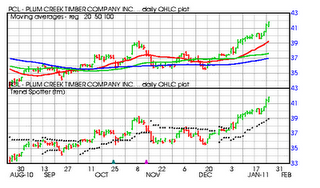 (Click to enlarge)

Wall Street brokerage analysts like this stock and have published 4 buy and 8 hold recommendations based on their projections for increases in both revenue and earnings. I think the reason there are so many hold recommendations is that the company is really a REIT holding and timber, but instead of counting on rents they count on the sale of timber products to pay the bills. This stock could give a total return between 7% - 10% for many years to come.
The stock has not gone unnoticed by the general investor and has caught the eye of the members on Motley Fool. The CAPS members vote 695 to 46 that the stock will continue to beat the market with the All Stars in agreement with a vote of 240 to 9.
The reasons I like this stock are:
Hitting new highs on a consistent basis.
Wall Street analysts are following and recommending the stock.
There is a wide and positive general investor sentiment.
I truly believe I can't go wrong owning land and timber.
Disclosure: I am long PCL.