Digital Realty Trust (NYSE:DLR), a real estate investment trust (REIT) engaged in the ownership and management of technology-related real estate (data centers), recently announced record lease signings for 2010.
The wholesale data center market is in great shape, and it's considered by some analysts like Gartner's Lydia Leong the hottest part of the growing colocation sector:
… wholesale colocation and data center leasing are certainly growing significantly, both in volume of deals and the degree to which they're playing a major part in data center sourcing decisions.
In more recent times, Digital Realty Trust has also started lowering its minimum requirements for data center space and power, thus becoming a competitor to multi tenant colocation companies like Equinix (NASDAQ:EQIX) for customers who require medium to large footprints.
An increase of over 160% in total square footage and an increase of over 100% in annualized GAAP rent over 2009 lease signings obviously makes a nice headline, but these numbers come as no surprise to those who have followed Digital Realty's recent developments.
DLR reports two metrics related to leases: signed and commenced. It must be noted that some signed leases will not necessarily translate into an immediate revenue stream as Digital Realty sometimes needs to prepare data center space for use, especially in case of redevelopment properties. These numbers still remain very interesting as they represent a bellwether for the demand of large data center footprints.
(Click to enlarge)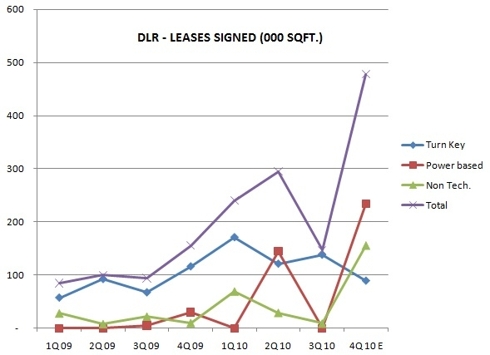 Click to enlarge


As we can see from the chart (total), the trend has steadily been growing since Q1 2009, with Q3 and Q4 2010 representing some kind of extremes that need to be averaged to get a clearer indication of the direction for demand of wholesale data center space.
Digital Realty is part of Goldman Sach's Conviction Buy List, a compilation of the Wall Street bank's favorite U.S. stocks, for 2011.
In November 2010 Jefferies analysts initiated coverage of DLR with a buy rating and $67 price target. In the same month RBC Capital Markets reiterated an outperform rating on the stock with a $66 target price.
Digital Realty will be reporting Q4 2010 results on February 9th.

Disclosure: I am long EQIX.