Earnings season is upon us, and investors are watching. We continue to believe that large caps will outperform the market in 2011 and the financial sector, led by the big banks, will be in the forefront of this rally. However, since banks led the market collapse of 2008, and have hurt numerous investors, they receive a lot more scrutiny than most other industries. Any disappointment gets noticed immediately and the stock punished unmistakably.

We believe this very scrutiny that the banks receive from investors, coupled with the tight regulations imposed by the government and the conservative approach their past experience has encouraged them to take, gives us a useful real-world standard for deciding which banks to cast aside and which to focus upon. Last year, this sector trailed the major averages, but we think it is poised to catch up, particularly for those large national banks which don't disappoint.

With this in mind, we screened our database of 5000 stocks looking for major bank stocks with a bullish Chaikin Power Gauge rating. This rating is based on a 20-factor model incorporating Financial Metrics, Earnings Performance, Price/Volume activity and Expert Opinions to determine a stock's potential over the next 3-6 months. The following 5 industry leaders passed our screening criteria to emerge as potential winners for 2011; however with mixed earnings performances to end 2010, we suggest you avoid Bank of America (BAC) and Citigroup (C), focusing instead on Capital One Financial Corporation (COF), JP Morgan Chase & Company (JPM) and Wells Fargo & Company (WFC).

This Highlights the reality that the Chaikin Power Gauge rating is a guide to a stocks future potential and must be weighed along with other factors in the investment decision making process.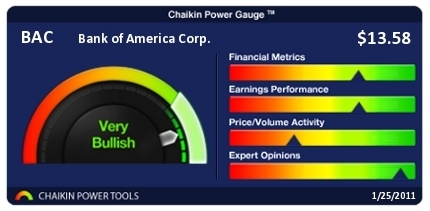 Bank of America Corporation (BAC): 13.58

Hampered by a $2 billion write-down as it is forced to recognize the declining value of its Countrywide mortgage business, the largest U.S. bank reported a loss for its quarter ending in Dec 2010, thus making it the only money-losing bank to report last week. According to management, these write-downs will continue into the foreseeable future and put a damper on future earnings.

However, it is very encouraging to see the company's Merrill Lynch businesses generating profits and we believe they will eventually lead BAC into the black. Shares are currently trading at a significant discount to its book value making it a potential bargain at these levels.

Analysts, citing the strong retail brokerage and investment banking businesses, are increasingly putting their faith in management as the long turnaround process continues on. Insider buying suggests management confidence in the company's future performance which is reflected in the company's earnings call where CEO Brian Moynihan called 2010 as a year of necessary rebuilding and hinted on boosting the company's dividend in the second half of 2011 if it passes the government's stress tests.

With most of its businesses turned around, we believe BAC shares, which are more than 25% off their 52-week highs, could rally on any positive news of a housing turnaround.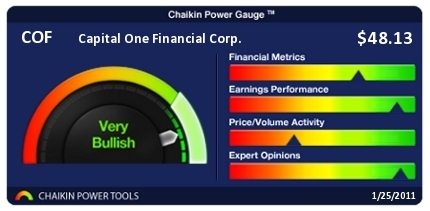 Capital One Financial Corporation (COF): 48.13

Capital One Financial Corp handily beat Wall Street estimates for its 4th quarter earnings thanks to the decline in credit card borrower defaults. While many of its peers faltered and failed, the company has shown consistent earnings growth while beating analyst expectations in the last 4 quarters. This, along with a very low projected P/E ratio on 2011 earnings, contributes to a very bullish Earnings Performance metric.

A high ROE, low Price/Book ratio and a very positive Business Value* contribute to very strong Financial Metrics. Analysts, impressed by management performance over the last year continue to be bullish on the company's future earnings prospects and have raised their 2011 estimates, thus contributing to a very bullish Expert Opinions metric.

Positive Chaikin Price Trend, and favorable price strength vs. its industry and the broader market, bolster an already very bullish Power Gauge rating. The stock price has rallied over 30% to higher 52-week highs since November and as long credit card defaults continue to decline as in recent months, we believe this rally will go on to higher highs.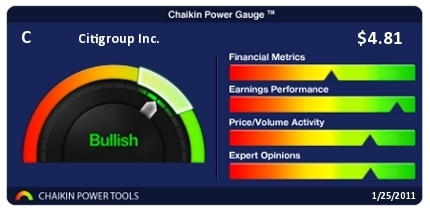 Citigroup Inc (C): 4.81

Citigroup's 4th quarter 2010 earnings reported early last week failed to meet Wall Street expectations, sending the stock down almost 10% in one week. However, we believe this to be just a temporary step-back and shares should rebound once investors dig deeper and understand that the company is on its way out of trouble since the 2008 collapse.

For comparison, Citigroup earned 4 cents per share last quarter vs. a loss of 33 cents per share a year ago. Prior to last quarter's stumble, Citigroup has been posting consistent earnings with healthy profit margins; and with a low projected P/E ratio on 2011 earnings and a low Price/Book ratio, we believe shares are undervalued at current price.

Positive Chaikin Price Trend coupled with favorable price strength vs. its industry and the broader market bolsters a bullish Power Gauge rating. As long as management continues to focus on profitability and return to growth, we believe the stock price will follow but breaking through the $5 resistance has proven formidable.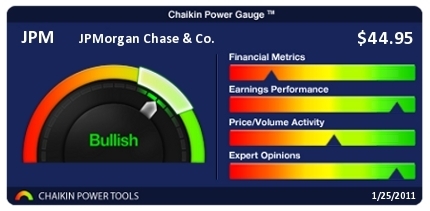 JP Morgan Chase & Company (JPM): 44.95

The first major bank to report 2010 earnings, JPM kicked off the earnings season on a very positive note by beating analyst estimates handily as it posted a 47% increase in its earnings as compared to a year ago. This performance has raised hopes on Wall Street that a big dividend payout is possible in 2011.

Impressed by the performance and encouraged by CEO Jamie Dimon's upbeat outlook, analysts have raised their estimates for the full year 2011 citing an end to the financial crisis that began in 2008 and expecting JP Morgan Chase to lead the recovery. Fundamentally, the company continues to regain strength. Healthy profit margins, strong ROE, a low P/E ratio on projected 2011 earnings and a low Price/Book ratio together contribute to a bullish Chaikin Power Gauge rating.

We believe that JP Morgan, guided by a very strong management team, has emerged as the industry leader at the end of 2010 and will continue to lead the recovery of the financial sector into 2011. The stock price has rallied over 25% since September but the upward trend will continue taking it to higher highs in the foreseeable future.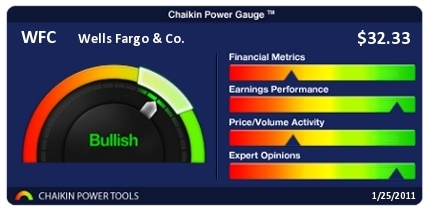 Wells Fargo & Company (WFC): 32.33

Warren Buffett's Berkshire Hathaway is Wells Fargo's largest shareholder so it doesn't come as a surprise that while its peers, were taking huge risks, Wells Fargo was focused on doing all the right things and sticking to plan. Now, as the economy recovers and banks continue to come out of the doldrums, WFC is in the forefront.

High ROE and a positive Business Value* driven by solid profit margins contribute to a bullish Financials metric. A near perfect Earnings Performance rating is driven by strong and consistent earnings growth and a low P/E ratio on projected 2011 earnings. The company reported record earnings in 2010 and management, confident that the strong growth will continue in 2011 further strengthening its long term position, is signaling that it will once again raise its dividend payout to shareholders, although the timeline is unclear.

Analysts have raised their 2011 earnings estimates bolstering the bullish Expert Opinions metric. Positive Chaikin Price Trend and favorable price strength vs. its industry contribute to a bullish Power Gauge rating. The stock price has rallied more than 35% since mid-October and we believe this rally will continue in 2011 making higher highs and taking the stock well above its 52-week highs posted in May 2010.

* Business Value - the most heavily weighted factor in the 20 factor Chaikin Power Gauge rating, Business Value measures free cash flow per share on a relative basis vs. 3000 stocks and is similar to EV/FCF calculations.


Disclosure: I have no positions in any stocks mentioned, and no plans to initiate any positions within the next 72 hours.