Pep Boys – Manny, Moe & Jack (NYSE:PBY), the auto parts retailer out of Pennsylvania has been garnering some headlines lately as the firm is considering selling itself. The company has been working with Bank of America to explore options for completing a sale and attempting to stir up interest from private equity firms that could become potential buyers. The news of this potential transaction caused shares of PBY to rise 15% on Friday. While it is not too late for PBY to get on the M&A wagon by positioning itself as a potential acquisition target, what does this mean for Pep Boys' investors and potential suitors going forward?
Considering that PBY has historically been a wealth destroyer, changing its ownership may prove beneficial if the new owner could turn its business around to make it economically profitable. The chart below illustrates PBY's inability to create wealth for its shareholders over the last decade as they have continued to experience declines in negative Economic Margins (what PBY earns below its true economic cost of capital), and thus have underperformed the S&P 500 over the same time-frame.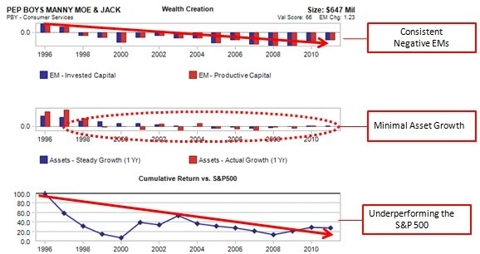 click to enlarge
After understanding what a lackluster past PBY has, the next step is to understand what is "priced-in" its stock price after Friday's 15% upward move. We will use AFG's ValueExpectations framework to understand the expectations embedded in the current stock price to see what PBY must deliver in sales growth and EBITDA margins over the next 5 years in order to justify its latest trading price, developing what we call a "hurdle-rate". In the charts below we can see that the "hurdle-rates" for PBY to justify its $14 stock price are quite lofty, at least benchmarked against its history.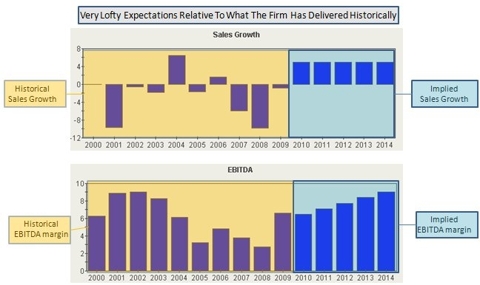 We would advise interested buyers to think twice before offering a premium to purchase PBY as its shares already look fairly valued. While it is not impossible, we believe it is fairly difficult to improve PBY's operation to levels beyond what is displayed above. For PBY's shareholders, we congratulate you on the gains you have made so far and would caution you on the potential downside should a successful sale fall apart.
Disclosure: None