I wrote about Corinthian Colleges (NASDAQ:COCO) last month, and given that January options just expired, this would seem to be an appropriate time for an update. I hold a high level of confidence in being long COCO via short puts (selling the right but not the obligation to sell or "put" to me stock at a set price) options. This type of trade is like selling insurance; if the stock price goes down, I will make up the difference.
I believed a month ago - and continue to believe - that COCO is not going to fail given what is publicly known at this time. I now believe that the prospects for COCO are higher than when I last wrote, as more information has come out. I will be initiating new option positions to replace those that expired on Friday of last week, and I will also be increasing the overall size of the investment. This week, I intend to initiate the shorting of puts - hopefully sooner rather than later, but this depends on price action.
I use a proprietary blend of technical analysis, financial crowd behavior, and fundamentals in my short term trades and while not totally the same in longer swing trades to investments, the concepts used are pretty similar. Some examples of fundamentals which I believe are important include the following:
COCO makes money. Even with large cuts to the top and bottom line, this company is making money with a micro PE level. COCO is holding a potential value that investors dream of - a PE of less than 5, according to EDGAR Online.
I believe the upcoming earnings report will not be a materially negative surprise but will show that the profit per share will still be under pressure relative to its current PE. I based this on its peers, who have reported a blend of both good and bad.
COCO, in my opinion, is already priced for a poor report (in the latest results, STRA reported that new student enrollment dropped about 20%, sending the stock price lower, while APOL reported better than expected fiscal quarter results, moving the price higher). If COCO does report a surprise blow out quarter, the shorts are going to be in for one heck of a ride as they scramble to find the exits and life boats, of which there are not enough. While the stock's short interest, according to NASDAQ, has fallen from its peak in August, it will still take over a day in very high volume for the shorts to cover. With over 22 million shares shorted (25% of float) and a float of about 79 million shares even on a heavy volume day, I would expect that at least a full day of trading volume would be required to exit. This indicates to me that any upside surprise could light the fuse on a powder keg of upside price movement.
However, short interest won't generally make the price move higher, so let's explore what might.
click to enlarge images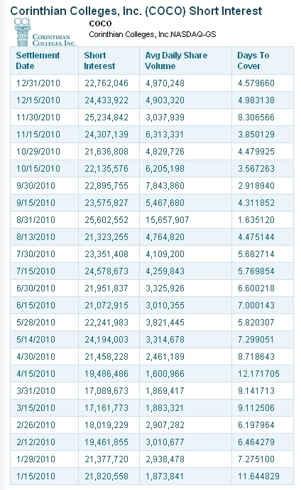 According to Reuters, the Association of Private Sector Colleges and Universities, which represents more than 1,500 for-profit schools, filed a lawsuit in the U.S. District Court for the District of Columbia. At issue is an attempt to get the Education Department to withdraw rules which have been a catalyst causing for-profit schools to fall out of favor and sending stock prices crashing downward. Fighting "city hall", is, in my opinion, always an uphill battle, and while I understand that it is well worth the effort, I would put the odds of success well under 50%.
What I think is much more promising for COCO is not what is going on in the courtrooms of Washington but rather what is going on in the halls of Congress. In what appears to be an all out frontal attack on opponents of for-profit education, the schools have built a formidable war chest of money and lobbyists to change the landscape that they currently find themselves in. According to Bloomberg, for-profits more than doubled spending on lobbying. This includes hiring former members of Congress to go to battle for the colleges. Spending has reached a level of over $4 million a year. Former members of Congress include Tom Loeffler of Texas (R) and William Gray of Pennsylvania (D). Additionally, COCO has spent over $18,000 on the re-election of Speaker of the House John Boehner. Time will tell how well the money that the industry and COCO is spending pays off. As it stands now, the money may be well spent, as Republican leaders so far have clearly sided with for-profits in efforts to block the Education Department's most challenging rules which may impact the bottom line for COCO, according to Bloomberg.
Can one safely say that what happens with the rules will determine whether COCO is a good investment? I don't think so. This would be wrong and shortsighted in my opinion, as well as potentially leaving a lot of money on the table. Let's go over the possibilities and see where they lead us.
The first possibility is that the Education Department rules get changed so that they no longer have a material impact, allowing COCO to appreciate quickly from value buyers and shorts covering their positions. This is a very real possibility, as can be seen by an article in Bloomberg about John Kline. Representative Kline is the new leader of the House Education Committee who is considering measures to block an Obama administration plan to tighten student aid to for-profits.
The second possibility is that the rules stay in place, which in turn shrinks the total industry size by limiting the number of students that attend the for-profits schools, in turn lowering the top as well as the bottom line.
There is also a third possibility that regardless of the rules, the Education Department budget is lowered in an overall budget (or targeted) cutback. With US fiscal deficits increasing, this is a real possibility, as well.
If the rules are changed, it would appear that all else being equal, the total revenue downside risk shrinks greatly, allowing for COCO stock price to rise. If the rules are not changed, it would appear to me that the lower forward earnings are already priced in with a forward PE well under 12 (near the point that I believe a stock appears to be a value if the bottom line is not shrinking).
We also must ask ourselves what happens next, as this is the most important question for a COCO investor if the rules are not changed. Let's look at some others in the education space, comparing market cap, cash, and debt:
Compared to many others, COCO is relatively small with a current market cap of $425M. The reason this is important is because if the rules are not changed and it appears that all hope may be lost with COCO, the result might be just as good. If you're a CEO of one of these larger for-profits and you take away the ability to grow your company organically, what are you left with? The fastest way to grow is to buy other companies to grow your top and bottom line while simultaneously removing competition. With COCO expected to be profitable even if faced with a 20% reduction in the top line, a buyout still makes sense.
Discounting the income from the period ending September 20, 2010 of $33M by about 20% to $25 per quarter, or $100M a year, gives us insight into where COCO might be without any rule changes. Stripping out much of the goodwill and some other assets from the balance sheet and adding in some profit from the last 10-Q filed, we can reasonably put the book value COCO at $300M (reported $704M). Using very round, easy to understand numbers of 6X earnings of $600M plus a book value of $300M puts a buyout value north of $10 per share. Adding in that this leaves one less competitor and possible savings from economies of scale / efficiencies, a takeover may make more sense financially. Regardless, this is a deal that appears to be immediately self supporting and contributes to growth.
The areas that a buyout could come from are not limited to other schools. According to Dow Jones newswires on January 19, 2011, private equity firms are looking at for-profits, including COCO. It is not hard to imagine why with the current low valuations relative to earnings and revenue.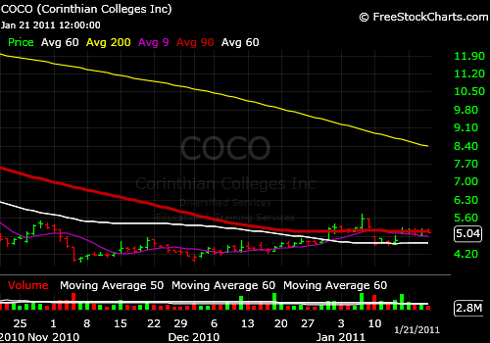 Looking at the chart for COCO, the price has now gone above - and stayed above - the 60 day moving average and right at the 90 day moving average. COCO appears to have bottomed out with support at the 60 day. As I submit this article for publication, COCO is currently part of my IRA and my trading account.
After Friday's option expiration my exposure diminished, mostly as a result of the put options I wrote expiring, and I intend to buy/write COCO stock as well as write put options, giving me a net long going into earnings, which are scheduled for the first of February. Earnings are always a crap shoot, and perhaps the riskiest time to have a position with a stock, so I consider that to be one of the perils facing me. Option premium should reflect this and if earnings do not disappoint and change my outlook on COCO, I should be well positioned to capture the rewards if my theory is correct.
Disclosure: I am long COCO. I do not have any positions in any of the other stocks mentioned in this article and do not plan to initiate any other than disclosed with COCO.