Perhaps the worst kept tech secret in history was that the Apple (NASDAQ:AAPL) iPhone would be on Verizon (NYSE:VZ) someday. Now that it has finally been confirmed by both companies, we're seeing examples of classic buy on the rumor and sell on the news. I'm not saying either company is a sell or a short by any means - I actually plan on accumulating shares of both on weakness. In this article, I will shine some light on one company that will certainly benefit from the increased number of iPhones expected to be sold on the Verizon network.
First I will explain why I am choosing this company versus other companies that will benefit from this news. In the spring of 2010, rumors heated up when The Wall Street Journal broke the news that Qualcomm (NASDAQ:QCOM) was ramping up production for the long awaited Verizon iPhone and that it would likely be coming in Q1. As we know, that was right on, since the iPhone is set to debut on Verizon in February. The Google Finance chart below shows the performance of Apple (AAPL), Qualcomm (QCOM), and Verizon (VZ) since May 26, 2010.
click to enlarge images

Verizon was up 30.6%, Apple up 39.2%, and Qualcomm was up 44.7% while the NASDAQ was up 23% and S&P 500 was up 20.2%. All three stocks beat the index averages, but I believe that some of that came from the speculation of the iPhone coming to Verizon. In this article, I will explain what I believe the best way to play the Verizon Apple marriage is and detail a bullish option strategy.
First, I'll get into some numbers and what this means for the companies. I'll use conservative estimates to be safe, so one conservative estimate out there is that Verizon will likely sell around 13 million iPhones this year. Personally, I believe this estimate will get blown out of the water, but I'm being conservative. Now I will explain why I will only be getting long the stocks mentioned above on weakness rather than at these levels.
Verizon:
Although this is great (long term) news for this company, the more phones they sell (which, again, I believe will be a lot) the more money they will be forking out in subsidies to Apple. Therefore, I believe this will be a short term negative for the company and drag the stock down a bit near term. The stock pays one great dividend, so the only way I would choose to play this stock near term would be to buy-write it, as I outlined here.
Apple:
First, I'll state this stock has been too good to me and I don't have anything bad to say about the stock or the company. The company continues to impress quarter after quarter and earnings and revenue growth doesn't seem to be slowing down anytime soon. I did, however, sell my Apple LEAP options the day the iPhone announcement was official, as I said I would do it that day since I got in them almost a year ago.
But even after the stock has pulled back as much as 6% from the high, I'm still reluctant to get long. Why? Simply because the stock is still a headline story due to Steve Jobs stepping down as CEO. There's no doubt in my mind the company will continue to operate great and do wonderful, but the fact that it is still a headline story makes me nervous. I wish Steve Jobs all the best and hope he gets better and is able to return soon, but the fact is, we don't know his condition, what news could come out in the weeks to come, and what effect it may have on shares of Apple. With that being said, I would look to begin accumulating shares again around 290 and lower based on pure fundamentals.
Qualcomm:
This news is also very good for the long term of this company, however based on the run this stock has had in recent months and the fact it is trading at a fairly rich multiple, I believe this is also a buy on weakness. I would become a buyer of this stock around 45, but would also need to see it hold the 200 day moving average.
The company I do plan on getting long soon is Corning Incorporated (NYSE:GLW), formerly Corning Glass Works (that's where the ticker comes from). We can see the company has underperformed the three stocks mentioned above, but until its earnings yesterday (Tuesday) it also lagged the S&P 500 and the NASDAQ in the same time frame.

Corning is a major distributor of television glass and glass for mobile devices. The stock has been dragged down mainly because of weaker than expected demand for LCD televisions. A bright spot for the company, however, is that demand for their mobile device glass seems to be increasing. You may have heard of their very strong glass known as Gorilla Glass. I must say that this company has one great product and demand seems to be growing for it.
As of the last quarter (Q3), CFO Jim Flaws stated that Gorilla Glass could be a $1 billion revenue generator (up from $250 million in 2010) for Corning, not only because mobile device and gadget makers are demanding more of it, but television makers are starting to demand it as well.
Corning is also very fairly valued, coming in with an earnings multiple of just 10.3, well under most of their peers. While Corning's earnings multiple is low and their revenue growth is high compared to the industry, the earnings growth is slightly below average, but these are only estimates. If Gorilla Glass really takes off, which I believe it easily could, earnings growth could easily be near or even above the industry average, especially because margins from this glass are very high.
Some highlights from the Q4 conference call Tuesday:
Gross margins expanded to 46% in 2010 from 39% in 2009
Gorilla Glass is used by 29 brands
Gorilla Glass is used in 190 models, roughly 200 million devices
Sony (NYSE:SNE) announced at CES that Gorilla Glass will be used for Cover glass on their large TV. (This may be just the beginning for television makers using it!)
Corning believes Gorilla Glass is superior to competitors' glass. He stated to just look at the brands using their product and that should speak for it.
Flaws also reiterated he believes it could be a $1 billion revenue generator for Corning.
Most people have never heard of Gorilla Glass, and Corning is well aware of this. So another exciting announcement out of Corning is that they are trying to educate the consumer about their products, putting pressure on the device and television makers to use their glass. Think of how Intel (NASDAQ:INTC) markets their technology "Intel Inside". Most people don't go out and purchase Intel products, but they may be more likely to purchase a computer if they see the Intel sticker on it.
Similarly, Corning is trying to create demand for Gorilla Glass, even though consumers can't actually go out and purchase this glass at stores. Consumers may be more likely to purchase a phone or television that has Gorilla Glass if they were educated about the qualities of it, making Corning more marketable to the makers of these products. Below is one of their commercials set to air soon.
Keep in mind I didn't even mention the other devices using Corning Gorilla Glass. There is mainly one other Gorilla (pun intended) in the smartphone space right now, and that's Google (NASDAQ:GOOG), so it's worth it to note many of the makers who are using Android operating system are also using Corning's Gorilla Glass. So with that being said, I believe the stock that benefits most from iPhone coming to Verizon will be Corning (GLW).
Now I will explain how I am playing the stock. As stated Corning reported fourth quarter earnings Tuesday and the stock was among the best performers on the NYSE.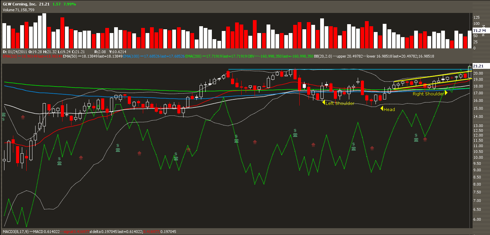 As you can see from the two year weekly chart above, Corning broke to new highs on a 350% volume increase compared to the 50 day average Tuesday (note weekly chart depicts trading volume for 2 days versus previous intervals of 4-5 days), after a great earnings announcement and good guidance. We can see two bullish technical patterns from the weekly chart above.
One is that it broke out of its up trending channel (yellow lines), and the other is that it broke and closed above a [choppy] inverse head and shoulders pattern neckline started in April 2010, which also happened to be resistance from the previous high in January 2010 (blue line).
Corning Bullish Option Strategy
Now that Corning has cleared resistance, I believe it can eventually work its way up to the 25-26 level, given that it also clears minor resistance near the 22.00 area. Therefore, I would look to structure my option strategy around these levels. I not only believe positive momentum is behind the shares of Corning, but I also believe they have positive earnings momentum after that great quarter and outlook. Therefore I'd want to capture another earnings report in my option strategy time frame.
Using May options, which is the nearest expiration after the next earnings, I would purchase 22 strike call options and sell (one for one) 25 strike call options against them. I could get into this strategy for roughly $73 per spread. If this strategy pays off and shares of Corning close at or above 25 on May options expiration, this strategy would return $300 or a profit of 411%. If however shares of Corning close at or below 22 a share on May options expiration the entire premium paid or $73 per spread will be lost. The break even point for this strategy is if shares of Corning close at exactly 22.73 per share on May options expiration.
Commissions were not taken into account for the calculations above, and it may be worth it to close out the position before May expiration. I am currently long these spreads, so I will do my best to update my readers on any changes I make on this position as needed via Seeking Alpha StockTalk or I'll comment in the comment section of this article.
The ideas outlined above are bullish strategies and should not be considered if you think the stock will sell off in the near future. However, if you feel the stock could move higher in the near future, this strategy could yield a nice gain.
These are just examples and are not recommendations to buy or sell any security; if you're more bullish/bearish, you'll want to adjust the strike price and expiration accordingly.
The reason option volumes have surged in the last five years is because they are a great way to hedge your portfolio, as well as create income off of your shares (see chart here). Keep in mind when using this strategy that it is essential that broker commissions are low enough to profit from the position.
Disclosure: I am long GLW March 21 Calls, and May 22/25 Call Spreads