Thesis
The Starbucks (NASDAQ:SBUX) empire has navigated the recession well and now stands ready to continue its global expansion while holding the intimate knowledge of its past mistakes in hand. Looking back, we can see that the return of CEO Howard Schultz was nothing short of a divine act. To say the least, he has turned the company around and taken it to new levels. In the same period though, new and credible competitors have surfaced. McDonald's (NYSE:MCD) and Dunkin Donuts are names that quickly come to mind and ones that won't leave the discussion any time soon.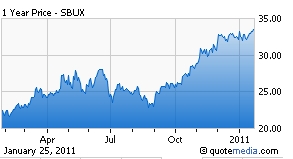 With the US economy on the mend toward greener pastures, Starbucks continues to retain its dominant position domestically and is executing a calculated strategy relative to emerging markets in order to tap the blossoming consumer discretionary income. Looking forward, we expect to see continued double-digit growth for the firm. Today, Starbucks continues to offer new products, focus on global expansion, and create synergistic licensing partnerships that make us feel confident the firm can continue to provide stellar performance for the shareholder moving forward.
Starbucks maintains a sizable lead over its direct domestic rivals and for this reason we feel that the international space is key to continued strong top and bottom line growth. Starbucks as a firm is unique in that they have been able to replicate success time and time again in new foreign markets. Starbucks already operates over 5500 stores in more than 50 countries. We feel that in time its international operations will overtake the domestic one. Some of the most surprising successful penetration has been in France and Austria relative to international operations, which illustrates the type of winning formula the firm holds.
With a primary focus on China and India relative to emerging markets, we feel Starbucks has it right by focusing on their growing middle class in terms of large-scale opportunity. It should come as no surprise then that Starbucks recently announced the creation of a joint venture with Tata Group, a large Indian conglomerate, in order penetrate the Indian market. When looking at Starbucks operations in the land of over a billion hungry, China, we see the firm trail blazing in a calculated fashion with over 700 stores. Further, given the sheer size of China and its economic growth potential, it's easy to see that this country could likely become a golden goose for the company, just like the US is today.
The topic of acquisition as a form of growth for Starbucks is constantly in hot debate and the name Green Mountain Coffee Roasters (NASDAQ:GMCR) definitely comes to mind. Still, this is the business strategy of a firm that normally has low organic growth potential and we feel Starbucks does not fall into this category currently. If anything, Starbucks is in the exact opposite category, where it's clearly still in the growth stage as a firm and has a variety of new opportunities ahead. For this reason, we leave the topic of potential Starbucks acquisitions to the pundits on TV.
Starbucks continues to be a trendsetter in the industry and it hasn't stopped living up to its reputation yet. As the firm introduces new products, such as its retooled food program and teas, we see this as the fuel for more top line growth while effectively diversifying its menu. One highlight on the topic of new products is the success of VIA instant coffee, which illustrated the true brand value Starbucks holds in its name. This market space alone is worth $21B. With Starbucks having only penetrated 10 countries relative to its consumer packaged goods, with products such as VIA and Seattle's Best Coffee, we see ample room left for further growth.
Valuation and Modeling Method
We are rating Starbucks as a BUY with a price target of $45 over the next 12 months using a DCF modeling approach. When looking at operating costs, we feel that Starbucks should be able to reduce its operating costs by a few percentage points and thereby increase bottom line growth along with operating margins. Our forecast calls on double-digit revenue growth in the range of 15-20%. Given that Starbucks is already operating in the ballpark of 20%, we do not see this as being impossible to sustain over the short to medium term, given a positive economic environment worldwide. Our long-term growth rate assumption for terminal value was put at 3%. We have provided a cost of capital (WACC) of 9.5%.
Risks & Headwinds
Clear threats to Starbucks are packaged coffee wholesalers and quick-service restaurant chain names. Firms such as Peet's Coffee (NASDAQ:PEET), Dunkin' Donuts, McDonald's, and Caribou Coffee (NASDAQ:CBOU), in the past took advantage of Starbucks in a short period of time when it was resting too heavily on its past success. Luckily, past issues, such as subpar management and the "expanding for the sake of expanding" strategy, have been dealt with effectively. Based off our analysis of the specialty coffee space, Starbucks and macro global economic trends, we feel there is sufficient opportunity for both firms to succeed - even with the fact that McDonald's in 2009 brought in roughly $1.5B from coffee sales.
It's easy to understand McDonald's isn't a Starbucks, and Starbucks definitely isn't McDonald's. In our opinion, both firms generally cater and appeal to different consumer segments of the population. The premium consumer goes to Starbucks not only for the coffee but the café-like experience that invokes a high-quality experience - the time it provides to take a "relaxing breather" from the corporate workspace, and positive peer association. Starbucks is even known for receiving exclusive leases in top US locations with heavy foot traffic.
Situations like this only further the idea that Starbucks coffee shops bring a certain level of upscale value. For competitors, this only makes it tougher to tap areas where Starbucks is heavily entrenched. McDonald's now understands the importance of peer association in this industry and has taken on a major re-imaging operation to improve its appeal to the socially conscious premium consumer. Regardless of competition, we believe Starbucks will continue to operate under a wide economic moat that has been built off of an unquestionable brand, strong economies of scale, and the ability to continue commanding premium pricing relative to competitors.
With the release of Seattle's Best Coffee, Starbucks has now effectively tapped 30,000 quick-service restaurant locations. This illustrates how the firm has taken new measures to better manage competitors beyond just going head to head.
Looking at the current geo-political situation and coffee commodity price movements, we can say these will always be risks when dealing with coffee overall. Without question, these risks have the ability to affect profitability and with aggressive international expansion, they can only be heightened moving forward.
3 X-Factors
1. Starbucks has been able to replicate success in foreign markets and is now just entering some of the most lucrative emerging markets, such as India and China.
2. With the successful launch of new products like VIA and Seattle's Best Coffee, we feel that there remains vast opportunity in new consumer markets.
3. With Howard Schultz back at the helm of the firm, Starbucks should be able to better manage competitors than it had in the past. As well, the firm has again found a winning formula under his direction.
Management & Stewardship
Current CEO, founder, and chairman of the board Howard Schultz has returned to the firm and done wonders. His compensation package for 2009 seemed extremely reasonable at just $644,000 for a base salary, along with a $1 million performance bonus. As well, Schultz was awarded a substantial stock option package of $12.4M. While some might see this as a negative, we feel that this will help keep his interests better aligned with shareholders since only 3% of total stock is currently held by insiders. In conclusion, we are confident in the stewardship of the firm overall.
Financial Health
Starbucks looks to be in great financial shape at this point in time. When looking at Starbucks' debt-to-capital levels, it comes out to 0.63 with the full inclusion of operating leases. Looking at its liabilities we see that current assets, excluding inventory, could pay off the bulk of total liabilities. This is something not often seen among firms. With no substantial debt maturing until 2017, the firm holds very strong liquidity levels on the balance sheet. Further, EBITDA covers interest expense a whooping 60 times over. In conclusion, Starbucks from a financial standpoint is seaworthy with no leaks in our opinion.
Disclosure: I have no positions in any stocks mentioned, and no plans to initiate any positions within the next 72 hours.