Waters Corporation (NYSE:WAT) released its fourth quarter earnings yesterday, reporting earnings from continuing operation of $1.38, above the Zacks Consensus Estimate of $1.31.
Earnings in the quarter increased by 23% from $1.12 in the third quarter of 2009. The company's determined focus on improving operating efficiency helped it to achieve a record level of earnings and cash flow.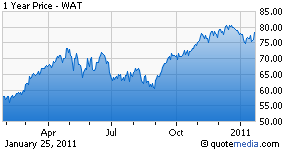 For full year 2010, the company reported earnings per share of $4.09, above the Zacks Consensus Estimate of $4.03. Earnings for the year increased by 19% from $3.45 in the third quarter of 2009.
Revenue
On the top line, WAT reported total revenue of $429 million for the fourth quarter, up 13% year over year. During the quarter, the company benefited from its new system offerings, expanded reach in the Asian markets and an improvement in economic conditions.
Income
Operating income for the quarter amounted to $148.2 million compared with $126.3 million in the fourth quarter of 2009. For the full year, operating income was $449.9 million compared with $394.6 million in 2009.
The company incurred total SG&A expense of approximately $120.5 million in the quarter versus $110.0 million in the year-ago quarter.
Balance Sheet
Cash and cash equivalents and short-term investments were approximately $946.4 million with long-term debt of $700.0 million and shareowner's equity of $1,068.8 million.
Our Analysis
In the long term, we expect Waters to benefit from its strong presence in the chromatography instrument market. A strong customer demand in mass spectrometry and HPLC will help the company to sustain healthy performance in its organic sales growth over the next few years.
Further, a significant portion of Waters' revenue is derived from recurring revenue sources, including consumables and services, which are expected to continue to increase over the longer term.
However, the analytical instrument and systems market is highly competitive. Major competitors of Waters are Agilent Technologies Inc. (NYSE:A), Life Technologies Corporation (NASDAQ:LIFE) and Thermo Fisher Scientific Inc. (NYSE:TMO). Waters competes in its markets primarily based on instrument performance, reliability, service, and to a lesser extent, price.
Some competitors have instrument businesses that are generally more diversified, but are typically less focused on the company's chosen markets. Some other competitors have greater financial and other resources compared to Waters.
Waters Corporation, an analytical instrument manufacturer, designs, manufactures, sells and services, through its Waters Division, high performance liquid chromatography, ultra performance liquid chromatography ® (LC) and mass spectrometry (NYSE:MS) instrument systems and support products, including chromatography columns, other consumable products and comprehensive post-warranty service plans.
We currently maintain our Neutral rating on Waters, with a Zacks #3 Rank (short-term Hold recommendation) over the next one-to-three months.