Lately, when you hear South Korea, the next word you hear is inflation. That makes sense: pricing pressures are on the rise. The Bank of Korea expects inflation to linger around 3.5% for an "extended period". And President Lee Myung Bak has waged a "war" against inflation.
The government is acting on that war cry: earlier this month the monetary authority increased its benchmark interest rate to 2.75% (the third increase since the financial crisis). That's on top of price controls – frozen utility rates and reduced import tariffs on food items.
Of course, these moves stand to hamper growth: 4th quarter GDP will be released on Wednesday, and likely moderated a bit.
But here's the thing: historically speaking, South Korea has seen worse. From 1966 to 2010, inflation averaged 8.35% (hitting a high of 32.51% in the fall of 1980).
Besides, South Korea has good things going on. Spending on renewable energy, as well as factories and research, is expected to gain 23% this year. And the economy is expected to expand 4.5%. Not to mention the fact that exports rose in December for the 14th consecutive month.
And even more telling: in November 2009, South Korea joined the OECD Development Assistance Committee - the first former aid recipient to become a donor member.
The bottom line: South Korea is a solid growth opportunity, and for exposure, I like iShares MSCI South Korea Index (NYSEARCA:EWY). The fund has been in an upward trend since last fall.
click to enlarge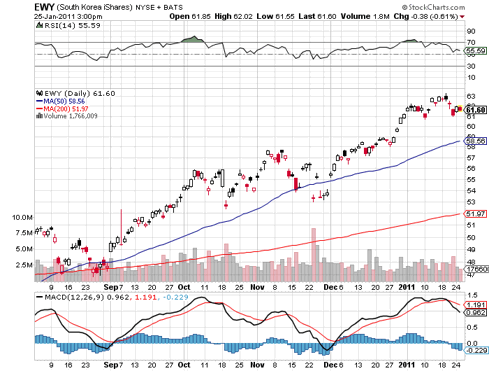 Click to enlarge
Source: stockcharts.com
Disclosure: I am long EWY.