by David Urani
The Case Shiller number for November was another disappointment, coming in with a 1.0% non-adjusted decline month over month, and a 1.6% decrease year over year. Prices are down 30% from the 2006 peak, which is near the -32% lows hit back in early 2009. So as you can see, home values are just about as bad as they've been for the whole cycle, and it's more than likely that prices continued to slide through December.
Once again, the monthly decrease was broad, with 19 out of 20 regions showing decreases. The lone increase was in San Diego, where prices were up just 0.1%; thirteen of the regions declined by more than 1% with Detroit being the worst with a 2.7% decline. Atlanta, Charlotte, Detroit, Las Vegas, Miami, Portland, Seattle and Tampa all hit new cycle lows.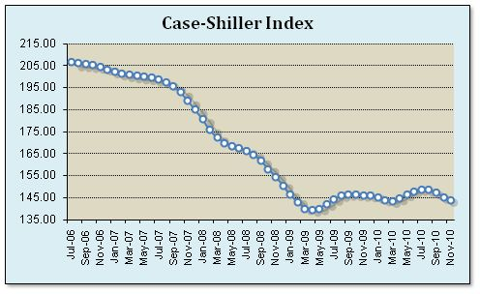 November had the benefit of seeing mortgage rates touch new lows of 4.17% for a 30-year loan, according to Freddie Mac. However, rates have since climbed to above 4.7%. When the homebuyer has to make larger monthly payments, the overall "price" of the home goes up, so in many cases a modest downward adjustment in the base price may be necessary just to offset that effect.
However, the main deterrent to home prices is the immense amount of homes still in foreclosure, and the ensuing additional supply that has, and still will, hit the market. According to Lender Processing Services (LPS), the total number of homes in the foreclosure process rose once again in November to 2.2 million units from 2.1 million in October. Although the number of new delinquencies has been slowing and the total amount of non-current loans (6.9 million) seems to be in a gradual decline, extensive delays to the foreclosure process continue to leave a growing pipeline of foreclosures on deck. The average days delinquent for those in the foreclosure process stands at 499 days, which is up more than 100 days from a year ago. This largely reflects homeowners who had entered into the White House's HAMP mortgage modification program and other programs designed to fend off foreclosure, but only delayed the pain. Additionally, there are seemingly more filings than the banks can keep up with, which gave rise to the scandal of "robo-signing" foreclosures to speed up the process.
Consequentially, foreclosures in 2011 are expected to surpass those of 2010, and that means the demand picture needs to continue to strengthen to keep up. The last time home prices rose was in mid-2010 when demand was driven by the (relative) frenzy of the homebuyers' tax credit. At that time, existing home sales hovered around a 5.5 million annual rate.
The December reading for existing home sales showed a 5.3 million annual rate, which is a good sign that home sales are catching back up to tax credit-levels. We should note that December is seasonally one of the slower months, so successive readings still have to live up to the seasonal adjustments.
Since 2011 foreclosure activity is likely to be greater than in 2010 (especially with robo-signing foreclosure moratoriums set to re-enter the market), we suspect the rate of sales will need to surpass that 5.5 million annual rate (as in mid-2010) for prices to increase again.