ZenPrime recently screened stocks looking for those with value plus dividends in the restaurant industry. Our criteria for a screen was to look at companies with positive Return on Invested Capital that also provided a divided. Among the stocks that fall in this category, are there any attractive investments to be had? Our screen returned the following 11 stocks: Ark Restaurants Corp (NASDAQ:ARKR), Einstein Noah Restaurant Group, Inc (NASDAQ:BAGL), Bob Evans Farms, Inc. (NASDAQ:BOBE), Cracker Barrel Old Country Store, Inc (NASDAQ:CBRL), Darden Restaurants, Inc (NYSE:DRI), Brinker International, Inc. (NYSE:EAT), Frisch's Restaurants Inc (NYSEMKT:FRS), McDonald's Corp. (NYSE:MCD), P.F.Chang's China Bistro, Inc. (NASDAQ:PFCB), Tim Hortons Inc. (THI), and finally Yum! Brands, Inc. (NYSE:YUM). On to the analysis ...
Using analysts' 5-year growth estimates, we get the following results for intrinsic value:
BAGLE comes out at an unbelievable discount to intrinsic value. Further investigation into the financial statements shows that 2009 had a big tax benefit which has distorted things. Substituting the 2010 estimates for BAGL's EPS gives us the following instead:
The six stocks FRS, PFCB, EAT, BAGL, DRI, and BOBE all seem to have a margin of safety at or below 25% discount to intrinsic value.
Further investigation into these stocks shows the valuation ratios to be the following:
All six discounted stocks plus ARKR have EV/EBITDA in what we consider the range of value stocks. BAGL's PEG is extremely low, but that is due to the tax benefit from 2009. The current PEG should be around 1.4, similar to EAT. The other stocks are not valued cheaply based on PEG ratios. The only other standout is FRS which is selling below book value.
The return on investment page shows the following:
In our group of discounted stocks, BAGL is the only one having an ROIC over 15%. The others seem to be stagnated in the single digit range. Of the stocks trading at a premium, both YUM and THI seem to be able to maintain high ROIC over the last 5 years, with MCD returns improving steadily over the same timeframe.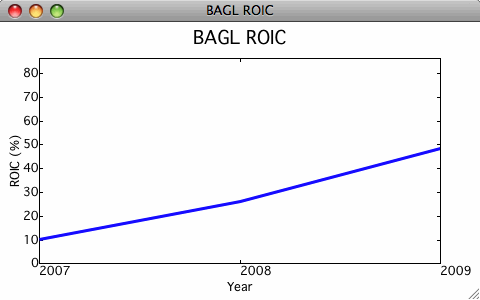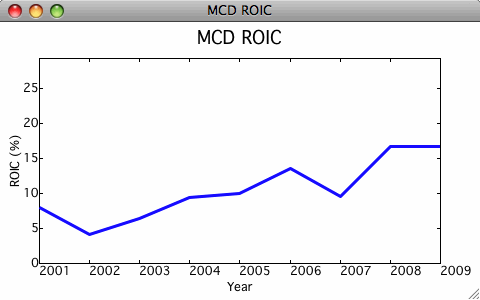 The debt and liquidity analysis shows the following:
ARKR is the one stock with no debt. All others have taken on some amount with CBRL, YUM and BAGL on the high end, and FRS and BOBE below 30%. All stocks other than THI, MCD and ARKR have current ratios below (sometimes well below) 1.0. This seems to be a characteristic of the restaurant industry.
Finally, the dividend rate comparison is shown in the below table
In summary, ARKR, with few growth prospects (looking at it's past history) seems to be a safe pick if one is satisfied with just receiving the high dividend income.
If you look at dividends, projected growth and return on investment, however, BAGL does seem to stand out. An investor does need to balance the returns on investment with the the high debt level to see if this stock is suitable for them.

Disclosure: I have no positions in any stocks mentioned, and no plans to initiate any positions within the next 72 hours.