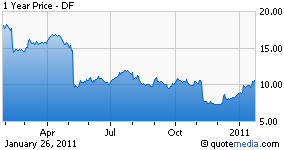 What a difference a month makes: Last month, the "doom and gloomers" had practically written the nation's leading milk producer's obituary, as Dean Foods' shares had lost almost 60% during the past 12 months alone. In the last six weeks, however, that pessimism has completely abated, as the shares have miraculously rocketed higher, by a dizzying 43% - likely based on following developments: (1) A drop in class II butter fat pricing; (2) the sale of one of its yogurt divisions; (4) a successful $400 million debt placement; (5) Appalossa's 7.35% reported stake managed by renowned hedge fund manager David Tepper; (6) a very strong overall stock market.
Earnings estimates are too low: DF is slated to report its Q4 earnings on Feb. 16 and analysts have forecasted that the milk producer will see its earnings drop by 55% to 14 cents (the company's guidance was 13 cents to 18 cents) on a 6% rise in sales, to $3.19 billion. I expect that DF will actually earn 17 cents due to a reduction in its Class II butter fat costs ( average pricing in this category has fallen over 15% on a sequential basis from $2.10 per lb to $1.80 lb), and that savings should fall directly to the bottom line.
The company is also starting to reign in its costs, as its Selling and Distribution burden, as well its General and Administrative segment both recorded 100 basis point reductions in the third quarter. On the downside, interest charges went the wrong way, jumping more than 8% from $59 million to $64 million on increased borrowings. Hopefully, future asset sales and free cash flow generation will enable DF to start to chip away at its frightening debt load.
What to do now: Earnings will likely be better than expected, but since the shares have already run up drastically, don't rely on a huge subsequent earnings rally, but a steady rise to the $11 mark, which would represent a decent milestone to start ringing up some profits.
Disclosure: I am long DF.