Based on a combination of factors, I believe Ross Stores (NASDAQ:ROST) has potential to outperform by a large margin. With a solid balance sheet, a stable and growing dividend, and several other positive factors, Ross Stores is a stock to consider buying.
Ross Stores' business is simple and easy to understand. Ross Stores operates two chains of off-price retailers. Both chains, Ross Dress for Less and dd's DISCOUNTS, sell name brand and designer apparel, accessories, and footwear at discounts to regular prices. They are able to do so by taking advantage of excess inventory at deep discounts.
Management
The management of Ross Stores has been stable. The CEO, Michael Balmuth, has held that position for fourteen years and been with the company for over twenty and the CFO hasn't changed in over 13 years. While several other key management positions have changed hands recently, the current holders of those positions have lots of experience in the industry, much of it at Ross Stores.
Return on equity, assets, and investments are all far above industry average. Moreover, they have been consistently high; return on equity, for example, has been above 20% for each of the last ten years.
Valuations
The valuation of Ross Stores looks favorable. While Ross Store's enterprise value/ebitda ratio of 6.77 is slightly above the industry median of 6.62, its growth rates, both past and projected, are above industry average so a slightly higher ratio is justified. Moreover, once we consider that a premium can be expected for consistent profitability such as Ross Stores has shown, this stock begins to look a bit undervalued.
Dividend
Ross Stores has a dividend yield of 0.99%. While at first glance, this may not seem like much, the fact that the dividend has been raised for sixteen consecutive years at a rate of 22% a year is worth noting. In addition, Ross Stores' payout ratio is only 13.35% and it has a low debt to equity ratio of 11.67%. All together, there doesn't appear to be any reason the dividend won't continue to grow at a strong rate for the next several years.
click to enlarge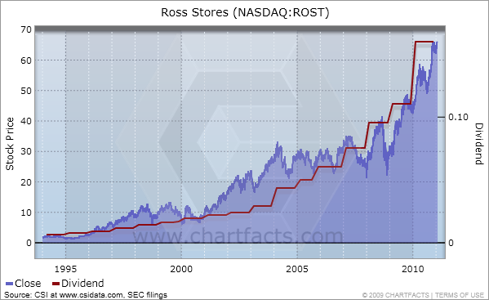 Click to enlarge
There are also a few minor reasons to like Ross Stores, one of which is its buyback plan. In recent years, it has been buying about 3-4% of shares outstanding back every year.
Another positive is that earnings and sales estimates have been revised upward in the last month. However, this does not tell much about the long term, but is more of a near term indicator. Stocks with upward earnings and sales estimates have more often than not outperformed over the one month time frame.
Not all indicators are positive for Ross Stores. One potential risk is its low quick ratio at 0.69. While, it is unlikely to turn out a problem, it isn't always the best sign.
In conclusion, Ross Stores appears to be a great company to buy. It has good management, reasonable valuations, and a growing dividend. This combination should make the stock of Ross Stores perform well over the next several years.
Disclosure: I have no positions in any stocks mentioned, and no plans to initiate any positions within the next 72 hours.