China Education Alliance (CEU)
Key Issues
Ø China Education Alliance is undervalued with a low price-to-book ratio.
Ø There is a lot of room for improvement in its market share, based on current consumer spending habits and potential market size.
Ø Many investors write off the company and its prospects as "too good to be true."
Ø Kerrisdale Capital's assessment (.pdf) of the company is speculative, and in some cases, clearly incorrect.
Executive Summary
China Education Alliance has performed extremely well in the last two years. However, market sentiment is low due to the limited volume of outstanding shares, as well as suspicions of fraudulent activity. Following an extensive analysis of the company and its industry, we conclude that China Education Alliance is a good growth stock and the accusations of fraud are groundless.
Section I – Corporate Overview
Corporate Structure
China Education Alliance was first incorporated in North Carolina on December 2, 1996, under the name ABC Realty, to engage in residential real estate transactions as a broker or agent. It went public through a reverse merger and changed its name to China Education Alliance in September 2004. Currently, the company operates its various businesses through six subsidiaries in mainland China. The organizational operation chart is as follows.
click to enlarge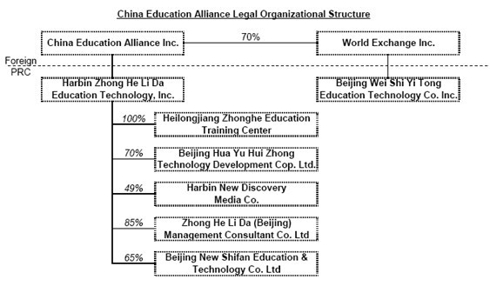 Click to enlarge
Business Model
China Education Alliance generates its revenue through two principal businesses: online education and on-site training for Chinese students.
The online education business involves the distribution of educational materials such as teaching videos, sample test papers and tutorials through edu-chn.com and 360ve.com. Although some materials are free to access, subscribers must pay for premium services through prepaid debit cards valid for a specified period, usually one year.
China Education Alliance's on-site training services are based in Harbin, Heilongjiang province. Students participate in face-to-face tutorials that primarily cover the compulsory education curriculum from junior to high school. The company recognizes revenue by charging tuition fees.
Business Strategy
China Education Alliance targets students aged 6-18 years, a potentially lucrative market because China's one-child policy means parents are able to invest comparatively more in their children's education. Chinese children in this age group are all still reliant on financial support from within the family.
Currently, China Education Alliance operates in four northeastern provinces: Inner-Mongolia, Heilongjiang, Jilin and Liaoning. It serves 500,000 to 600,000 students from an addressable market of 10 million in the northeast four provinces. The company plans to increase its market share by expanding its core online business to other provinces. According to the National Bureau of Statistics, there are 150 million students aged 6-18 in China, which means China Education Alliance is only covering 5-6% of its current market and less than 1% nationwide. On this basis, the potential for further market penetration is still very high.
In addition, China Education Alliance pursues strategic partnerships and acquisitions with a view to enhancing its competence and consolidating its existing business.
Section II – Main Issues
Stock Undervaluation
At the end of September 2010, China Education Alliance's stock was trading at US$4.13 with a price-to-book ratio of 1.44 – pretty low for a company with annual revenue growth of above 45% in the past three years. The price did not fully justify the actual business value.

Click to enlarge
China Education Alliance saw steady increases in revenue and net income between 2005 and 2009 (Chart 01) while debt level remained more or less static (Chart 02). Rather than draw encouragement from these figures, investors stayed away. Consequently, China Education Alliance's stock price (Chart 03) did not move in the same direction as its business.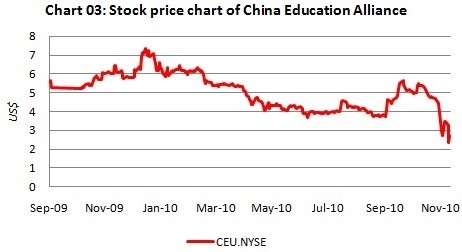 There are two reasons for this discrepancy:
1. The gloomy prospects for the US economy: Investors are more risk-averse and more cautious about investing in small- to mid-cap stocks. Although these stocks usually offer a better return and growth opportunity than large-cap stocks, the risk is also higher.
2. Institutional investors aren't paying attention: China Education Alliance offers little liquidity as only a limited number of its shares – 18.57 million out of 31.25 million – are tradable. Institutional investors are wary about buying in because such activity would have a significant price impact on the small pool of tradable shares. In addition, limited liquidity means it would likely be difficult for institutional investors – who typically favor large positions – to sell out.
Growth Potential
As mentioned earlier, China Education Alliance has only covered 5-6% of its student target market in the four northeastern provinces and less than 1% nationwide. Total revenue for 2009 was US$37 million and there are 500,000-600,000 subscribers, which means each subscriber spent about US$67, or US$5.6 per month. Details of the average monthly disposable income, consumption expenditure and education expenditure per capita (Chart 04) of the four northeastern provinces add weight to the positive outlook. Monthly education expenditure per capita is about 9.1% of the total consumption expenditure (Chart 04), while the average education expenditure is US$12.75 per month (the blue line in Chart 05), well above the US$5.6 average expenditure (the black line in Chart 05) of China Education Alliance's subscribers.

Click to enlarge
Market Suspicions
A major pitfall of China Education Alliance's strong business and financial performance is that many investors appear to harbor suspicions that the company is just too good to be true. These sentiments are, to a certain extent, understandable.
First, China Education Alliance's annual revenue increased 1,092% from US$3.1 million in 2005 to US$37 million in 2009; its net went from US$1.7 million in 2005 to US$15.2 million in 2009, a gain of 795%. These numbers might seem outrageous to investors unfamiliar with the company and the industry in which it operates.
Second, China Education Alliance is wholly reliant on its existing business line; it spends very little on exploring new business areas. Even though costs have increased proportionally to revenues, cash used for investing activities has remained around the same level between 2005 and 2009 (Chart 06).
These suspicions can be laid to rest on closer examination of China Education Alliance's business environment. Given that the company only covers 5-6% of its target market across four northeastern provinces, rapid year-on-year growth – thanks to a low base – is only to be expected.
At the same time, this growth potential goes a long way toward explaining China Education Alliance's limited progress in diversifying its business. Rather than expose itself to new risk, the company is seeking to consolidate and expand market share.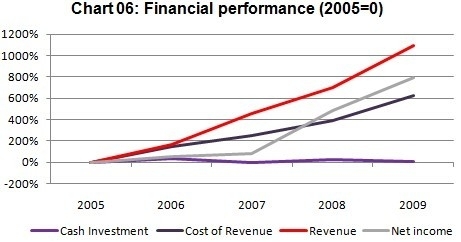 Third, China Education Alliance announced a secondary equity offering in October 2009 which puzzled investors. By the end of September 2009, the company had a cash position of US$38.8 million and US$2.5 million in liabilities. Yet, it decided to raise an additional US$18 million. Given China Education Alliance's historically low investment activity and the absence of any statements indicating a forthcoming acquisition, investors were at a loss as to why the company needed the money. This fed into the air of suspicion already surrounding the firm.
Fraud Risk
On November 29, 2010, Kerrisdale Capital Management released a report that claimed China Education Alliance was fabricating financial statements made to the US Securities and Exchange Commission (SEC). As a result, the company's stock fell by 79% to US$2.45. Its market capitalization shrank by US$61 million.
Kerrisdale argued that "China Education Alliance's revenue and profit are highly overstated in its SEC filings and that the company is mostly a hoax." Regarding the online training business, it put forward evidence that the company's websites do not work and receive a fraction of the visitor traffic generated by comparable sites. Regarding the on-site training business, Kerrisdale said it hired an investigator to visit the company's training facility in Harbin and found no sign of any desks and teaching equipment.
Kerrisdale said that China Education Alliance's domestic filings (.pdf) with the State Administration for Industry and Commerce (SAIC) show that it generated less than US$1 million in revenue in 2008, significantly lower than the US$24.85 million reported to the SEC. Kerrisdale added that the company's financials are not believable when placed alongside those of comparable publicly traded comparable companies – the margins and revenue growth are just too high. It also notes that China Education Alliance has had four low-quality, non-reputable auditors since going public in 2004.
On December 2, China Education Alliance said that its auditor, Sherb & Co, performed confirmation procedures on most of the company's bank balances in China as recently as November 5. Sahm Adrangi, principal at Kerrisdale, responded that "such confirmation procedures in no way vindicate the company of fraud." He reiterated Kerrisdale's belief that many companies in China find ways to show inflated bank balances to auditors in order to satisfy confirmation procedures.
Adrangi said that Kerrisdale stood by the conclusion it reached in its report that China Education Alliance is defrauding investors and has fabricated its SEC financial statements. This conclusion is based on the belief that the company does not have business assets that can generate the revenue and net income it reports in its SEC filings.
The latest action is the company's announcement that it plans to repurchase up to US$10 million in shares by December 1, 2011.
The situation should be viewed from two angles: whether Kerrisdale was incentivized to reach certain conclusions; and whether the evidence presented adequately reflects the reality of China Education Alliance's business.
First, Kerrisdale Capital Management, owned by Adrangi, is a private investment advisory firm based in New York that focuses on value and special situations investments in public securities. Adrangi formerly worked at a large distressed-debt focused hedge fund. Kerrisdale had a relatively low profile in the investment community prior to its report on China Education Alliance. Kerrisdale has received a lot of publicity as a result of branding the company a fraud, and this was likely its primary motivation for doing so. The investigations and analyses carried out are not necessarily unreliable, but it was clearly in Kerrisdale's interests to make an impact. This may have undermined the report's objectivity.
Then there is the disclaimer at the end of the report:
As of the publication date of this report, Kerrisdale Capital and other individuals that contributed research to this report have short positions in and own options on the stock of China Education Alliance covered herein and stand to realize gains in the event that the price of the stock declines. Following publication of the report, the authors and contributors may transact in the securities of the company covered herein.
Again, the implication is that it was in Kerrisdale's interests to make an impact – perhaps at the expense of objectivity – and accelerate the decline of the stock.
Second, there are weaknesses in Kerrisdale's evidence, notably its claims regarding China Education Alliance's training facility and SAIC filings.
Ø The Training Facility
Kerrisdale presented hard evidence of China Education Alliance's vacant training facility in Harbin – the Heilongjiang Zhonghe Education Training Center. It also questions the reliability of revenue figures reported to SEC from this training facility.
Responding to Kerrisdale's report in an investor conference call on December 8, China Education Alliance CFO Zack Pan said that the training center in question is one of the company's older facilities and is in need of repair. "The facility was in the process of being remodeled when the video was taken," Pan explained. He added that Heilongjiang Zhonghe Education Training Center is just one of 11 training facilities operated by China Education Alliance.
The company subsequently provided pictures of some of its other training facilities, all of which were in good working order. As such, Kerrisdale's conclusions would appear to based on speculative assumptions.
Ø The SAIC Filings
Kerrisdale flagged a discrepancy between filings made by China Education Alliance with the SAIC and the SEC. Having told the SAIC that its 2008 revenue was US$1 million, the figure submitted to the SEC was US$24.85 million.
However, it is highly unusual for a Chinese company to make identical filings with the SAIC and SEC. In this context, it is important that investors understand China's corporate registration process and why the two sets of financial statements may differ.
1. The SAIC has no authority in overseeing the financials of Chinese companies. The SAIC's primary responsibilities include business registration, issuing and renewing permits, and maintaining the corporate status of businesses. Chinese companies are required to file annual inspection reports to the local SAIC branch office. The SAIC requires these filings for no other reason than to certify that a company has submitted its annual inspection report and then renew its business license. The SAIC has no regulatory authority to assess whether a company's filing reflects its actual financial status. As a result, most companies hire a third party agent to do the filing for them and financial results are often understated for fear that information will fall into competitors' hands. The State Administration of Taxation (SAT) is the only Chinese government agency with the legal authority to collect corporate taxes. To do this, it receives and audits companies' annual financial reports.
2. Unlike the SEC, Chinese regulators do not require companies to make consolidated financial reports. All US-listed Chinese companies are essentially holding companies that own multiple subsidiaries in China. These subsidiaries file tax returns individually with the local tax office of the city or region in which they are based. At no stage is the parent or holding company required to collect the tax filings from each subsidiary and submit them as one consolidated document. Although this is officially SAT protocol, it generally extends to all financial reports, including those submitted to the SAIC.
3. In the absence of a lawsuit, SAIC filings and SAT filings cannot be obtained by non-related third parties. Given that company filings are not publicly available, Kerrisdale – or at least parties employed by it – appears to have obtained data on China Education Alliance by devious means. Kerrisdale would likely argue that it was acting in the interests of shareholders, but its actions, combined with the lack of understanding of the Chinese corporate registration process, are hardly endorsements of its judgment.
Kerrisdale's analyses failed to factor in the nuances of the Chinese corporate registration and taxation systems. Its conclusions are therefore not credible and reliable. The discrepancies between China Education Alliance's SEC and SAIC filings are no indication of fraud; indeed, they should be of no concern whatsoever to investors.
Section III – Parallel Comparison
Education is the third largest consumer spending category in China, according to Wall Street Research. However, the market is significantly fragmented in terms of business range, size and location. China Education Alliance's strategy to cope with increased competition is to enhance its visibility through marketing and advertising. The company's biggest competitors are TAL Education Group (XRS), Global Education & Technology (NASDAQ:GEDU), China Distance Education Holding (NYSE:DL) and ChinaCast Education Corporation (OTCPK:CAST).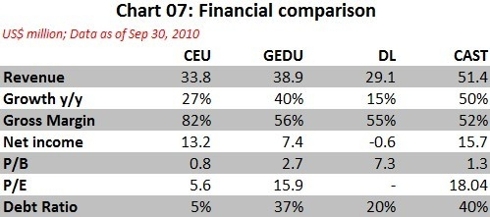 Click to enlarge
China Education Alliance performs better than most of its rivals in terms of gross margin, debt ratio and net income (Chart 07). However, like-for-like comparisons are of limited use. While there is some crossover, each company has its particular area of focus: China Education Alliance primarily targets students from primary school to high school; Global Education & Technology is engaged in English training, especially for those that are preparing for overseas study; China Distance Education provides various professional training services; and ChinaCast Education manages three private universities.
The management of China Education Alliance has done a good job in controlling costs and maintaining revenue growth. But questions must be asked of the company's ability to exploit new areas of potential business growth – the high cash balance and low debt ratio points to inefficient use of capital. These concerns about future growth go some way to explaining China Education Alliance's low price-to-book (P/B) ratio.
Section IV – Conclusion
China Education Alliance is undervalued given its proven track record, strong growth potential, and low P/B ratio. The market is suspicious as to whether these heady growth projections are realistic while institutional investors are wary about the limited liquidity. Kerrisdale's report has exacerbated this suspicious sentiment, further dragging down China Education Alliance's share price. As a result, the potential upside for investors is even greater. This is a stock worthy of consideration.
Disclosure: I have no positions in any stocks mentioned, and no plans to initiate any positions within the next 72 hours. We have no positions in any of the stocks we cover. We analyze the stocks from a neutral perspective so that we can offer market participants a fair and accurate view on relevant stocks.