The first installment of Barron's Roundtable appeared in its January 22nd issue of the magazine. Top investment strategists once again offered their market outlook and specific picks. One of the better known strategists is Bill Gross from PIMCO. In 2010 Gross's income oriented picks provided the highest absolute return and beat the LikeAssets benchmark by a greater margin than any of the other top nine strategists (this comparison excludes strategists' picks not available on U.S. stock exchanges). Gross's 2009 performance also scorched the LikeAssets benchmarks with his income picks. Income seeking investors might want to consider Gross's 2011 picks given his track record to date, but with a couple of cautionary notes.

Bill Gross Picks – Historical Analysis

Gross's 2009 Picks' Performance

In January 2009 Gross advised income investors to buy the TIPs ETF (NYSEARCA:TIP), a closed end fund, Pimco High Income Fund (NYSE:PHK), preferred stocks of banks, and an AIG (NYSE:AIG) Bond. It would have been a rough ride for the first month as PHK plunged by 50% in the last gasp of the 2008 crisis, but after that an investor would have been golden. Holding TIP and PHK until next January when Gross offered his 2010 picks returned 54%, almost 40% above the LikeAssets benchmark. PHK was the star with a return of 102%, 82.5% above the high yield bond benchmark.

Click to enlarge: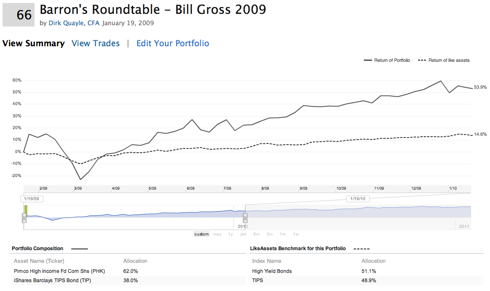 Click to enlarge



Click to enlarge

Gross's 2010 Picks Performance

In January 2010 Gross picked Pimco Corporate Opportunity Fund (NYSE:PTY) and Reeves Utility Fund (NYSEMKT:UTG) in addition to two bond picks, GMAC and AIG, that were not considered in this analysis but also did extremely well. Holding PTY and UTG provided returns of 28% from January 2010 to January 24th, 2011. PTY performed the best with a 41% return, 27% above the LikeAssets benchmark, while UTG provided a 21% return, 5% above the LikeAssets benchmark.
Click to enlarge: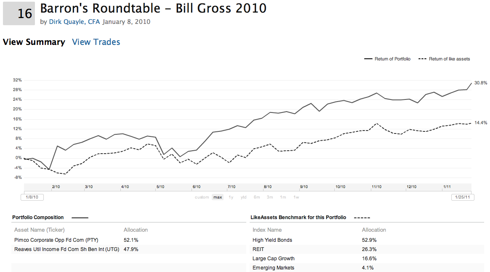 Click to enlarge



Click to enlarge


Gross's Picks for 2011

Gross provided two picks for 2011. Pimco Corporate Opportunity Fund (PTY) (continuing from 2010) and Annaly Mortgage (NYSE:NLY). Gross sees both picks thriving for income investors as short-term rates stay low in 2011, allowing both PTY and NLY to borrow low and invest in securities to obtain much higher returns. Gross outlines reasons for assurance on the leverage levels and credit quality of holdings for each security, and he believes that absent a 2008 type crisis, these picks will serve investors with high income levels in 2011. Here are a couple of specific notes on each:

Pimco Corporate Opportunity Fund (PTY)

"If you had to put your mother in law in something, this would be it", Gross says of PTY. Currently PTY provides a 7.6%+ distribution rate and this rate can be much higher if NAV appreciates to possibly fund additional dividends. This was the case in 2010. PTY might be for you if you don't see a sharp rise in short-term rates in 2011, and if you believe in a mild or better economic recovery. Risks to note and monitor:

1. Risk – Closed End Fund Premium/Discount. PTY is a closed end fund and currently trades at a premium to Net Asset Value, 5% at the time of Gross's pick, and 10% now after the article came out. In times of crisis closed end funds can also trade at discounts to NAV as investors head for the exits and liquidity dries up. In a worst case the NAV can drop and the premium can turn into a discount, providing investors with a double whammy. If the premium rises much above 5% I'd wait for it to settle back before buying, or check out a couple of other Pimco closed end funds like PCN and PFN. These both currently trade close to NAV and provide yield levels similar to that of PTY.

2. Risk – Interest Rate Risk. If short-term rates rise rapidly, the earned spread of PTY's business and the dividend yield both take a hit. Gross doesn't see that happening this year, but make sure you are aligned with Gross on this significant economic assumption.

3. Risk – Credit Risk. Gross notes most of the portfolio is investment grade. During the last crisis many investment grade bonds traded like junk, and junk paper traded like default was imminent. As Gross implies, if you do not see a double dip recession or another banking crisis, the default risk would seem low for 2011.

Annaly Mortgage (NLY)

A 14%+ yield from NLY might be for you if you expect no significant crisis in the debt market in 2011 that drives investor flight to quality. Risks to note and monitor:

1. Risk – Liquidity crisis. NLY taps the repo market for funding and uses the funding to purchase government agency bonds, making money on the spread. If NLY can't fund, it can't buy, it can't earn and it can't keep paying high dividends.

2. Risk – Income only. Expect yield only and not appreciation of NLY stock.

3. Risk – Business Risk. There is business risk that NLY tries to earn income in ways not consistent with the current business model, invests in other types of securities, gets aggressive with derivatives. Watch Annaly's holdings closely and stay up to speed on any corporate announcements.

Gross's Track Record 2009, 2010, 2011 Picks' Performance

LikeAssets will continue to follow Gross's picks for 2011 and also is keeping a running total in a portfolio that follows his picks since 2009.

The analysis below assumes that an investor bought Gross's picks in January 2009 on the first trading day after the magazine came out. In January 2010 the new picks were purchased and the 2009 picks were sold. On Monday January 24th, 2011, the 2011 picks were purchased and 2010 picks were sold.
Click to enlarge: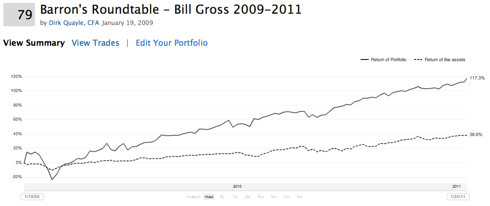 Click to enlarge

Investors interested in understanding their portfolio's returns and alpha should try the "LikeAssets application on Seeking Alpha.
Read Part II, Bill Gross's 2011 Fund Picks - Alternatives to Consider for Income Investors

Disclosure: I have no positions in any stocks mentioned, and no plans to initiate any positions within the next 72 hours.