Key Corp (Key Bank) (NYSE: KEY), Cleveland, Ohio reported net income for the fourth quarter totaled $279 million, compared to fourth quarter 2009 with a loss of $265 million (see earnings results here and earnings call transcript here).
It should be noted that the Tier 1 Risk based capital ratio rose from 12.75% to 15.10%, which is a change from the FDIC Tier 1 reporting in September 30, 2010 of 11.6% (although anything over 10% is considered healthy.)
It should be pointed out that over the last two years, Key has opened 77 new branches and renovated approximately 145 others, expanding Key's 14-state branch network to 1,033 branches. The company plans to build an additional 40 new branches in 2011. Considering its growth mode, the bank has improved its loss ratios while maintaining a controlled growth, showing management in very good stead. The question of better income will be coming from its community involvement and expansion of branches investments.
On November 18, 2010, when it was announced Beth Mooney would be the new chair, replacing Chairman and CEO Henry Meyer, who was retiring, she said that among her goals was to make sure that Key remains focused on being a "relationship-based, community bank." She specifically said Key wants to grow and potentially have more branches and do business in more cities.
It does appear Key Bank is changing its direction and appealing to more community markets, as well as towards smaller business opportunities for the company.
Charge offs have improved in Key Bank FDIC filings.
The FDIC December 31, 2008 shows a charge off of $62.4 million in lease finance receivables and $106.5 million year-end 2009. Total charge off for 2009 was $2.4 billion in the FDIC filing with $1.17 billion in real estate, $646.36 million in commercial and industrial loans, $234.78 million in loans to individuals, and $139.49 million in other loans.
December 31, 2010 FDIC records not available, but September 30, 2010 shows a charge off of $1.4 billion with $745.32 million in real estate, $347.092 million in commercial and industrial loans, $208.18 million in loans to individuals and $50.6 million in lease financing receivables.
Looking at the last three leasing write-offs $62.45 million, $106.55 million and $50.6 million (through three quarters, it doesn't include the fourth quarter.)
Noncurrent loans and leases are $1.84 billion, compared to the third quarter of 2009, of $1.75 billion.
Tier 1 risk-based capital ratio: 11.60%. It is a definite improvement since year-end 2008 of 7.38% as recorded in FDIC filings.
From the consolidated average balance sheet, page 19 on the SEC filing, comparing the 2009 quarter with 2010 saw an asset decrease from $95.97 billion to $93.3 billion, with a yield drop from 4.47% to 4.22%, with one of the largest drops in commercial lease financing from $7.59 billion to $6.48 billion. Commercial loans themselves fell from $43.5 billion to $35 billion.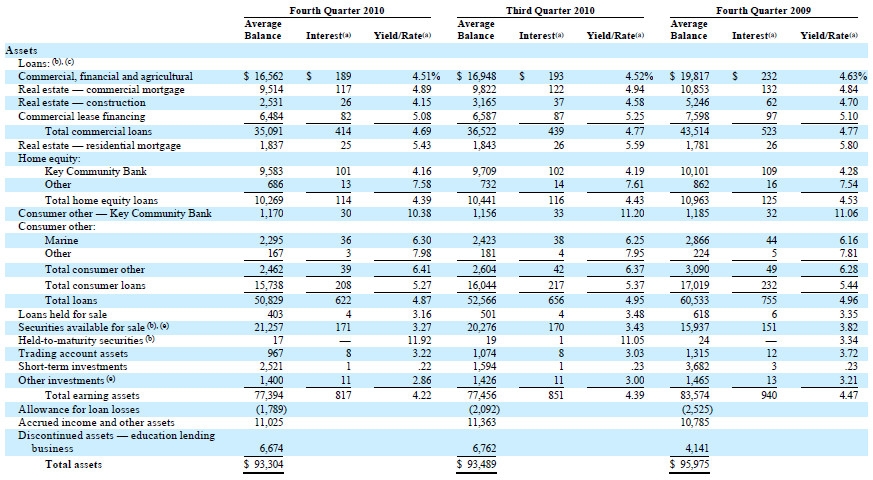 Consolidate Average Balance Sheet, page 19
(click image to enlarge)

Loan Composition Chart, page 23
Net Loan Charge-offs from continuing operations. Please note lease charge offs from the previous quarter came down from $39 million to $12 million. The total commercial loan charge off, less commercial leasing, dropped from $564 million to $160 million, less leasing.

Net Loan Charge-offs from continuing operations, page 6

Nonperforming Assets from Continuing Operations page 6
It will be interesting to compare the last three FDIC filings when the year-end 2010 is available.
Full 65 page SEC Fourth Quarter filing here (.pdf).
Disclosure: I have no positions in any stocks mentioned, and no plans to initiate any positions within the next 72 hours.